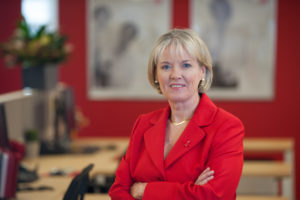 In honor of American Heart Month, it is my sincere privilege to share this interview with Mary McGowan, the CEO of WomenHeart: the National Coalition for Women with Heart Disease.
With over 30 years of non-profit management experience, Ms. McGowan serves as the primary representative and spokesperson for WomenHeart and is accountable for the overall management and administration of this national $4.5 million non-profit organization with over 35,000 members.
As a woman living with heart disease, I am deeply grateful for the work that WomenHeart does every day. I hope that you find this conversation and information to be of value for you and your loved ones.
—
CM: What is WomenHeart and how did the organization first get started? What is its mission today and how has that mission evolved since its early days?
MM: WomenHeart: The National Coalition for Women with Heart Disease is the leading voice of the nearly 48 million women in the U.S. living with or at risk of heart disease.
The nonprofit organization was founded in 1999 when three likeminded women (who had never met) came together to share their vision for a world with better resources for women living with heart disease. Nancy Loving, Jackie Markham, and Judy Mingram each had heart attacks in their 40s and suffered from feelings of social isolation in addition to misdiagnoses and inadequate treatment. They founded WomenHeart to educate, advocate, and support the millions of women struggling with the same issues.
Today, the mission remains the same but the reach has only grown exponentially. As the only organization in the country solely dedicated to serving women with heart disease, WomenHeart has trained more than 850 WomenHeart Champions—women heart disease survivors nationwide who attend our Science & Leadership Symposium at the Mayo Clinic and then return to their communities to provide community education, establish and lead peer-led monthly support network meetings, and work with the media to raise awareness about the leading cause of death of women.
CM: What are the different forms of heart disease? What are some of the major and lesser-known risk factors for heart disease? Do they differ for men and women? If so, how?
MM: There are many different forms of heart disease, including angina, peripheral artery disease, and coronary microvascular disease—a condition of the heart's smallest arteries that often fails to show up on tests. Spontaneous Coronary Artery Dissection (SCAD) and microvascular disease are more prevalent in women than men. That's why the work we do at WomenHeart is so critical to advancing women's heart health.
Risk factors for heart disease include poor diet, high blood pressure, high cholesterol, physical inactivity, complications during pregnancy, and family history of heart disease. Some risk factors you can control—such as high blood pressure, diet, and physical activity. Others are harder because they are beyond our control, such as family history. That's why it's critical that women seek preventive care and stay on top of their heart health by monitoring blood pressure, pulse, BMI, and cholesterol.
CM: What can women do to help lower their personal risk factors for heart disease?
MM: To help lower their personal risk factors for heart disease, women can make an effort to eat smarter and follow a heart healthy diet. This includes eating less red meat and more fish, which are rich in omega 3 fatty acids, and a diet of more fruits and vegetables. Women can also make sure to exercise 30 minutes per day to get their heart rate up. Lastly, women can ask their family members for a comprehensive family history and speak with their doctor about their #1 health risk—heart disease.
CM: What are some of the common myths associated with women and heart disease?
MM: There are a lot of myths that exist about heart disease—particularly that it is only a man's disease. In fact, just as many women as men get heart disease, and when women experience a heart attack, they are more likely to die afterward than men. There are many reasons for this, but one reason in particular can be because women often delay seeking care more than men do.
Also, many people think that heart disease only affects much older women. The stereotypical image that people picture is a grandma suffering from heart disease, but the truth is, more and more women in their 20s, 30s and 40s are experiencing heart disease. That's why it's more important than ever that we educate women and raise awareness about how common and prevalent heart disease is for all women. We know that 1 in 4 women will die of heart disease, so the stakes are too high not to be educated.
Another important point we like to raise awareness about is how minority women are disproportionately affected by heart disease. In fact, African American women are more likely to die of heart disease than Caucasian women.
CM: What can you tell us about heart disease in women who are 55 and younger?
MM: Science is showing that women in child-bearing ages who go on to become pregnant and experience hypertension, pre-diabetes, pre-eclampsia during pregnancy are at a higher risk for cardiovascular disease. In many cases, pregnancy is the first cardiovascular stress test for women, and science is showing that pregnancy may be a pre-cursor. That's why it's important for younger women to speak with their doctors.
CM: How do the symptoms of a heart attack differ between men and women? 
MM: Heart attack symptoms between men and women can be vastly different, but unfortunately, too many women are not aware of this. For women, heart attack symptoms typically include pain in the neck, jaw, back, abdomen, and throat. Women also more often than men delay seeking care, which is a cultural shift that must change in order to keep women healthy. In men, symptoms are often more straightforward and include chest pain and pain in the arm.
CM: What are some of the common emotions women feel and experience following a heart event or heart disease diagnosis?
MM: Women often experience social isolation, fear, and depression after experiencing a heart event or having a heart attack. Post heart disease diagnosis, women may wonder how they are going to continue serving as the sole caretaker in a household while also focusing on recovering. In fact, women are more likely than men to suffer from depression even without experiencing a heart event. And women who suffer from depression are 2-3 times more likely to suffer a cardiac event.
That's why our social support groups through WomenHeart are so critical for women. These peer-led meetings offer social and emotional support as well as educational resources and ways to get involved. Our best feedback from a WomenHeart Champion is a direct quote she shared with us years ago: "My cardiologist saved my heart; WomenHeart saved my life."
CM: Is there hope for women who have been diagnosed with heart disease? How can people learn to thrive after their heart event or heart disease diagnosis?
MM: There is absolutely hope for women who have received a heart disease diagnosis. And that's the importance of WomenHeart—to empower women to thrive living with heart disease.
WomenHeart support groups, which focus on secondary prevention certainly help slow progression by empowering them to take charge of their heart health.
Empowering women with education, support, and providing them the opportunity to empower other women are all crucial elements of the recovery process. Our WomenHeart Champions regularly report that they don't want what happened to them to happen to any other women; that's why they volunteer with us.
CM: What are some of the unique challenges facing women within the health care community when it comes to heart disease and what can women do to combat those challenges?
MM: Some of the challenges women face in the health care community include discrimination based on gender, credibility, and misdiagnoses as stress, depression, anxiety, or something completely different because a doctor is not trained to recognize specific or complex cases of heart disease in women. We need to do a better job ensuring that doctors know what to look for in women and how the symptoms may be different and therefore how treatment is different. Plus, when women have to deal with misdiagnoses, too much time passes between a first and second visit and the time of actual accurate diagnosis, which can affect health outcomes.
Another problem that women struggle with is access to care and affordability. This past summer, we stood with many other patient advocacy organizations fighting for more accessible, affordable health care for all. Unfortunately right now, too many women struggle both with getting access to care and affording that care.
CM: What are some of the challenges facing family caregivers of those who are living with heart disease? What are some supportive resources available to them?
MM: Caregivers struggle with feeling like they are engaged with or part of the health care team, which is an integral part of caring for a person with heart disease.
Caregivers also sometimes feel underprepared for the role.
Many caregivers feel like they do not have control over their situation and don't have a voice or a place in the health care system, even though they play an integral role.
We have a list of helpful information and resources available on our website.
CM: What is the greatest need for WomenHeart at the moment? Is funding an ongoing challenge? What can people do to support WomenHeart and its programs?
MM: Our biggest need at the moment is just an understanding and awareness from the general public that heart disease really is the leading cause of death for women. Too often, people do not know that and in turn, do not know how to take steps to prevent heart disease and be aware of the signs. It's important for us to get the word out to the millions of women we are not reaching. Your readers can help us do that by donating to WomenHeart or becoming a member of the WomenHeart Society.
CM: Can you please share a little bit about your SisterMatch and HeartScarves programs and let people know how they can become involved?
MM: Our SisterMatch program is a telephone- and/or online-based support program that allows women with heart disease to connect with other women following similar heart journeys.
HeartScarves is a program we started for men and women who knit and crochet red scarves and donate them to us. Then, our WomenHeart Champions take these HeartScarves directly to women in the hospital post heart disease diagnosis.
CM: February is American Heart Month. What are some small steps women can take to improve their heart health during this month and beyond? What are some ways that everyone can support American Heart Month?
MM: Yes, we're very excited about American Heart Month as it allows us to share with everyone how important our cause and our work are. Some steps all women can take during heart month to take charge of their heart health include:
Exercising 30 minutes a day, three times per week. This can include walking, yoga, or a fun class at your gym.
Eating more health conscious foods, including more fish, fruits and vegetables, and nuts. Cook with olive oil instead of butter. Cut down on the number of alcoholic drinks you have per week while still allowing yourself to indulge every now and then (red wine and dark chocolate are fine in moderation).
Know your numbers. Knowledge is power and you never know when you might need this information. Learn what your normal levels are for your blood pressure, cholesterol, pulse, and BMI.
Now seems like a good time to tell you about our campaign with Burlington Stores, the national off-price retailer, with whom we've teamed up during Heart Month for the seventh consecutive year to educate women nationwide about the importance of their heart health.
Throughout the months of February and March, people can visit any Burlington store location nationwide and they'll be asked at check out if they would like to make a donation to support WomenHeart to help further our mission.
And one of the best aspects of this partnership is that together, we offer free heart health screenings at select Burlington stores on February 6 and March 20. Your readers can click here to find a store near them.
CM: What is WomenHeart looking forward to in 2018?
MM: This upcoming year, we're looking forward to many of the wonderful partnerships, campaigns, and events we'll be participating in to help advance women's heart health.
First and foremost, we're excited about this year's Burlington campaign (see above) since we have expanded the heart health screenings to more stores (50) than ever.
We're also getting excited about our congressional briefing on Capitol Hill that we are hosting February 28 to highlight the strides we have made and work we still have to do to reduce the number of African American women with heart disease.
In February, in honor of Heart Month and Black History Month, we also launch our #29DaysOfHeart campaign, which shares a motivational photo and quote from a well-known African American or woman who has contributed meaningfully to the field of women's heart health. Look for our posts on Instagram by following us at @WomenHeart.
CM: Where can people learn more about WomenHeart?
MM: Visit www.womenheart.org to learn more about our resources and upcoming campaigns. For live updates, follow us on Twitter at @WomenHeartOrg.
CM: Is there anything else you'd like to share?
MM: As the leading cause of death of women, heart disease deserves the attention of all of us. With nearly 48 million women living with or at risk of heart disease and 1 in 4 who die of heart disease, the stakes are too high for us not to educate ourselves, particularly because only 54% of women recognize that heart disease is their #1 killer.
Our ask is for every woman to have a conversation with other women in her life about her #1 health risk to help raise awareness in an effort to save lives. If you need any additional information, visit www.womenheart.org.
——
To learn more about WomenHeart: The National Coalition for Women with Heart Disease, please visit their website at http://www.womenheart.org.
To browse a list of helpful infographics by WomenHeart: The National Coalition for Women with Heart Disease, please click here.
To learn more about Dear Heart: A Coloring Book Journal for Living with Heart Disease, please click here.
If you are interested in saving 30% on bulk orders of Dear Heart: A Coloring Book Journal for Living with Heart Disease during American Heart Month, please click here. Offer ends on February 28th.
To learn more about Led By Love: A Coloring Book Journal for Family Caregivers of Adults, please click here.
——
What are some ways you might want to support American Heart Month? We'd love to hear from you.
---
PLEASE NOTE: The opinions, representations, and statements made in response to questions asked as part of this interview are strictly those of the interviewee and not of Chloé McFeters or Tortoise and Finch Productions, LLC as a whole.