Led By Love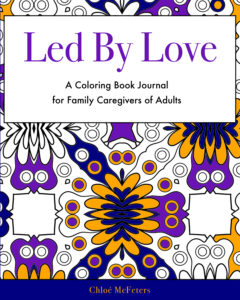 Led By Love
A Coloring Book Journal for Family Caregivers of Adults
$14.99
Caring for a family member or loved one can be rewarding and life-affirming in many ways. It can also be consuming and stressful. Finding time for yourself can be difficult. If you are a caregiver for a loved one, finding a few minutes a day to focus on your own needs can be very important.
Led by Love offers a portable refuge from the demands of the day that you can visit as you are able. The journal's writing prompts are designed to invite you to write about the practical and emotional aspects of caregiving. The mandalas and abstract patterns offer an opportunity to disengage from challenges, fears, and stresses of the day, allowing your mind and senses to flow with colors and self-exploration.
Led by Love is a private companion for the caregiver's journey, helping you care for yourself while you care for others.
Book Details
Publisher: Sherman Point Press
Publication Year: 2017
Format: Print
ISBN: 9781543233032
List Price: $14.99