Still, But Not Silent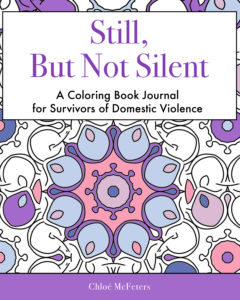 Still, But Not Silent
A Coloring Book Journals for Survivors of Domestic Violence
$14.99
If you are a survivor of domestic violence or partner abuse, you know all too well that the struggles don't necessarily end when you leave the person who abused you. The realities of what has been lost, learned, and endured take time to digest. There are challenges to face, emotions to sift through, and a new life to build.
Still, But Not Silent provides a creative outlet for exploring one's experience with domestic violence. The journal prompts invite reflection on your experience with abuse, and your goals and dreams for your life moving forward. The mandalas and abstract patterns offer a means to let the mind and senses flow with colors, creative discovery, and self-acceptance.
Still, But Not Silent is a quiet, supportive, portable ally for healing wounds, recognizing, owning and building your strength, finding inner stillness and freeing your voice.
Foreword by: Ann Bayly-Bruneel
Book Details
Publisher: Sherman Point Press
Publication Year: 2017
Format: Print
ISBN: 9781517558420
List Price: $14.99
Endorsements
"Escaping from domestic violence is but the beginning of what can be a long recovery process. Chloé McFeters' new book, Still, But Not Silent, is designed to support and guide that journey. It provides insightful and informed direction for healing, mentally, emotionally, and socially. Victims of domestic violence literally have to remake their lives. This coloring book journal is an important tool, a friend on that road to recovery."
— Rebecca Leo, author of The Flaws That Bind
---
Contributors
Ann Bayly-Bruneel, RP, RCAT, OATR
Ann Bayly-Bruneel is a Registered Psychotherapist and Art Therapist in London, Ontario Canada. She is an artist, feminist and activist working in both private practice and within a community mental health setting. Ann's own quest to push societal edges and transform barriers lead her on a path towards creative and somatic healing. Recognizing that just as mind and body are not separate neither are we. She believes deeply in the power of the arts to offer new holistic pathways for individual and collective healing and has had the privilege of working alongside many survivors of violence, trauma and systemic oppression. Ann's understanding of developmental trauma and attachment hones her ability to create deep presence, resonance and attunement with individuals. She believes in creating the right conditions of safety, support and care to allow the natural processes of healing to unfold --making room for the authentic self to emerge and transform. In this way she is co-creator offering new ways of seeing and opening windows to possibilities!
For more information contact
heartsightpsychotherapy@gmail.com
www.hivedirectory.net