Beyond the Call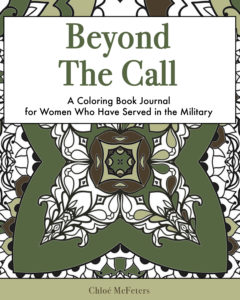 Beyond the Call
A Coloring Book Journal for Women Who Have Served in the Military
$16.99 
Separation from military service can present many opportunities and challenges, whether you were discharged recently or have been out for some time. Beyond The Call offers women Veterans a creative outlet for reflecting on those opportunities and challenges in a life-affirming way.
The mandalas and abstract patterns let your mind and senses flow with colors and creative self-discovery. The journal prompts are designed to invite you to write about your experiences and help lead you to acquire a clearer perspective on your military service and your transition to civilian life.
Beyond the Call is a portable resource for women Veterans to explore their thoughts and feelings during and after their transition from military service.
Foreword by: Mea Williams, M.B.A., President and CEO of of Grace After Fire
With Contributions by:
Heather MacArthur
Tana Plescher
Shavonne Broom
Roberta Castaneda
T'Liza Kiel
Book Details
Publisher: Sherman Point Press
Publication Year: 2017
Format: Print
ISBN: 9781543195200
List Price: $16.99
Endorsements
"Beyond the Call goes above and beyond in its approach toward promoting the meaningful connection between art and self-reflection through a winning combination of mesmerizing mandalas, personal testimonies, powerful affirmations, and insightful writing prompts -- proving itself far more than a coloring book for veterans. Cheers to Chloé McFeters who has forged a much needed creative, healing pathway between the heart and mind."
— Marine Corps veteran Tracy Crow, author of five military-themed books, to include the award-winning memoir
Eyes Right: Confessions from a Woman Marine, and the breakthrough text, On Point: A Guide to Writing the Military Story.
---
"As somebody who has a hard time meditating and wants to bring in more mindfulness, this is a wonderful way to do so!!! This book, Beyond the Call, is a wonderful source of relaxation and focus by coloring the mandalas. Mandalas have a special meaning for me and allow me to explore my creative side. It's also fun to reflect back on my wonderful Navy career and the opportunities that have been presented to me because of my service. I am appreciative to Chloé McFeters and all involved who brought this book together and to enjoy camaraderie. Thank you!"
— Navy Veteran Jaimie Bahl, Reiki Master Practitioner and owner of Reiki Energy Healing, LLC
Contributors
Mea Williams, M.B.A
Mea Williams was born in Cambridge, Ohio. She is a Navy Veteran, a Marine wife, a mother, and the President and CEO of Grace After Fire. At Grace, Mea directs and oversees all efforts and activities related to the development and implementation of an innovative Veterans' peer-to-peer support program, Table Talk ™, Color Me Camo, the hosting of woman Veteran and family retreats, and all efforts associated with fundraising.
Grace After Fire's mission is to help women Veterans help themselves by providing assistance in the transition process of reintegrating them back into their homes, the work place, and in their communities after their military service. Various forms of assistance include: resource referral navigation, peer-to-peer support efforts, and community social Veteran events.
With focused impact, over the years, Grace After Fire's presence has helped cut the unemployment rate by 75% on a national level, assisted in bringing the rise of homelessness to a halt in Texas, and brought a massive amount of women Veterans awareness to areas both on a state and national level.
While managing more than a half million dollar budget and impacting the lives of roughly 1000 Veteran families a year, Mea and her team— comprised of Army, Navy, and Marine Corp Veterans—will continue to ensure that women Veterans and their families have the appropriate tools to lead them to successful and fulfilling outcomes, and that more awareness of women Veterans is spread locally and throughout the states.
Mea earned both her Bachelor's degree in Business Management and her MBA with a specialization in Healthcare Administration from Ashford University. Recognized by her peers and mentors for her nonstop determination, passion to see others reach their full potential, and strong people skills, Mea was nominated and selected as part of Leadership Texas 2015 and Leadership America 2016. Now a resident of Katy, Texas, Mea spends her days purposely affecting the lives of many in and around her community.
---
Heather MacArthur
Heather MacArthur grew up in the small town of Barstow, CA. She worked multiple jobs to help pay for family care and to put herself through college. She later enlisted in the US Air Force, serving as a Russian Linguist for the National Security Agency for four years. During this time she completed her bachelor's in Psychology and used both her military experience and education to grow her career in the private sector. Today she splits her time from coaching and partnering with successful companies and their leadership with volunteering her services to assist transitioning veterans, the homeless, and domestic abuse survivors secure jobs and navigate their workplace. Her book, Low Man on the Totem Pole: A Tough-Love Letter to the Employee in All of Us, will be out this summer.
---
Tana Plescher
Tana Plescher is a 39-year-old single mother of two teenagers, a US Navy Veteran, and a family caregiver. She grew up in Irving, Texas and recognized at an early age that she was put on this Earth to help others feel better. That dream eventually turned into a career in medicine. For well over a decade, Tana dedicated her life to the wellbeing of others. Being a Hospital Corpsman in the US Navy afforded her many opportunities in the area of Obstetrics and Gynecology (OB/GYN), including assisting in the delivery of numerous babies, as well as providing follow-up care in Pediatrics and Family Practice. Tana has also provided emergency care to trauma patients, and provided lifesaving care on board the only floating ICU during Operation Iraqi Freedom, ultimately playing a small role in bringing America's Heroes home to their families. Today, Tana continues to serve the veteran community as a Woman Veteran Outreach Coordinator with Grace After Fire. 
---
Shavonne Broom
Shavonne Broom is a self-described Encourager, Soul Driven Personal Stylist, and the founder of StyleChurch, a spirit-centered business with a soulful approach to personal style. She specializes in helping women move past personal fears of judgment and doubt and encourages them to take bold, courageous action in their lives by providing expert tips and strategies to rebuild self-confidence and develop a personal presence that connects to the beauty, power, and richness that lives within. Shavonne is also a U.S. military veteran. She served for over 10 years in the United States Air Force as a Pharmacy Technician. During her spare time, she attends latin dance lessons, hip hop cardio classes, and enjoys speaking about self-acceptance and dressing men and women for success. Learn more at www.stylechurch.com.
---
Roberta Castaneda, M.A.
Roberta Castaneda, born in Harlingen, Texas, is a 10-year Army Veteran, a mother, advocate, and an Alamo Regional Outreach Coordinator with Grace After Fire, an organization committed to serve to protect the Veteran, connect the resource, and renew the woman. She joined the United States Army in February of 2000, honorably serving for 10 years. During her tenure in the military, Roberta served as a Preventative Dentistry Specialist, Practice Manager, Community Dental Hygienist, Clinic Manager, and Operations and Training Manager. She also attended Professional Leadership Schools and served as the unit Commander's Total Fitness Instructor, Equal Opportunity Leader, Sexual Assault Victim Advocate, Chairman of the Social Community, and Unit Ambassador. Roberta received her Bachelor's Degree from Wayland Baptist University in Business and her Master of Arts in Counseling. She is currently enrolled in a Life Coaching Certification Program in an effort to assist others in achieving their goals. She completed her Internship with the Center for Health Care Services Veterans' Project, where she counseled Veterans within their program as part of San Antonio's Homelessness Initiative. Additionally, Roberta completed the Non-Profit Management Certification Course through St. Mary's University. Her passions include public speaking, volunteering, traveling, dancing, fitness, mentoring, and inspiring others.
---
T'Liza Kiel, M.A.
T'Liza Kiel is a woman of God, a wife, mother, daughter, sister, public servant, mental health advocate, and aspiring author. During her early 20s, after completing her undergraduate degree and touring one year in Iraq, she found herself lost. With a determined spirit and larger-than-life personality, she found herself seeking professional help while in the midst of planning a wedding and completing a graduate degree. After many trials and tribulations, including financial struggles, alcohol abuse, and suicidal ideations, she was ultimately directed toward a life of continued service. Today, T'Liza works as the Director of Veterans Behavioral Health at Mental Health of America of Greater Houston, applying the knowledge and skills gained from her collegiate studies, as well as her own mental health experience, to serve veterans transitioning from military to civilian life. T'Liza is an avid volunteer of The Mission Continues and a prayer partner at her home church in Houston, Texas. Service continues to be at the forefront of T'Liza's life and heart. She is currently writing a book, and enjoys spending time with her loving husband and charismatic son.