Save 30% on Bulk Orders of Dear Heart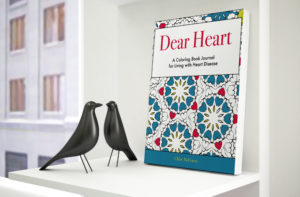 Qualified groups and organizations will receive a 30% discount on bulk orders of Dear Heart: A Coloring Book Journal for Living with Heart Disease.
You can learn more about Dear Heart here.
To place an order, please contact sales[at]chloemcfeters.com or call +1 617-820-6233 x3. 
---
"Dear Heart is a wonderful outlet for heart disease patients looking to discover, reflect upon, and release their feelings. While free-form journaling can be therapeutic, this journal provides patients additional benefits of the focused, yet serene task of intertwining the meditative effects of coloring with introspection about their past, present, and future as it relates to their heart disease. As a social worker working in cardiac rehab, it would give me great satisfaction to know that my patients were using this coloring book journal."
— Nicole Saia, LICSW, Cardiac Rehab Department
---
To learn more about heart disease, you might want to check out the links below:
National Institutes of Health; U.S. Department of Health and Human Services
https://www.nhlbi.nih.gov/health/educational/hearttruth/lower-risk/what-is-heart-disease.htm
American Heart Association
http://www.heart.org
WomenHeart - The National Coalition for Women with Heart Disease
http://www.womenheart.org