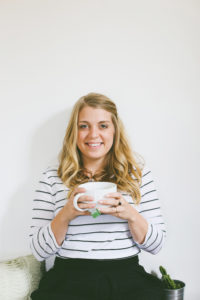 When I grow up, I want to be like Lindsey Smith. What an inspiring woman! I first heard about Lindsey and her new cookbook, Eat Your Feelings, from a friend who is a health coach in Pittsburgh, PA. Then, just two weeks later, another friend from a completely different part of the country reached out to me to say that she knew this amazing woman who had just released her new cookbook, and asked if I would be interested in interviewing her. Turns out, it was Lindsey Smith!
Clearly, the two of us were meant to connect, and I'm so glad that we did. I was thrilled to have the opportunity to get to know such a talented author, speaker, and entrepreneur. Lindsey's story and passion are powerful, her approach is fun and flexible, and her recipes are definitely delicious. I hope you enjoy!
—

CM: You are known as the "Food Mood Girl." What can you tell us about the woman behind the brand?
LS: Aside from being the "Food Mood Girl," I am a very intuitive person and have been my entire life. I am obsessed with dogs. I like to completely immerse myself in experiences to explore all of the processes and come to a conclusion before determining how I feel about something. I tend to not see things as black or white, but I live in the questioning grey area.
I also love hospitality and my husband and I own a house that we Airbnb. My dream goal is to eventually own an actual bed and breakfast in the country.
CM: I know that your passion for learning about the connection between food and mood was sparked when you were quite young. Can you tell us about your lime green sweat suit and give us a glimpse into what it was like to be you back in the 4th and 5th grades?
LS: Back then, I was highly sensitive (I am a Cancer baby) and was caught up in comparison. Deep down, I felt like I had a lot to offer, but never felt like I was quite good enough compared to my peers. I always felt like I had to prove myself. All things combined, made me a very anxious person.
I wanted to hide, but had a deep desire to be seen. I felt like I had a lot to offer, but didn't know how to express or articulate it. In hindsight, that's maybe why I choose lime green as the color. Sure, it was a baggy sweat suit outfit that hid my body, but I'm sure the lime green stood out. It was probably an unintentional cry to be seen.
CM: Can you talk a little bit about that instinct to become "invisible"? I know I definitely felt that, too, and it came on at just the same age. What do you believe was driving your desire or need to remain hidden at that time?
LS: For me, I felt like if people saw who I really was, they wouldn't like me, so it was easier to hide. Even though I deeply felt like I had a lot to offer, I didn't feel like anyone would understand. So I hid.
CM: It seems that you were actually quite outgoing as a young person. In second grade, you threw a carnival at your house, and in 5th grade, despite living with anxiety, you were negotiating a poetry column in your local paper. I think some people might not realize that one can be living with severe anxiety or panic attacks and still be really sociable, and outgoing, and even confident in many situations. Can you talk about what that was like for you, clearly having so many creative ideas, and yet feeling so afraid to be seen or heard? 
LS: Well, I always saw that my true self–my 2nd grade, 7-year-old self–was the true essence of who I've always been. I was outgoing, willing to take risks, and had a deep desire to help people. That is the "me," I always was, but just a few years later, the anxieties took over.
And as far as the poetry column, it's funny, because I felt confident in doing that because adults were involved. My dad was the one that encouraged me to write poetry. Upon reading the poetry section one day in the magazine, I thought, "Maybe I could share my poems in this way?" So I submitted my first one and eventually became a regular. I think, at the time, I felt more comfortable with adults than peers my own age. I always was somewhat of an "old soul" and so it was very hard for me to relate to kids. I never actually shared my poems with my peers, but always my parents' friends or my teachers.
CM: How did anxiety manifest in your daily life and when and how did you first realize that this was not the way that you wanted to feel moving forward?
LS: I always felt super uncomfortable in crowds. I had to actually strategically plan the way I got to school so I didn't have to show up on a bus full of students. At lunch, I seemed to never have a group to sit with and it caused me to just focus on eating and constantly having something to eat so I could feel busy or maybe others wouldn't notice. For me, once I thought of going to middle school, I realized it was going to be more intense, and I needed to figure out a way to move forward. Looking back, I am proud of myself for being intuitive and listening when there was a problem, and then in turn, asking for help. Also grateful for my parents, who probably still don't understand what I do, but who were always supportive in taking action with me.
CM: Yes, your parents seem to have been deeply supportive of your choices around your physical and mental health as a young person. Would you say that's true, and if so, what difference did that support make for you?
LS: It's funny because, at the time, I would have said no. My parents were entrepreneurs and they were constantly busy. I spent most of my weekends in their retail shop. My dad would often take me with him when he was giving customers estimates. Because of that, they often weren't there for me physically, and as a kid, I craved that. When I had a speaking line in a play, I wanted them to be there so bad, and as soon as the curtains went up, I looked for them in the crowd. I saw my grandma sitting with two empty seats beside her and she just shrugged her shoulders. So as a kid, I craved my parents' attention. I wanted them to show up for me for really important and exciting things, but what I now realize, is that they were showing up for me every single day and in ways for my health and well-being, even if I didn't understand it at the time. So I can look back now and say, while, yes, they definitely missed out on big moments of my life, they sacrificed those things so that they could afford for me to get the help I needed. And for that, I am forever grateful.
CM: When you were 12, you were working with a therapist who told you that you needed to "learn to love yourself more." Looking back, what do you remember thinking and feeling when you first heard those words? Have you returned to those words over the years and what impact do you think they've had on your mental and physical health and wellbeing?
LS: It's funny because I feel like I processed a lot more of this as an adult. I don't think you realize the impact people or phrases have on you until you can look back and see how it changed you. That's how I feel about that moment. Self-love wasn't something people talked about in the 90's like we do today, so to hear those words, had a profound impact on me. And it's evolved over the years in my way of thinking about what self-love really means as well.
CM: What can you tell us about Dr. Ted Cibik and the difference he made in your life? 
LS: Ted has been one of my biggest teachers over the years, both personally and professionally. He heard me out, talked to me and treated me with respect, and helped me dig deeper and understand my body. I carry many of the lessons he taught me with me to this day. I even schedule sessions with him several times a year when I need a re-balance.
CM: How did the Food Mood Girl first get started?
LS: I was actually in Costa Rica at a health coaching business conference and I was looking to really have a niche brand. Prior to that, my business was called, The Real You. That meant something to me, because I felt like my experiences led me to find who I really was, but it was a little too high-brow. I wanted something that showcased who I was and the issues I want to discuss. After lots of brainstorming and help from other coaches, Food Mood Girl was born.
CM: You first book, Junk Foods and Junk Moods, was self-published. What was that process like and what hopes did you have for that book at the time? How did you get the word out about your book and what sort of responses did you receive?
LS: For me, I knew I wanted to be an author and I really wanted to share my story in a bigger way with others. I figured if I wanted to traditionally publish, I'd have to wait until I had more of an established brand or credibility.
However, I saw publishing a book myself as a stepping stone to build my platform. So I did the process backwards a bit, but it completely changed my career.
As soon as my book came out, people viewed me and my brand differently. When I would pitch articles or TV shows, the book was what usually sealed the deal. It gave me momentum and fuel to keep going with my brand.
I did something that I still do to this day, I reach out to 3-5 people a day to either connect, share gratitude, or to pitch/request something. Having the book helped make this process a little easier, but I still continue to reach out to people daily.
CM: When and how did you decide to bring speaking engagements into the mix and how did you get started positioning yourself as a speaker?
LS: This was definitely a big reason why I wrote the book. I knew I wanted to speak and share my story more publicly. Writing the book helped me understand my own story and process it all to feel more confident about sharing it. After my first book launched, I changed my signature on my e-mail to now include "speaker," and that's when it all changed.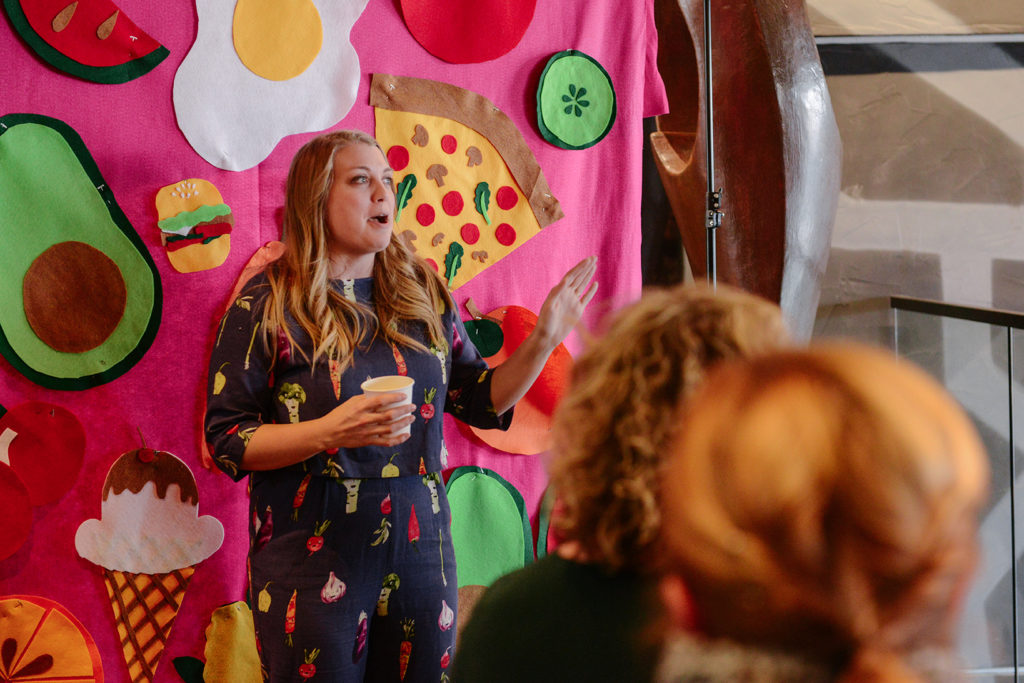 CM: Public speaking is something that can be pretty anxiety-inducing for a lot of people, yet you make it look easy. Do you remember your first speaking gig as the Food Mood Girl? What can you tell us about it? What have you learned since then?
LS: Oh god. My first talks were SO MUCH INFORMATION. I basically thought I needed to teach my entire nutrition education in 30 minutes or an hour. I think the more that I did it, the more that I learned. I realized what stories invoke emotions in others and how to position them in a way that showcases the bigger picture. In many ways, I transitioned into a storyteller that gives some healthy nuggets of inspiration.
CM: In 2016, you gave a Tedx talk in Pittsburgh on the topic of self-love. How did that opportunity come about and what was the inspiration behind the topic?
LS: The original talk I pitched was on food and mood. However, when the TEDx team reached out to me, they seemed to be interested in how I went about dealing with an instance that happened to me. I wrote an article for the Huffington Post called, "The One Nutrient Missing From Nearly Every Diet" and that magical ingredient is self-love. I got a lot of positive feedback, but of course, I also got negative feedback from it. I decided to take that opportunity and respond to it. The TEDx crew watched this all from social media and thought there was something there. So that's how it started!
CM: You mentioned that you received negative feedback. How did you choose to manage that?
LS: Yes, people definitely had negative feedback. I allowed myself some time to be pissed off and annoyed, and then after I processed it, I decided to respond. For me personally, I think it's important to process before responding to things. I like to put the shoes on of the reader, take them off, get pissed about it, put their shoes back on, maybe even see a different perspective, and be able to discuss it in a way that reflects the time I took to process.
CM: You have said that "self-love is about vitality." What does that mean to you? What do you hope it means for others?
LS: I think so much of self-love culture is wrapped up into doing something outwardly to feel better inwardly. While this can be true, I think that self-love is much more than that. At its true essence, I think self-love is a deep feeling.
CM: In your Tedx talk, you mention that over 1,000,000 "selfies" are taken every day around the world, and went on to suggest that one should "take a selfie because you love yourself, not because you don't." Can you talk a little bit about that distinction, as you see it?
LS: I think that we live in an instant gratification culture and oftentimes "likes" or comments about our appearance distract us from getting to the root of loving ourselves. We use others' opinions about us to dictate how we are going to feel about our own self-worth. So I guess I think we just need to stop and think about why we are taking the selfie. Is it because we think we got a good angle and enough filters to feel worthy of others? Or is it because we got that good angle and feel really damn good about ourselves? There is a difference in intentionality that reflects on our own individual thoughts of self-worth.
CM: In my life and work, I have learned that there is great power in sharing one's stories, and that our stories can be of real value and service to others. I believe there's something profoundly healing and empowering about understanding that we are not alone and that hearing other people's stories helps to make that recognition possible.
Can you talk about the importance of sharing our stories and of being able to look to and hear from others who have experienced similar challenges?
LS: I believe one of the last steps in the healing process is to share your journey. I think verbalizing it out loud makes it less scary and creates a kind of accountability that we don't get by keeping it all in. Additionally, it allows us and others to understand that we are not alone and that someone can relate. That, in and of itself, is healing.
CM: Another one of the personal stories you have shared is that you are a survivor of sexual assault, and I know that you have worked to raise awareness about sexual violence and the importance of support services and organizations like RAINN.
Did the lessons you learned about wellbeing and self-care as a young person play an important role in healing from that trauma?
LS: At first, no, because I chose not to use them, but to instead gravitate towards quick fixes like alcohol or achievements. Eventually, however, I realized that I needed to go back to the healing tools I learned early on in order to really find clarity and heal from the past traumas.
CM: What can you tell us about your book Hear Me Roar: How to Defend Your Mind, Body & Heart Against People Who Suck, which you co-authored with Jennifer Cassetta?
LS: That was a really healing and fun project that I had a chance to work on with my friend, Jenn. Jenn is an all-around badass and learning from her helped heal me even more. I think I learned so much myself in the writing of that book, that I physically and mentally felt more prepared and stronger to kick ass.
CM: I know that you are currently on tour promoting your new book, Eat Your Feelings. I love the book! I think it's an incredibly valuable and beautifully-designed resource. Please tell us a little bit about it.
LS: Thank you! This book is a true labor of love and a tribute to my loyal readers over the years. I listened to a lot of what they wanted to see more of compared to my last books and made sure to include that in this book. Eat Your Feelings is part investigative journey to figure out your food-mood relationship and part cookbook. It's the only cookbook on the market to break down recipes by emotions and then cravings. So if you are sad, tired, stressed, "hangry," or bored, there is a recipe for you, complete with ingredients that actually help your mood.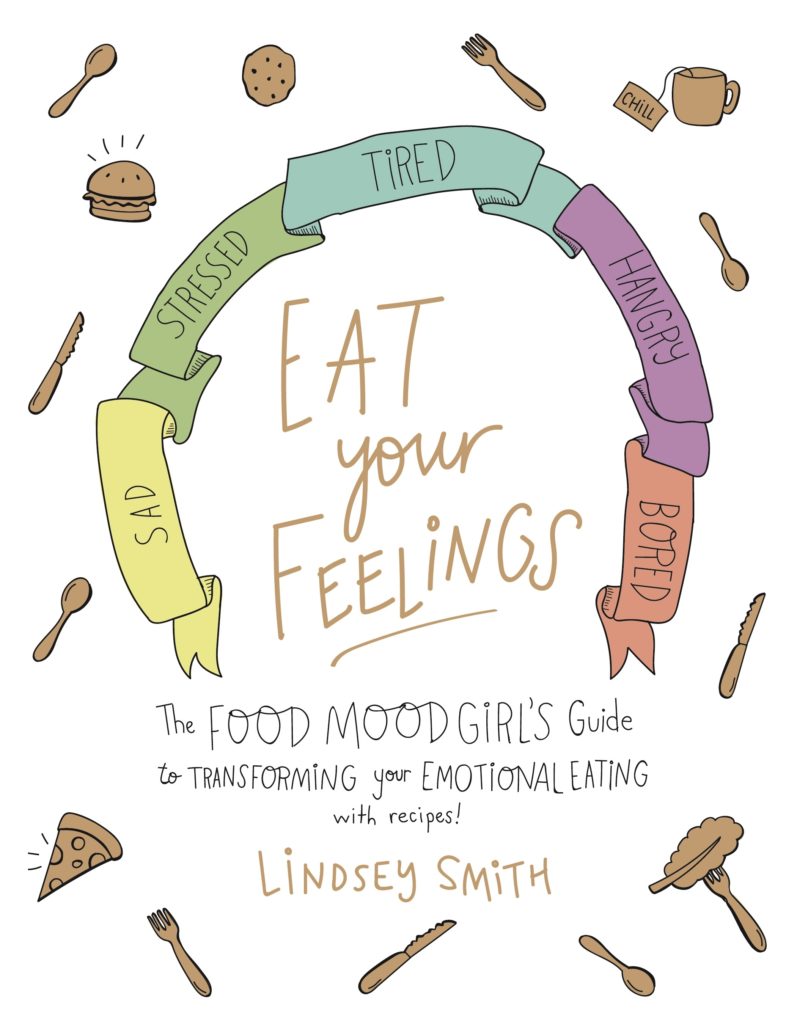 CM: What was it like working with food stylist Quelcy Kogel and illustrator Kate Reingold?
LS: These two women were such a blast to work with because they really "got me" and were able to enhance the vision I had and make it the best it could be. Quelcy and I ended up becoming best friends and we most recently bought a vintage camper together to renovate and turn into an Airbnb.
Kate and I met for the first time at The Book Larder in Seattle on a book tour stop. It was great to finally meet in person and strengthen the bond we formed from a distance.
CM: In Eat Your Feelings, you really encourage people to listen to their cravings, to explore and examine them. Why do you feel it's important to do so?
LS: I think that, so often, we don't because we are afraid to feel what comes up for us. Oftentimes, we turn to food to fill a void. I think that if we stop and listen, we can learn what our body really needs, whether it's physical food or "lifestyle food."
CM: What is a "lifestyle food"?
LS: These are the other things in our life that nourish us, sustain us, and give us energy that don't come on a plate. They are things like relationships, self-care, journaling, exercise, or anything that makes us feel good.
CM: How does one become a "food-mood-etarian"? What does it mean to adopt a "food mood lifestyle"?
LS: It starts by listening to your body, allowing yourself to feel your feelings, and figuring out what works for you. Our bodies are super smart and are always working for us, we just have to listen. Once you understand and start creating a conversation with your body, you will be better able to feed it and nourish it with what it might need.
CM: What is one food that you still find yourself craving and how have you learned to understand it, work with it, and/or make it more nutritious?
LS: I love pizza and do crave it from time to time. I can usually easily pinpoint if I want it because I'm tired and it's easy, or if I'm stressed and want to feel grounded. Depending on which it is, I have ways to work with it. For example, I always keep a cauliflower pizza in the freezer for those days I really don't feel like cooking. If I'm stressed and want to feel grounded, I use my quinoa pizza crust recipe and make my own. And sometimes, I just want pizza from my favorite local spot. And that's cool, too. All in all, my philosophy is learning to listen to your body and releasing guilt around food.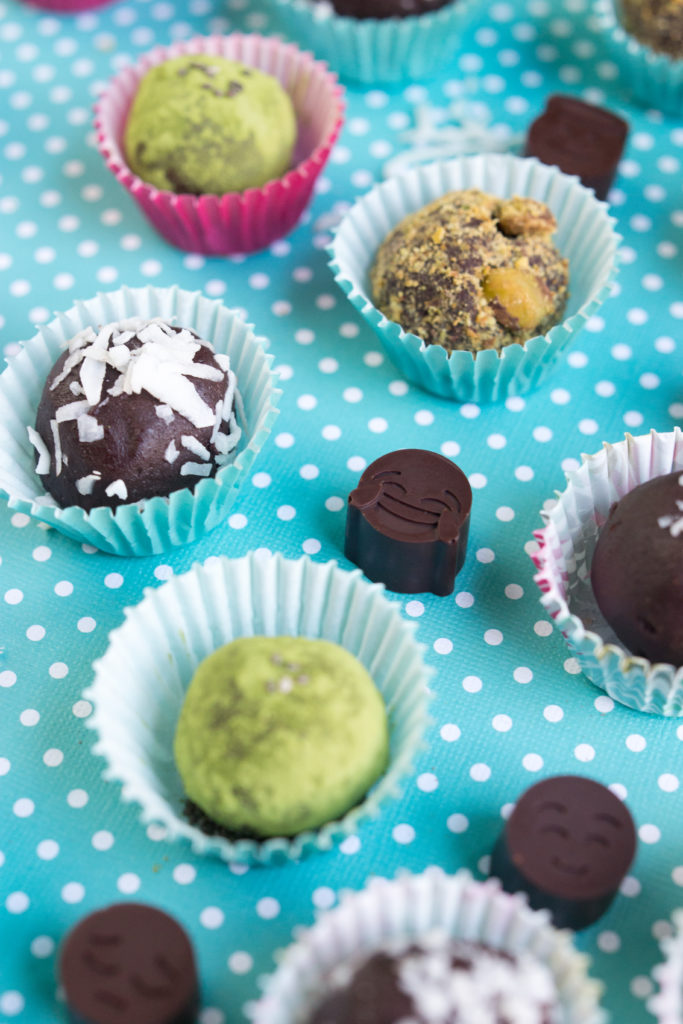 CM: Do you have a favorite go-to recipe that you'd like to share?
LS: I love the taco "meat" recipe in Eat Your Feelings. I just love everything about it! The taste, the texture, the spices, and the mood-boosting qualities.
CM: Please tell us about the book tour. Where can people connect with you and what sorts of events will you be doing on the road?
LS: Yes! I will be on the road for quite some time doing everything from intimate brunches/dinners to book signings to unique collaborations and workshops. You can find all the stops at www.FoodMoodGirl.com/eyfbooktour – I am also open to new stops along the way if anyone has any ideas or would like me to come to their town!
CM: I know that you have concerns about some of the recipes in Eat Your Feelings being more financially accessible to people. Can you talk a bit about those concerns?
LS: Well, I think that there is a lot to do when it comes to changing our nutrition and diet culture in the United States. I understand that not everyone can make my mood-boosting almond chia bread in my book because almond flour and eggs can be pricey.
A big issue we face is making healthy food more accessible. So aside from the work I do on my books and with the issues I care about, I also make sure I spend time advocating for better and more affordable nutrition for everyone and working with different organizations to teach cooking classes and provide healthy and affordable recipes to others.
CM: You have also started a publishing company. What's the name of your press and where can people learn more about the company and the types of books you are looking to publish?
LS: It's called One Idea Press. Our website is www.oneideapress.com. We are currently looking for both fiction and non-fiction authors that are looking to not just write a book, but create unique experiences based on their book. Right now, we are excited about Blue Rooms, a book of poetry that is being made into a live show. We are trying to create a new form of publishing that pushes boundaries beyond ink and paper.
CM: As someone who seems to have been born with the "entrepreneurial gene," you wear a lot of different hats, and you understand the hard work that goes into building a business and platform. What are some early pieces of advice you received that weren't as helpful for you, and what have you learned about "failures" and "success" from your own entrepreneurial journey?
LS: I think early on, people would tell me certain things I had to do in order to be successful. You have to take this program or follow this advice or have this many Instagram followers. Honestly, I just tried, learned, failed, and figured out what worked best for me. I decided not to put myself in a box and do something because I felt I had to. I also learned to know when to hire out people in order to grow and expand and when to focus on what you are good at to grow.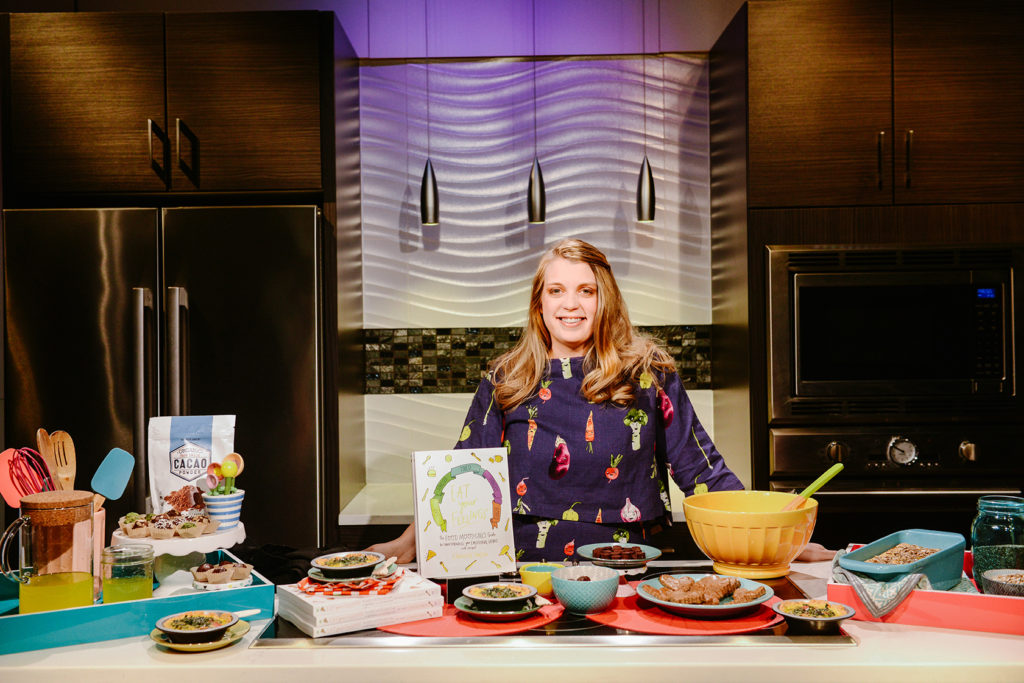 CM: What is something you'd like to see, do, or try in 2018? Where do you see The Food Mood Girl in five years from now?
LS: In 2018, I'd like to travel to new places and connect with people more in real life.
I'm not sure where the journey of Food Mood Girl will take me, but I have a feeling, some place cool!
CM: Where can people learn more about you, your books, and your services? Where can people purchase Eat Your Feelings? What's the best way to follow your work?
LS: My website is www.FoodMoodGirl.com And you can purchase Eat Your Feelings wherever books are sold.
The best way to connect is on social media, either Twitter or Instagram – both are @lindseysmithhhc.
CM: What is one thing you want others to know about the connection between food, lifestyle, and mood?
LS: They are all interconnected.
CM: If there is someone who is reading this who may be struggling with anxiety, or who may be feeling trapped inside their own invisibility cloak, what words of support would you offer to them?
LS: You are worthy of happiness.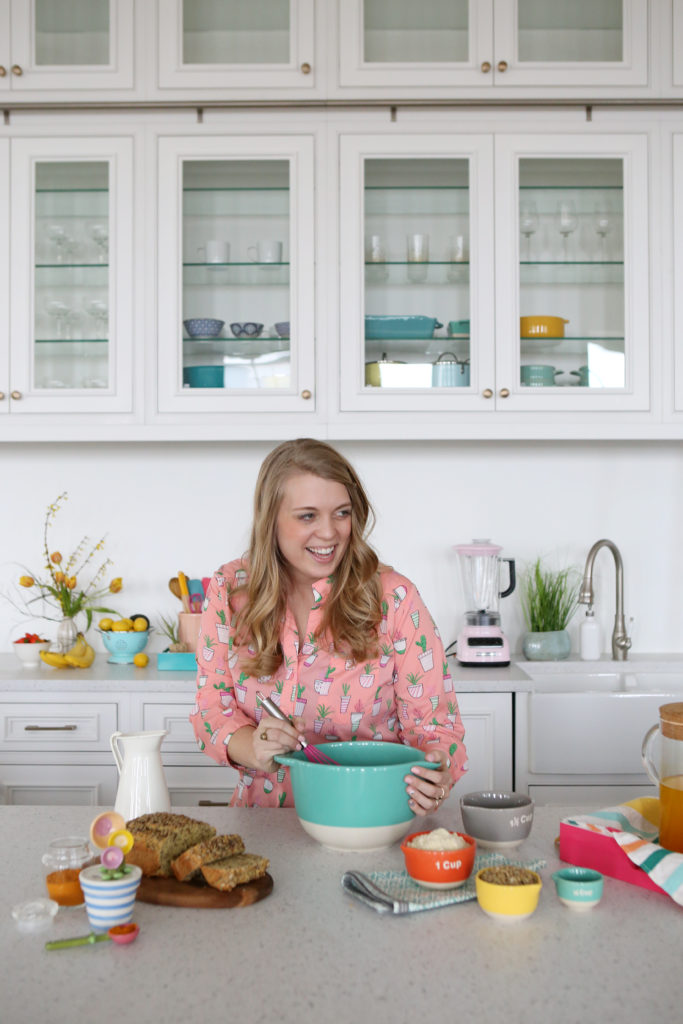 CM: My last question is about your dog, Winnie Cooper. Was she a good taste-taster during the creation of the book?
LS: She was such a great girl during the whole process. She's just the best in general and I just love her so much! Dogs make everything better.
——
You deserve to get help if you need it. If you are in crisis or experiencing emotional distress, call The National Suicide Prevention Lifeline at 1-800-273-TALK (8255) or SAMHSA's National Helpline, which offers free information for individuals facing mental health and/or substance abuse issues, at 1-800-662-HELP (4357).
To learn more about Lindsey Smith, the Food Mood Girl, check out her website.
To purchase a copy of Eat Your Feelings, check it out on Amazon.com.
To learn more about The Ally Within, my coloring book journal for living with autoimmune-related diseases, please click here.
——
What's your favorite recipe from Eat Your Feelings? What foods do you crave when you are feeling blue or "hangry"? Tell us in the comments below.
---
PLEASE NOTE: The opinions, representations, and statements made in response to questions asked as part of this interview are strictly those of the interviewee and not of Chloé McFeters or Tortoise and Finch Productions, LLC as a whole.