The Ally Within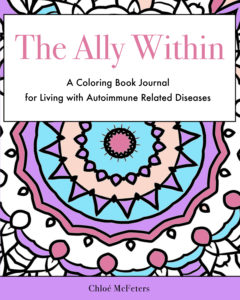 The Ally Within
A Coloring Book Journal for Living with Autoimmune Related Diseases
$14.99
If you are one of the millions of people around the world (upwards of twenty-three million in the U.S. alone) who have been diagnosed with an autoimmune disease (or multiple autoimmune diseases), you know all too well the uncertainties, adjustments, trials, and see-sawing emotions of coping with the disease's effects.
The Ally Within invites you to reflect gently upon your circumstances, and take respite in the calming activity of coloring. The book's journal prompts are designed to invite you to write about the practical and emotional aspects of living with an autoimmune related disease. The mandalas and abstract patterns provide an opportunity to disengage from concerns and fears, allowing your mind and senses to flow with colors and creative self-discovery.
With Contributions by:
Celina Jo DiRado
Jennifer Dawn Gabiola
Katie Simons
Book Details
Publisher: Sherman Point Press
Publication Year: 2017
Format: Print
ISBN: 9781543117134
List Price: $14.99
Endorsements
"What a wonderful resource for both patient and family dealing with (Autoimmune Disease/Cancer). Significant thought and research went into these publications, capturing the experiences of patients, helping them work through a myriad of issues and emotions, all working towards adjustment to their circumstances and finding power in their experiences. I recommend these resources for use both personally and clinically. They can easily be incorporated into treatment with a patient, allowing insight by the clinician into their patient's experience. Additionally it allows the patient to share their experience with both family and professionals to better enhance support for their needs. I look forward to having such a resource available for recommendation." 
— Dr. Martha Sorensen, Ph.D., Licensed Psychologist
Clinical, Medical Rehabilitation and Behavioral Management, Neuropsychology
---
Contributors
Celina Jo DiRado
Celina Jo DiRado resides in sunny California, where her days are filled with an abundance of good coffee and loving company. You may find her cycling in the hills outside her suburban fish bowl to the quirky rhythms of J-pop tunes. She is a devoted Sci-fi buff, known for her film quote dropping. People are Celina Jo's true passion. Despite living with several chronic, invisible illnesses, Celina Jo doesn't let anything stop her from trying to make the days a little brighter for someone else.
To learn more, please visit Celina's blog at www.celinajo.com, where she will write about being a tattooed Mama who lives with the challenges of anxiety and an autoimmune disease.
---
Jennifer Dawn Gabiola
Jennifer Dawn Gabiola found beauty and grace in the most challenging time of her life when she lost her successful 12-year career as a Design Director and her health. This pivotal time was a powerful catalyst to find her voice and transform her life, where she now helps her fellow introverted leaders own their quiet voices and fierce power to build brands that make a big impact.
Jennifer loves supporting quiet leaders through her signature online branding course "Quiet Voice. Big Impact." She also helps women radiate their true inner beauty and style through her Dawning Soul poetic apparel collection. She has been featured in The Huffington Post and Well Being World. To learn more, please visit www.dawningsoul.com.
---
Katie Simons
Katie Simons lives and works in metro Detroit. She is a lover of all things "art," an avid volunteer, and a life-long student. Katie received her Master's of Public Administration with a concentration in nonprofit management from Oakland University. She works for the American Autoimmune Related Diseases Association (AARDA). The only national organization focused on autoimmunity, AARDA spreads awareness, promotes educations, and facilitates research. Visit aarda.org to learn more about AARDA, and autoimmunity.