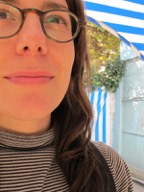 Anyone who knows me knows that I am a huge fan of libraries. In honor of National Library Lovers' Month, I reached out to artist and writer Sarah Peters to see if she would be willing to share a little bit about herself and her interactive public art project, The Floating Library, a collection of artist-made books and printed matter aboard a raft, on a lake, accessible by boat. How cool is that?! She kindly agreed.
Sarah is also an art administrator in Minneapolis, Minnesota. She makes books, organizes public art events such as the annual Northern Spark festival, and rows a handmade boat around the urban lakes of the Twin Cities.
I hope you enjoy our conversation.
Chloé
——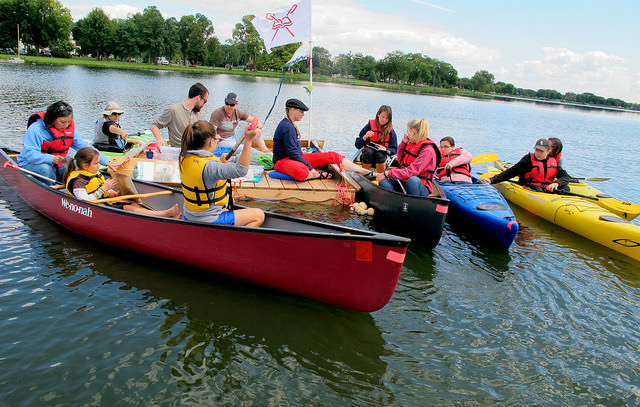 CM: Nowadays, you are a Twin Cities-based artist, but I know that you haven't always lived in Minnesota. Where did you grow up?
SP: I grew up in Lincoln, Nebraska. A land-locked state with very few natural lakes.
CM: Did you fall in love with reading and books at a young age? If so, what were some of your early favorites? What did you enjoy about them?
SP: I was lucky to live within kid-walking distance from a public library branch. My sisters and I spent summers hauling totebags of books back and forth from the library to try and fill up those cards they'd hand out for you to record everything you read on summer break. I don't remember any specific titles, but there was a story about a girl who lived in New York City and took the subway to her violin lessons. I read it over and over wishing that could be my life.
CM: When did you first know that you wanted to be an artist?
SP: I have no idea. I always liked to draw and when you're a kid that likes to draw you get labeled "an artist" early on. I was better at drawing when I was 10 than I am now!
CM: Who inspired you as a young artist? Who continued to influence your style as the years went on?
SP: I honestly can't remember what kind of art I looked at when I was a kid, besides my drawing teacher, Chris McCartney, who lived up the street and I adored her.
Some of the artists who inspire me now and were influential in the imagining of the Floating Library are my friend Dylan Gauthier and the collective Mare Liberum – a boat buildling and publishing collective in New York City and beyond. Marie Lorenz's poetic investigations of waterways in handmade watercraft and my friend Wes Modes' Secret History of River People are floating projects I appreciate very much.
CM: At some point you became interested in the field of Book Arts. What first sparked that passion in you? Which aspect of the field appealed to you the most?
SP: In my first year of college I took the introductory 2-D design class and our instructor took us on a field trip to the Minnesota Center for Book Arts. I had never seen an artist book or knew about books as art prior to that visit. I stared in wonder at structures folded like mountains and pages that spilled out of boxes or unrolled or stacked. It was a moment where all of a sudden my aesthetic and intellectual interests merged. I began to see books as elastic containers for ideas to be revealed over time, in a sequence, through more than text. Prior to that I had struggled with the way the singular flat surface of a painting, a photograph or a print couldn't say everything I wanted to say.
CM: Can you explain for those who might not be familiar with the form what an artist's book is?
SP: This is a question that still stumps me sometimes. I usually say an artist book is "a book made by an artist." This can sound like a flippant response, but it makes sense to me. Books can be many shapes, sizes and materials and be about anything. The primary difference between an artist book and other kinds of books is intention. An artist book is trying to be an art object. A book artist sets out to use the book form — text, image, page, front, back — and messes with them either subtly or extremely. The result could be a hand bound codex with letterpress printed text on handmade paper with marbled end sheets or a commercially printed, perfect bound volume full of weird photographs and no words. Or a duck. (Duck Rabbit by Katya Robbins.)
Another easy distinction is that artist's books are not the same as books about artists, like monographs. At least for the purposes of the Floating Library's collection policy.
CM: I know that you have taught classes at the Minnesota Center for Book Arts. Is that what first drew you to the state?
SP: No, I moved to St. Paul to attend school at St. Catherine University. I got involved with MCBA thanks to a professor I studied with who taught at Macalester College named Mary Hark. She organized for several students from her fibers courses to be apprentice artists at MCBA. For years I went to work at my day job and then biked over to MCBA and spent late nights in the paper studio. My intro to book arts was through papermaking.
CM: What was it like, coming from Nebraska, and suddenly finding yourself surrounded by urban lakes?
SP: It was summer when I graduated from college and moved to Minneapolis (from St. Paul) and I quickly learned that I lived 15 minutes from back door to beach by bicycle. I spent a lot of that summer at the lakes; reading, swimming, walking. Time slows down by the water. Buildings and streets are hidden; traffic is muted; it is hard to track time, especially on a long summer day. This mode of city-escape inside the city is one of the greatest assets of the Twin Cities. Although this form of solace is not immune to issues of inequity. While all kinds of people use the Twin Cities lakes, they are not located in underresourced neighborhoods.
CM: Had you ever thought about creating a library of any sort before you arrived in the Twin Cities?
SP: Nope!
CM: Please tell us about your work with the Art Shanty Projects.
SP: I was part of a shanty building team in the early days of ASP. Later I served on the board and am now a forever fan, attendee and supporting member.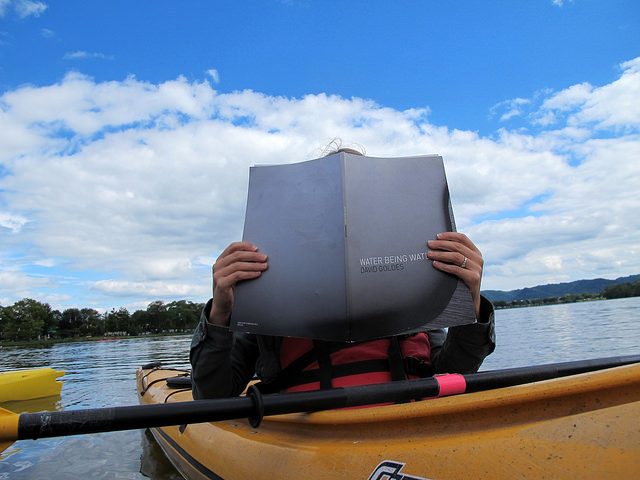 CM: I love the concept behind your interactive public art project, The Floating Library. What a wonderful gift you are giving to so many people. At first it seems like it shouldn't really make sense—water and books together— but then, somehow, it works. You're on a boat on a lake relaxing, so why not read a book (or explore one – I know not all artist's books involve words) while you're there, right? It's the perfect "drifting" activity.
Please tell us how the idea for The Floating Library first came about.
SP: The genesis story begins in a few different places, one of which is a lake, albeit a frozen one. In the winter of 2006 myself and a team of women built a shanty for the Art Shanty Projects. By the end of that winter I realized that I'd spent more time on a frozen lake in Minnesota than I ever had on a free flowing one. Out of that experience came a desire to continue to spend leisure time on lakes yet in more pleasant weather. So my friend and fellow shanty builder Kristen Murray and I built a small rowboat using plans we found on the internet. We rowed it around the Minneapolis lakes on hot summer afternoons. Our favorite thing to do was to drift and read magazines.
Then one summer I found myself with a lot of free time (read: I quit my job) and started an experimental, unpermitted business of selling homemade ice cream out of the boat on Minneapolis' Lake of the Isles every Sunday in July. What was a bad business plan turned out to be a great social experiment. We had all kinds of conversations with strangers in boats as they docked up to eat their scoops. I learned a lot about the traffic patterns on the water and a lot of people suggested we should also sell beer. (We did trade ice cream for beer on one occasion.)
After that I started thinking about the lakes as social spaces in a different way. Tons of people are paddling around, but they aren't talking to each other. Could they?
Also around that time my friend Chris Fischbach of Coffee House Press had started a thing called Reading Room, where people sat together and read books. No cell phones, no conversation, just reading. I had the idea to do an on-water version of Reading Room where folks would paddle together to the middle of a lake to drift and read quietly. Somehow what spilled forth from there was that people would need a place to get books to read on the water, hence a library.
CM: Where did you get the funding for the first version of the Library?
SP: My bank account. I had applied for a grant with a collaborator – the fantastic printmaker and small business owner Anna Tsantir – but we didn't get it. I thought to myself, "This is a bookish town with a lot of lakes. Someone else is going to have this idea. I have to do it anyway." I bought $150 worth of lumber and invited friends to my backyard to build a floating dock using plans from Instructables.com. I paid them in dinner and homemade ice cream. I borrowed my friend Bryan's truck to haul the raft to the lake and a lot of friends and volunteers helped paddle and staff it. I did an open call for books via Facebook and various book arts list serves and to my surprise, artists from across the country donated books for display on the raft.
CM: What did it feel like, first building your own boat, and then building the raft that would eventually become a floating library? That's pretty cool stuff.
SP: Building a boat still feels like one of my greatest accomplishments. I had more help with the raft – I should put my hands in the air for architect and designer Molly Reichert who I hired to design and co-build the Library's current modular raft. We built it at a maker space called the Hack Factory in Minneapolis with the help of several friends, one of whom was a public librarian at the time. Nothing feels quite so bad-ass as drinking a beer on the dock of a community build space at midnight covered in saw dust after a day of hard work.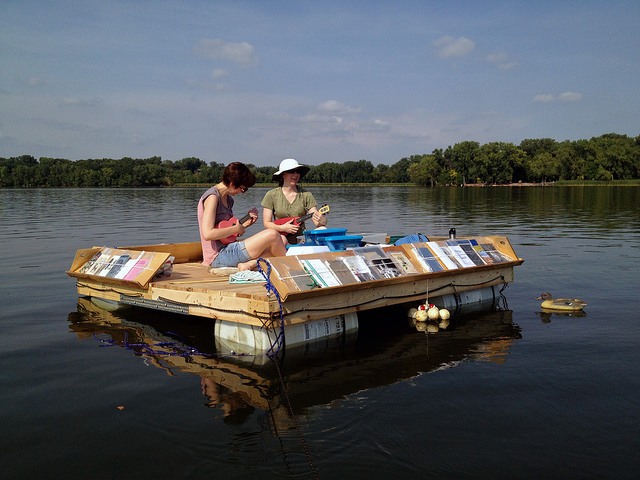 CM: I really appreciate the added touch of only including artist's books when you first started. Can you talk a little bit about the thinking behind that decision? 
SP: This is one where I have to give credit to my early co-thinker, Anna Tsantir. I had initially imagined the Floating Library as a combination of normal books about water and sea faring, etc., and artist books. She pushed on this and we ended up forming the concept around artist-made books and publications. It works a lot better conceptually, and also practically. Regular books are too thick to fit on the shelves and they take too long to read.
CM: In what ways is The Floating Library similar to a land-based library? Are there librarians on staff? Would you consider yourself the head "Floating Librarian"?
SP: I know too many legit librarians to call myself one; I like to say "Captain" instead.
In the realm of librariness, the FL does have both reference and circulating collections. This is mostly for practical reasons: odd shaped books don't fit in the on-shore book return boxes and an ill-designed check out system from the early years meant we lost several one-of-a-kind books. Now only multiples are in the circulating collection and people are supposed to return them the same day.
I'm happy to say that the Floating Library also has an online catalog on LibraryThing.com, thanks to 2016's FL Co-Captain Lacey Prpic Hedtke. She's a real librarian, antiquarian photographer and small shop owner who cataloged the collection since 2013.
The FL does have Volunteer Floating Librarians who sit on the Library's raft and make reading suggestions. They are also responsible for facilitating check-outs, administering the Mad-Lib's style survey to patrons and reshevling books. Boat parking is also a significant part of their job. It can get crowded around an 8 x 8 foot raft!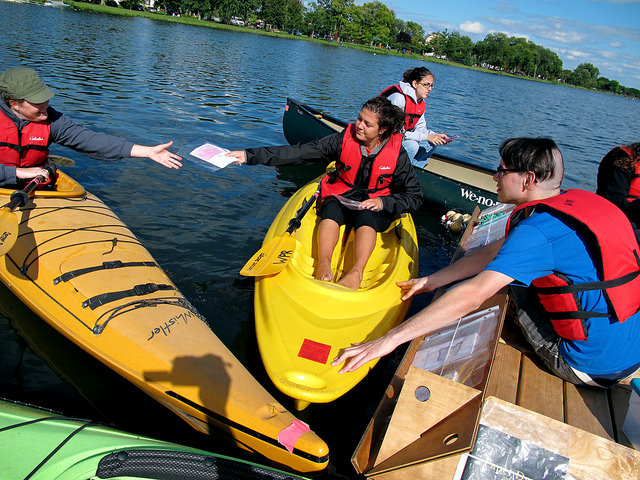 CM: In addition to securing funding, what have been some of the challenges you've faced in launching and maintaining the Library? Have you ever had any close calls with the books or boaters?
SP: One summer the entire collection fell in the water. For real. Prior to that we'd lost a book or two to the lakes due to wind. I wrote a longer story about the spill here, but suffice to say that the books we rescued are now the most precious part of the FL's collection. I am afraid to put them back out on the shelves because they'd already tempted fate once and survived. They are also even more beautiful now, I think, slightly crinkled from their careful drying.
CM: What important lessons have you learned? Have things gotten easier or more efficient over the years?
SP: Things have definitely become more efficient. I've learned when to repeat things and when to try something new and I have a better sense now of what kind of resources (human, financial, logistical) are necessary to make the project more streamlined. It was sort of wild and magical in the first couple of years, but it took up an enormous amount of my time. I would be at the lake all day of each weekend. That might sound dreamy, but it is also physically exhausting – hauling the raft, paddling back and forth, putting up the canoe, carrying books to shore storage each night – it gets tiring. And then when you have to show up to work on Monday…One thing I've learned is that no matter how scrappy a given season's budget may be, I always figure out a way to hire a moving crew. Let the young strong people do the literal heavy lifting!
CM: How have you continued to develop the Library's collection and how has that collection evolved? Can you talk a bit about the range of books that you have available for patrons?
SP: The bulk of the collection is still developed through an Open Call. Artists are so kind to donate their books! When I have more grant money I'm able to commission artists to make things specifically for the collection, and some artists do that without the benefit of commissioning funds.
The collection ranges form photocopied zines to letterpress printed pamphlets to hand-stitched bindings to commercially printed volumes to objects that look more like sculptures than books. Some are intentionally waterproof, most are not. One book is made up of spherical fishing bobbers wrapped with recipes for cooking fish. Another piece is a viewfinder of 3-D slides with images of toy boats. One of the most popular books is made entirely of mylar – 100 pages of shiny, mirror-like paper that reflects the viewer and environment.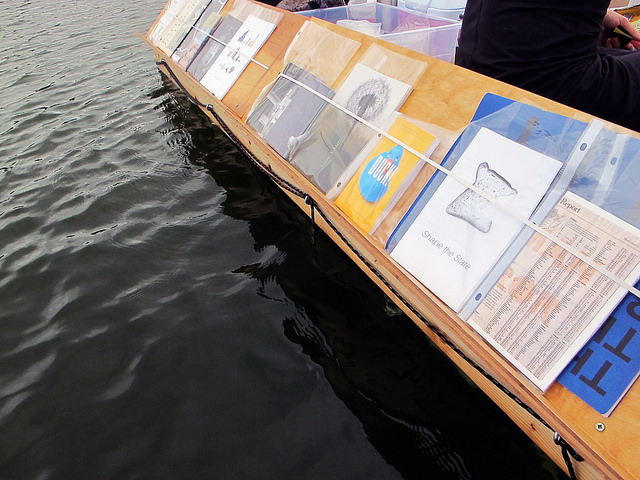 CM: Artist's books can often be quite fragile, and are often one of a kind. Artist's book collections in some libraries can only be viewed in climate-controlled rooms, wearing cotton gloves. Your Floating Library obviously reflects a very different approach. What is your philosophy about how the books in your library should be treated, and how much liberty visitors should have handling them?

SP: One thing I can say about the books on the Floating Library is that they actually get read. From cover to cover. I appreciate the white glove environment and the kind of work that a controlled viewing space allows one to make, but I also love that all of the books in the FL are getting thoroughly seen! I've also found that because people are reading them while seated in a tippy thing on water, they are really careful. Perhaps overly so, since no one wants to be the person who drops a book in the water. Patrons treat them with respect, but no matter how careful, after 100 people read it, the corners are a little dog eared. This is where being an artform of multiples comes in handy. If I have more than one, I put out a clean copy.
CM: What are some of the challenges you've faced, managing such unique and varied materials?

SP: Storage and display is hard with objects that vary greatly in size and weight.
CM: You've had some interesting collaborations. I understand that the Library has had a poet-in-residence, and you even took the project to Los Angeles for a weekend back in 2015. What were those experiences like for you and the Library's volunteers?
SP: These components of the program are some of my favorite ways this project can be more than an experience of reading artist books. The Los Angeles iteration taught me what is required to present the project in another city aside from the obvious (a lake), and introduced me to so many fantastic bookmakers through my local curator collaborator Becca Lofchie. At the end of the poet-in-residence summer we had a poetry reading on the lake at dusk with glow lights in all the canoes. That was only possible because of the amazing staff at Silverwood Park. These "extra" bits of programming are possible because of working partnerships with organizations whose work I admire. It's a territory in which the project could really grow.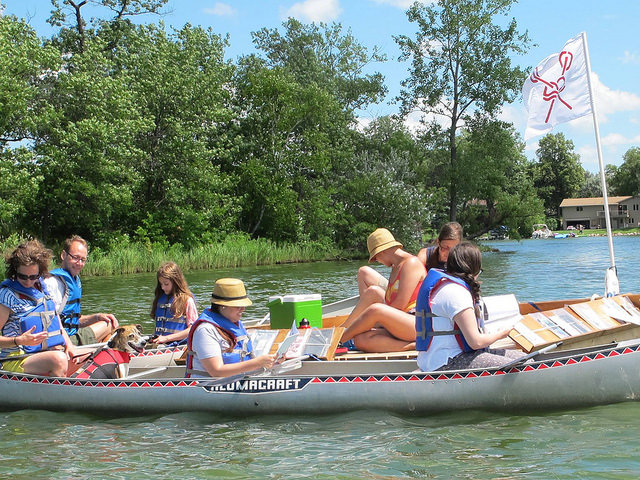 CM: How have you come to think about the Library? In your mind, is it serving a purely recreational function or is it more about being an art-based activity?
SP: I've learned that the Floating Library is as much about the patrons as it is the books. Sure, the books are why people paddle out or stop by, but the social interaction is a big part of what makes it a special experience. Imagine 12 boats tied to one another, tied to a raft full of artist books and people using paddles to hand books over to the kid 3 canoes over. Sometimes everyone is talking, sometimes 20 people are all silently reading and slightly drifting. It is a temporary community.
CM: What have been some of your favorite reactions to the Library over the years? Is there a particular memory that stands out to you?

SP: Reactions of surprise and delight are truly like calories for this project. One woman brought all of her library cards to show us. Another person kayaked out with 4 lattes in a cardboard holder for all the floating librarians. A woman brought all of her friends to the FL for her birthday one year. "This is why I love Minnesota," is a common refrain. "You have to read this one about Prince!" is another. (After his untimely death, I commissioned book artist and #1 Prince fan Martine Workman to create two new works to accompany the most beloved book in FL's reference collection: Prince Food.)
And I think I'll not forget the time I had a rather lengthy conversation about censorship of artists in Russia with two kayakers who happened by and picked up the newspaper about Pussy Riot.
CM: I know that you are also an arts programmer and that you help to organize the annual Northern Spark festival. It sounds like an incredible all-night event. What can you tell us about it?
SP: Northern Spark is an annual, free, multi-displinary, multi-venue, late-night art festival that takes place in the Twin Cities in June. Under the tag line "see the city in a new light," we work with artists and cultural organizations to turn the city into an interactive art experience that is quite uncommon. You'll see dance performances under bridges, projections as tall as buildings, interactive installations in parks and galleries open at 1 am. Its become a beloved summer tradition that draws upwards of 50,000 people. For the 2018 festival we're trying an experiment and holding the event over two nights until 2 am each night. I'll miss seeing the sunrise, but this way we get a built-in rain plan. More information can be found at www.2018.northernspark.org.
CM: Do you still make books? What can you tell us about the books you make? Where can people find some of your work?
SP: I haven't been in the studio since the Floating Library launched in 2013. That fall I was lucky to be a returning resident to the Women's Studio Workshop in Rosendale, NY for a book production residency. WSW is a dream of a place, and you can find two of my books on their website. (And check them out and apply to be a resident!)
Because managing all the details, partnerships, logistics, collections for the Floating Library takes up a lot of my extra time, I haven't had the studio time or imagination time to produce a book in recent years. This is hard, because I get so inspired each season by seeing what arrives for the Floating Library's collection. A few summers ago I decided to start drawing again as a way of keeping up some kind of art practice. Since I was spending lots of time in canoes and kayaks, I started drawing lake weeds, which I find to be very beautiful even though everyone hates them. Inspired by the great spill of 2015, I started dipping the drawings in whatever bodies of water they were drawn upon or near. So far that just amounts to a bunch of soggy and dried notebooks, but might become a book project some day.
CM: February is National Library Lovers' Month. I know that The Floating Library isn't floating right now, but what are some things folks can do to help show their love for their local land-based libraries? And how can they help to support The Floating Library throughout the year?
SP: Libraries are the last commons we have that are publically funded. They are critical to communities, to education, to democracy. I think the most important thing we can do is use them. Check out books or records or DVDs even if you have Netflix. Even if you could buy the book, borrow it instead! Everyone needs fewer objects anyway!
If there is a Friend of the Library group in your town, give them money if you have any to give away. Tell your elected county commissioner people that you love your library and they need to keep funding it.
Also, get to know your Library. Our library system here in Minneapolis does so many more things than I ever knew and has incredible collections. Whether or not you need the vast services libraries provide, find out what they are because you'll realize that libraries are really holding shit together for a lot of people in our communities.
Oh, and you can support the Floating Library by getting on the email list – send a note to thefloatinglibrary@gmail.com and following along on our lazily managed social media accounts. (See below.)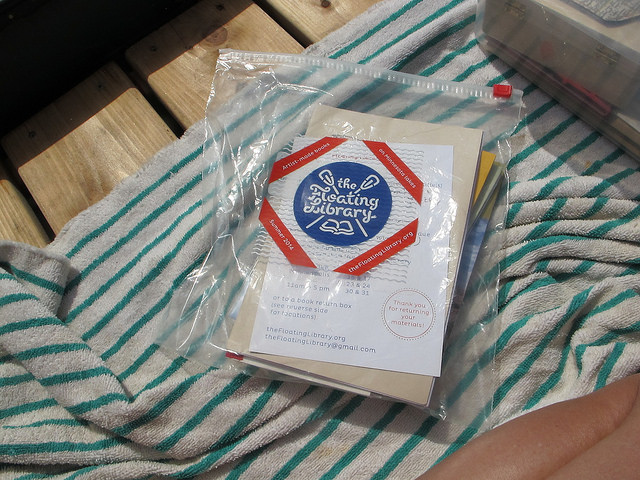 CM: When and where will The Floating Library be back in action in 2018 and where can people learn more about the project?
SP: The Floating Library is returning to Lake Phalen on St. Paul's East Side this summer. Exact dates are still TBD, but save some of your weekends in July and August. Check thefloatinglibrary.org for updates or follow along on Instagram: @thefloatinglibrary, Facebook: www.facebook.com/thefloatinglibrarymn/ and Twitter, though note that I hate Twitter and rarely post! Twitter: @booksonwater.
CM: What is your dream for the future of The Floating Library?
SP: I would love to bring the project to other places with urban lakes and work with book arts curators in those areas to build local collections. I'd love to have national or international floating artists and poets in residents, and would really love to create a healthy fund for yearly commissions. And while I'm dreaming, I'd like to someday pay artists for having their books in the FL collection.
Also, a floating taco stand really needs to open next to the Floating Library. Someone else has to do that, though!
CM: Is there anything else you'd like to share?
SP: Come paddle and read with us this summer! It's warm in Minnesota in July, I promise.
——
To learn more about The Floating Library, please check out the website.
To learn more about National Library Lovers' Month, please click here.
——
How will you be celebrating National Library Lovers' Month? Please tell us what you love about your local libraries and librarians. We'd love to hear from you!
---
PLEASE NOTE: The opinions, representations, and statements made in response to questions asked as part of this interview are strictly those of the interviewee and not of Chloé McFeters or Tortoise and Finch Productions, LLC as a whole.