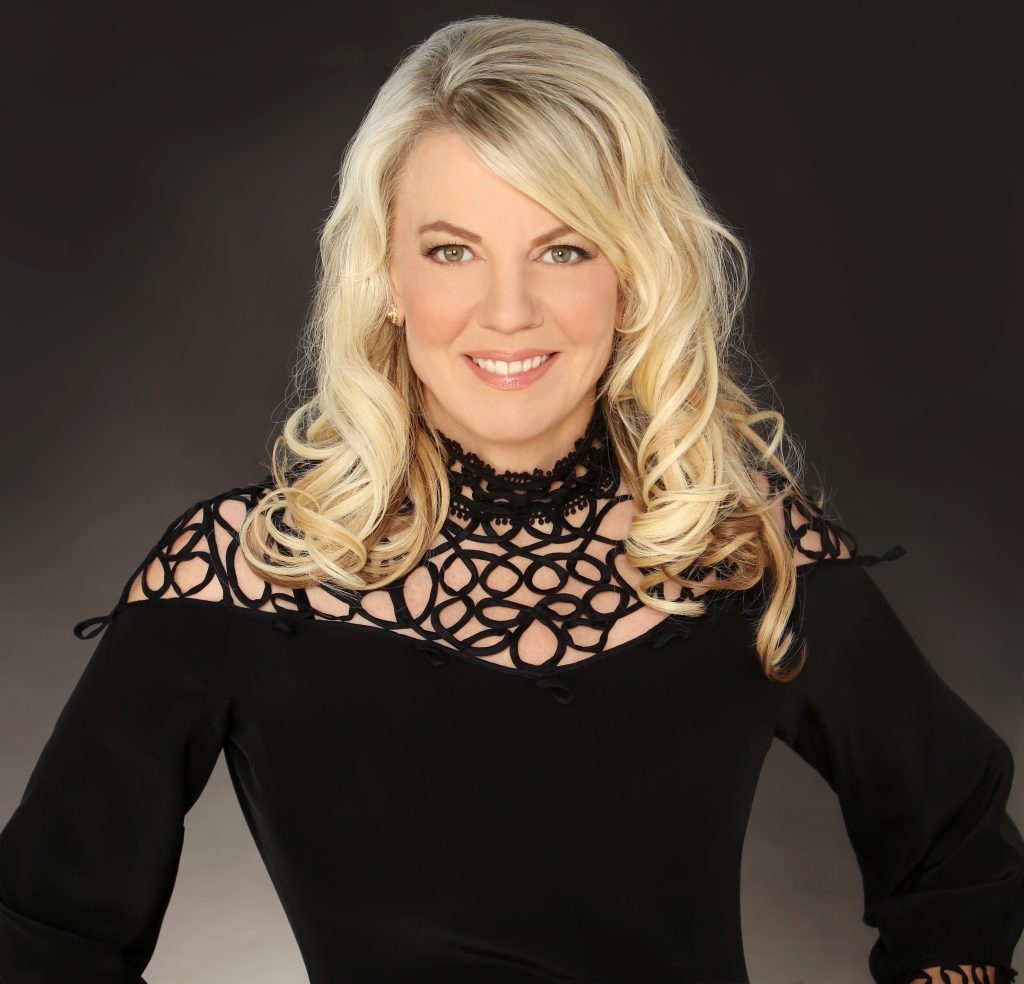 K.J. Howe is the award-winning author of the Thea Paris series of Kidnap-and-Ransom thrillers, which has received high praise from the likes of James Patterson, Karen Dionne, Clive Cussler, Kathy Reichs, Lee Child, and many others. She is also the Executive Director of ThrillerFest, the annual conference of International Thriller Writers, which is held every summer in New York City. It was such a pleasure to speak with K.J. about her highly acclaimed novels, The Freedom Broker and SkyJack, and to learn more about her process and passions. I hope you enjoy our conversation.
___

CM: I so enjoyed reading The Freedom Broker, K.J.! It was such an interesting and layered thriller and the plot twists were fantastic. Congratulations!

When you were growing up, were you a big fan of mysteries and thrillers? Whose plot twists first inspired you?

KJH: Thank you for your kind words. Deeply appreciated. As to my falling in love with thrillers, my father worked in telecommunications, so we lived internationally, spending time in Africa, Europe, and many other locales. I lost myself in suspense novels, and it was David Morrell's Brotherhood of the Rose that inspired me to want to write. His book became a mini-series that was aired right after the Superbowl one year. The world of international spies captivated me ever since—and I dreamed of becoming a writer one day.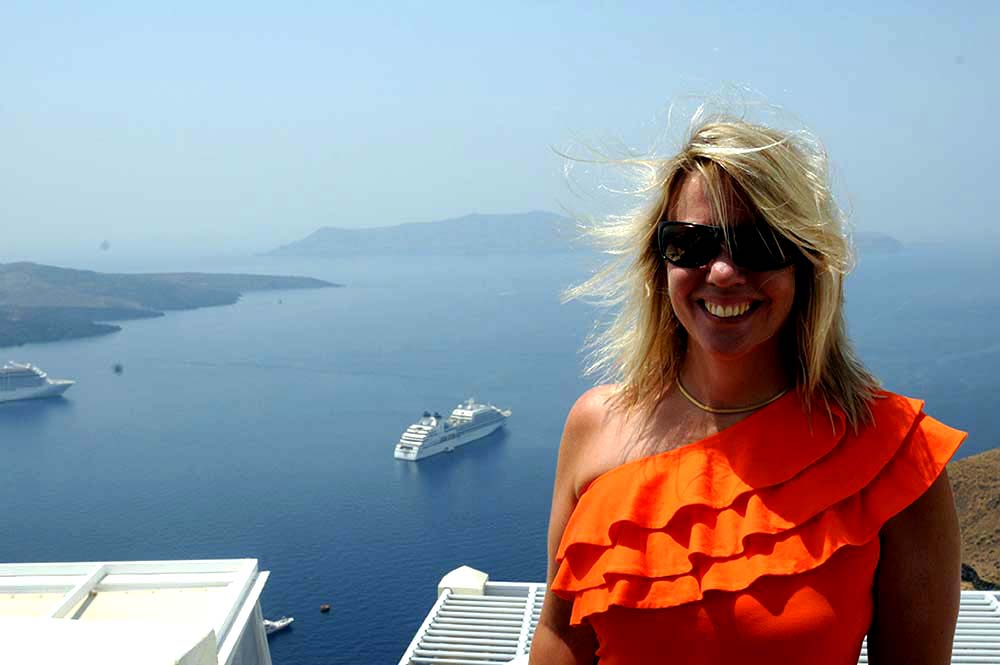 CM: How would you say your travels and experiences shaped your passion for stories and storytelling?

KJH: The opportunity to experience how other cultures handled their customs, language, and pastimes affected me greatly. I could literally put myself in the shoes of others. I saw so many different ways of doing things that it helped me become adaptable in life. I knew that my books would need to be set internationally to honor those experiences, as although I strongly identify as a Canadian, I also feel like a child of the world.
CM: Your protagonist, Thea Paris, is an international character. Was that important for you, and if so, why?
KJH: Yes, I thought it would be an interesting challenge to write a modern-day Greek tragedy. There is such a rich history in Greek mythology, and Thea is short for Athena, Goddess of War. An appropriately strong name for a woman who rescues hostages for a living! And she travels to the most dangerous places on earth, so it was key for her to have language skills and the ability to blend into most environments.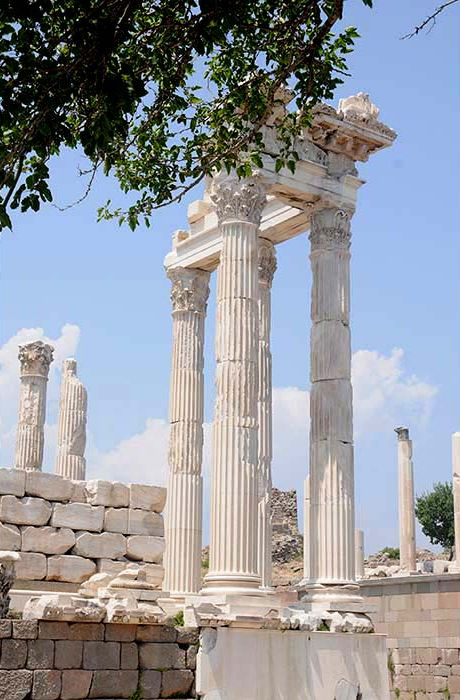 CM: I thought Thea was a great heroine. She's smart, strong, and authentic. What is your favorite aspect of Thea's personality?
KJH: Her compassion for hostages. When she was eight, she watched as her twelve-year-old brother Nikos was kidnapped in her place. Nikos did come back home, but he was never the same, and Thea suffered from a form of "survivor's guilt" which transformed positively into a calling to assist others. She became a freedom broker so she could bring hostages back to their families.

CM: What first drew you to the dark and dangerous world of kidnapping and hostage negotiations? Do you remember a particular story or incident that first took hold in your heart?

KJH: Much of crime fiction focuses on murder, which is fascinating, but very final. I was intrigued by kidnapping because it's a purgatory of sorts, where hostages are alive, but not really living, waking up each day not knowing if they would be set free or if they would be executed. The inherent tension in this scenario drew me to research kidnapping. When I met former hostage Peter Moore, who was held for almost 1000 days in Iraq, his story intrigued me, and I knew I had found the right subject matter for my series. One of my goals is to share travel safety tips to help prevent kidnappings from happening in the first place.

One of my goals is to share travel safety tips to help prevent kidnappings from happening in the first place.

K.J. Howe
CM: Which came first for you with this book? Was it the settings, the situations, or the characters? How did the novel first begin to take shape?
KJH: Absolutely the characters. I wanted to create an alpha-female protagonist surrounded by strong men who held her own. I also hoped to make the character vulnerable (family issues and a chronic illness) to humanize her. And the first novel in the series was a great opportunity to dovetail Thea's painful past with her modern-day dilemma. When it comes to fiction, I have always felt that if readers care about your characters, the rest of the details will fall into place.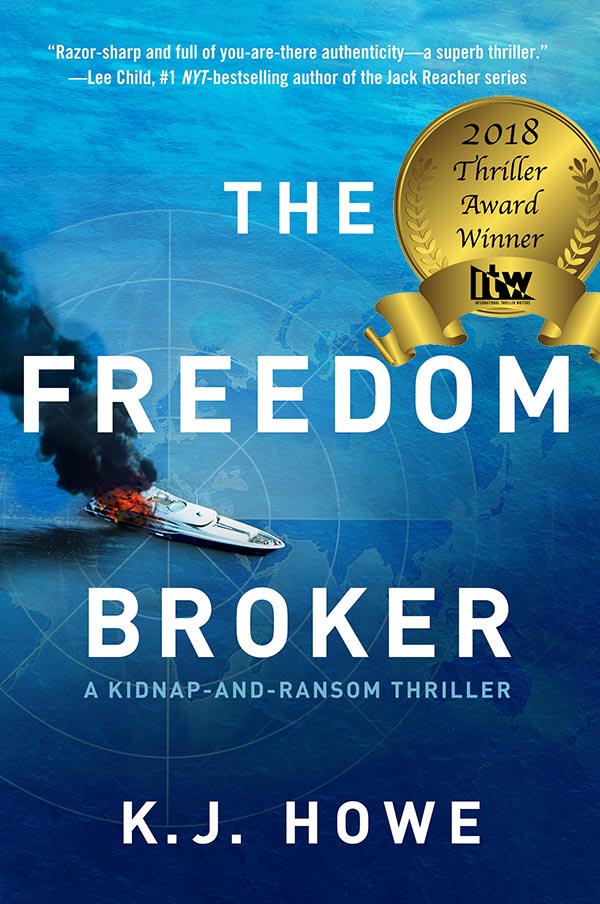 CM: It's obvious that you did an incredible amount of research for this book, and it seems as though much of it is pretty insider stuff. How did you first gain access to your contacts in those circles and how long did you spend researching this novel?

KJH: As a former medical writer, research is a passion of mine. I read everything I could about kidnapping and then realized I had to meet experts to fully understand this dark shadowy world. Believe it or not, there is actually a kidnapping and ransom conference. I travelled to Miami for it and interviewed many people who work in the field. There is also a kidnap and ransom insurance industry that keeps statistics, and these kind folks have been instrumental in helping me understand this international crisis. I'm honored to call several freedom brokers friends now, and this research has truly changed my life.

CM: In addition to the interviews you did and conversations you had, what did the research process look like for you? How did that process differ from other projects you've worked on, if at all?

KJH: I research every aspect of the book. For example, there is a plane crash in The Freedom Broker, so I spoke to several talented pilots who gave me insights into aviation. Because Thea has type 1 diabetes, I had long conversations with active women in their 30s who also have T1D so I could accurately portray Thea's illness. I also visited all the locales in the novel, as I'm an avid traveler, and I like to soak in the sights, sounds, and feel of a place and try to bring readers there with me. It's incredibly enjoyable for me to do research, and I hope that the authenticity will shine through in the novels. I love to be immersive.
I'm an avid traveler, and I like to soak in the sights, sounds, and feel of a place and try to bring readers there with me. It's incredibly enjoyable for me to do research, and I hope that the authenticity will shine through in the novels.

K.J. Howe
CM: I would imagine you felt an enormous amount of responsibility, given the stories you must have heard and the trust that your sources placed in you. Was that an interesting or a daunting challenge? Or perhaps both?

KJH: Definitely both. I have the deepest respect for former hostages and the experts who risk their lives to bring captives home. I wanted to bring verisimilitude to Thea's world, and I'm grateful that several of these experts took the time to read the completed book to offer insights and suggestions. They gave me an incredible gift by sharing their knowledge. I could never have written this series without them.

CM: What is something you think might surprise most people about those who work as response consultants or freedom brokers?
KJH: When you think of a freedom broker, someone who keeps a go-bag ready at all times to head into dangerous countries and negotiate for the freedom of hostages, you might picture a GI Jane or Joe character—but in reality, these folks are soccer moms and dads with stable families and they could easily pass for professors or CEOs. Until they come across the kidnappers…
CM: I found Thea to be highly empathic and attuned to other people's unique histories and internal motivations. How important is empathy when you are involved in a hostage negotiation?

KJH: Empathy is a key factor in hostage negotiation. Freedom brokers need to be able to connect with kidnappers on their level and negotiate a ransom while keeping the mood steady and calm. Freedom brokers also have to deal with a hostage's family at the very worst time of their lives. It is an exhausting and demanding interaction, and empathy is critical to a successful outcome.

CM: As you mentioner earlier, Thea had a deeply personal motivation for becoming a freedom broker. Did you have a strong sense of her backstory when you started out or did that develop over time?

KJH: The backstory was there from the beginning. I asked myself what would motivate Thea Paris to become enmeshed in such a challenging environment, and it immediately struck me that she had a very personal experience in this milieu. We're often shaped by the events of our childhoods, so it felt like a genuine and powerful motivation.

CM: You also touched on the fact that Thea lives with type 1 diabetes. I really appreciated reading about a female character who was dealing with a serious and complicated chronic health condition, while also thriving in her career and life. So many people around the world are doing just that each and every day, and it's not easy. Why were you inspired to create a character who lives with a chronic, invisible illness and why type 1 diabetes? What do you hope your readers will take away from that aspect of the character?

KJH: Many people are dealing with a chronic illness, but this is greatly underrepresented in fiction for some reason. I wanted to create a strong, vulnerable woman who didn't let her serious health issues hold her back. My grandfather had diabetes, and watching him inject himself with insulin is still a vivid memory. I was also a medical writer, penning many articles about diabetes. Over 400 million people across the globe have diabetes, yet there is a great deal of misinformation out there about the illness. I was honored that the American Diabetes Association featured The Freedom Broker in their magazine as an example of an authentic portrayal of someone with diabetes. I hope Thea will inspire people struggling with illnesses to keep striving for their dreams. And T1D certainly offered an inherent ticking clock—if Thea doesn't get her insulin, she won't survive. This element cranks up the tension.

I was honored that the American Diabetes Association featured The Freedom Broker in their magazine as an example of an authentic portrayal of someone with diabetes. I hope Thea will inspire people struggling with illnesses to keep striving for their dreams.

K.J. Howe
CM: What can you share about some of the other characters in the book?

KJH: They are all so different, and I enjoy writing several points of view. It's a chance to be someone else for a few hours, escaping into another world. I loved writing Thea's brother Nikos as a twelve-year-old child in his diaries—trying to crawl into his shattered mind and express what he was feeling. And I enjoyed creating Rif Asker, a lifelong friend of the Paris family, and a potential love interest for Thea. Gabrielle was also a fun character to write, a more morally ambivalent woman who carries her own burdens. It's important to flesh out characters, so they come alive on the page. Creating them is one of my favorite parts of the writing journey.

CM: How did you decide on the different locations in The Freedom Broker? Do the locales in the book hold any personal significance for you?

KJH: I wanted to write a modern-day Greek tragedy, so Santorini and Athens were ideal backdrops for this first story. They are physically stunning with just a hint of darkness simmering underneath. Perfect for thrillers. And when I visited Victoria Falls in Zimbabwe, I knew it would play a major role in the grand finale of the novel. I love adventure and travel, and I highly recommend all three locations.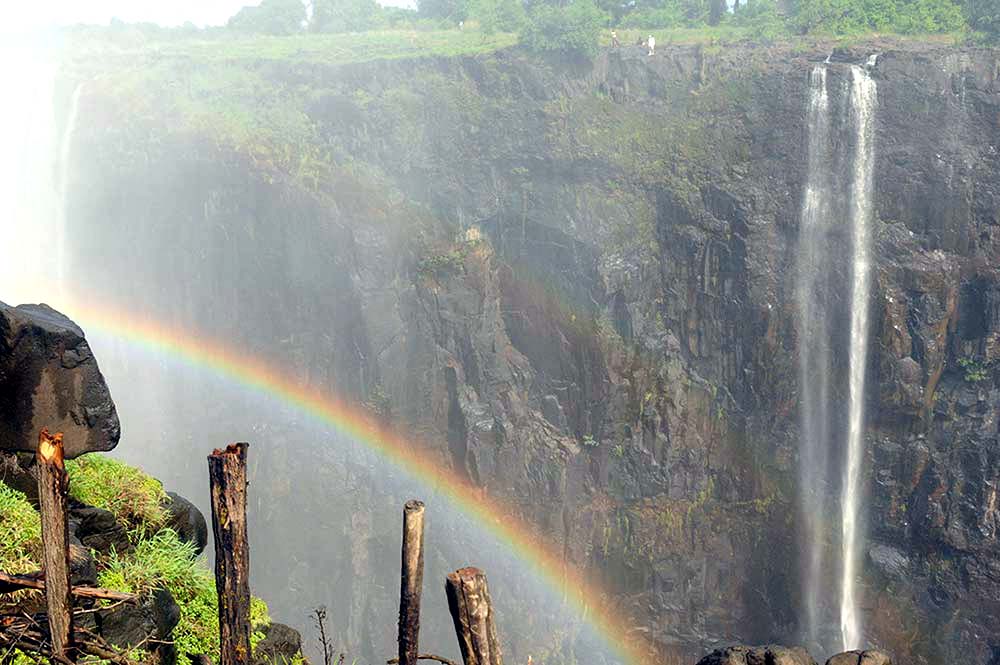 CM: Tell us about Quantum International Security and the pre-travel briefings they offer.

KJH: Thea Paris works for QIS, a private industry kidnap and ransom company that negotiates for the release of hostages—and also performs rescues when all other efforts have failed. QIS also educates people traveling overseas, as the best way to handle a kidnapping is to prevent it from happening in the first place. The briefings are based on real courses offered to business executives and other travelers heading to dangerous zones across the globe. An educated traveler has a much lower risk of being kidnapped.

CM: Kidnapping for ransom is a serious problem in dozens of countries around the world, and it's not only the rich and famous who are being targeted anymore, is it? Based on your research, what can you tell us about the rise of "express kidnappings" in countries like Mexico, Columbia, and Venezuela?

KJH: Kidnapping used to be an issue solely for high-net-worth individuals and executives traveling overseas, but now the target base includes journalists, aid workers, missionaries, adventurers, and anyone else whose family or employer could provide a ransom. Kidnapping is a growing concern, and there are also many different forms of this crime. Express kidnappings occur when the hostage is taken to a bank machine to withdraw their daily maximum at 11:45pm, and then held until 12:01am when they can withdraw the maximum again. It's a fast, brutal crime to extract small amounts of cash. In Latin America, this type of kidnapping is on the rise. There are fewer risks for the kidnappers than those of a traditional kidnapping, and the turnaround time is whiplash fast.
CM: Still, I understand that the majority of kidnappings, or at least those carried out by professional kidnappers, result in the successful return of the hostage. Would you say that's consistent with what you've learned?
KJH: Yes, the wonderful news is that in kidnap and ransom cases, over 90% of hostages come home safely. Professional kidnappers understand that hostages are "commodities" and they want to make sure that they develop a reputation for returning hostages in relatively good condition after receiving a ransom. Like any businessmen, kidnappers need to develop trust with freedom brokers—and if kidnappers accept ransoms and then kill the hostages, people will no longer be motivated to pay them. It's a brutal business, plain and simple.

CM: As you shared earlier, in The Freedom Broker, we learn that Thea's older brother Nikos was kidnapped when he was a young boy. When a hostage returns home after being held in captivity, what are some of the challenges they commonly face when trying to reintegrate back into their families and societies? What support systems are in place for those who have been kidnapped, once they return home?

KJH: The day a hostage comes home is often a challenging one. In captivity, hostages are in a purgatory of sorts, alive, but not really living. Being in difficult circumstances for an extended period can change someone, yet when the person returns home, the family expects the same person to return. Most hostages are forever transformed by their experiences in captivity. They may have suffered beatings, so former hostages may not have the same physical capabilities they once did. For example, I met a young lady who had been a physiotherapist, but due to her injuries while in captivity, she can no longer work in that field. Torture can result in PTSD—post traumatic stress disorder—and other psychological issues. There is an incredible organization called Hostage U.S. (there is also a Hostage U.K.) and they have procedures in place to assist hostages with returning to their former lives, offering a critical support system. Kidnap & Ransom insurance contracts also provide counselling and rehab for the victims.

CM: What did your research teach you about the value of discipline under pressure?

KJH: The most challenging part of being a hostage is suppressing the inherent biological response to fight, flee or freeze. Instead, hostages must learn to endure boredom, poor food, horrific conditions, torture, beatings, and a host of other hardships. People who can amuse themselves (by building a dream house in their minds or finding other ways to keep their brains active), build in routines, maintain hope of returning home, and remain stable and calm will have a distinct advantage over others to survive.

CM: And what did your research teach you about hope?

KJH: Hope is everything. A hostage without it can give up, potentially commit suicide or become a victim of disease or torture. People in captivity need to visualize going home to their loved ones, regaining a future. Survival is dependent on maintaining hope. That's why photos of family and friends are some of the most treasured items to hold onto during captivity.

People in captivity need to visualize going home to their loved ones, regaining a future. Survival is dependent on maintaining hope.

K.J. Howe
CM: You've traveled extensively. Has your research and the process of writing in this sub-genre changed how you travel? If so, how?

KJH: I've always been an avid yet cautious traveler, as I've visited many developing countries over the years. It's important to take steps to protect yourself when you're in foreign lands, taking into consideration all potential risks. I share travel safety tips during book clubs and speaking engagements to help educate people about the inherent risks and how to avoid them. That said, I never want to be a fearmonger. I love exploring our wonderful world and the beauty of nature. It's just important to make wise choices.

CM: What, if anything, kept you up at night when you were working on The Freedom Broker?

KJH: Child soldiers. Thea's brother Nikos became one after his kidnapping. I have met former child soldiers and it is a tragedy that children are fighting in wars they don't even understand. I lived in Kenya for three years as a child, and seeing the devastation of these young victims first hand left me heartbroken. Innocent kids are forced to watch as their parents are killed, and then they are turned into killing machines via the use of drugs, brainwashing, and threats. Some children find a way out and recover. Others face a very tragic end.

CM: What was the most challenging or difficult scene to write? Why?

KJH: Without giving away any spoilers, it would be one of Nikos' diary entries from when he was a child soldier. Penning Nikos' tale of transformation from a healthy, energetic child to a kidnapped child soldier who is numbed to murder was emotionally taxing. It felt very real to me.
CM: I came away from The Freedom Broker thinking a lot about trust— about the people we trust, about how easily we trust or don't, about our human need to trust in others, and also about the experiences in life that can cause us to lose our capacity for trust. Or trustworthiness, at least for some period of time. Is trust a theme you were consciously exploring in the book? What, if anything, would you say you've learned about trust through the process of writing The Freedom Broker?

KJH: I'm delighted by this question, as trust is a core issue in all my novels. I love exploring different elements of this complicated emotion. Sadly, it's often our loved ones who let us down the most in this department. Trust is critical for human connections, but betrayal is such a painful experience that it can leave us shattered and hesitant to invest in future relationships. But positive companionship is such a boost to our morale and happiness that we must try again and again. Trust, and all its complications, is at the center of most of our relationships.

CM: You've received some seriously high praise for your work and it's all so well deserved. What has that reception—from your sources, peers, and readers—felt like and meant to you?

KJH: Thank you. I always dreamed of being an author, so just having a book out is beyond joyous. Growing up and moving constantly, I was often lonely. Books became my friends, an escape from the harsh realities in life. I found it magical that I could be transported to a different world. If I can do that for someone else, then I'm the happiest person on earth. Authors are simply amazing people, and the support and praise I have received from my peers has been uplifting and invaluable.

Growing up and moving constantly, I was often lonely. Books became my friends, an escape from the harsh realities in life. I found it magical that I could be transported to a different world. If I can do that for someone else, then I'm the happiest person on earth.

K.J. Howe
CM: What do you enjoy most about writing kidnap-and-ransom thrillers? What energizes you about writing in that genre?
KJH: Most crime fiction focuses on murder, but in some ways, kidnapping is worse than murder. Murder has a finality to it, but kidnapping is a purgatory of sorts, the uncertainty of it can drive people mad. I was fascinated by the implications, the complexity of emotions involved, so I immersed myself in that world. I'm deeply grateful for the people who shared their experiences with me over these past six years. I love giving hostages a voice, and delving into the human psyche to explore how different people react to captivity. Psychology is a passion of mine, and kidnapping sure leads to some interesting explorations of the mind.

CM: You are also the executive director of ThrillerFest, the annual conference of International Thriller Writers. For those who might not be familiar with the world of writer's conferences, what can folks expect from ThrillerFest? How can they learn more about this year's event?

KJH: ThrillerFest is the largest conference in the world for thriller enthusiasts. Over 1000 of the top writers and fans gather in NYC every year to celebrate suspense writing for a week-long conference. We have panels, workshops, lectures, cocktail parties, spotlight interviews and much more. At the end of the event, we announce the Thriller Award winners, kind of like the Academy Awards for authors. Everyone is welcome, and you can discover more information here: www.thrillerfest.com.

CM: How valuable do you believe it is for writers to be connected to a supportive writing community? How important was it for you to be involved with a group of other writers while you were working on your debut novel?

KJH: I'm forever indebted to many top authors for their kindness, especially David Morrell (creator of Rambo), Karin Slaughter, Steve Berry, and Lee Child who all took time out of their busy schedules to offer me sage advice. I'm lucky to have my agent thanks to Karin Slaughter's kindness in recommending me to hers. It's impossible to be objective about your own work, so it's critical to find support, guidance, and constructive criticism. Writing can be very lonely and challenging work. Having other writers to talk to, who really understand what you are going through, can keep you motivated through the tough times.

CM: How do you continue to hone your writing craft?

KJH: I hope to grow as a writer with every novel. I love the potential of being an author, as you are a lifelong student of the art and craft of writing. I learn from my editors, study how-to-write books, and read voraciously, trying to become a better editor of my own work. I find that I read books differently than I use to; with a more technical eye to what is working or not working so that every book I read helps me enhance my own craft.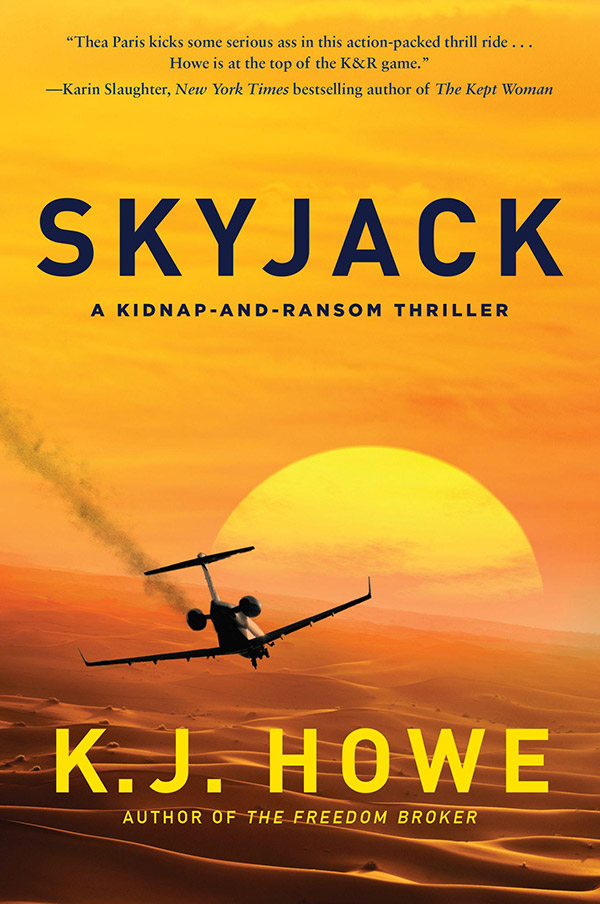 CM: Tell us about your latest book, SkyJack. I read the sample chapters offered to readers at the back of The Freedom Broker and I was already on the edge of my seat.

KJH: SkyJack was such a joy to write. I benefited greatly from the expertise of several pilots to bring those plane scenes to life. The premise of the story is that Thea is on an airplane traveling from Nairobi to London with two former child soldiers when the plane they are on is hijacked. The fun begins from there. I encourage people to read it during a flight…if they dare!

CM: So, it seems like this time around, you learned a lot about planes?

KJH: Oh, yes, I love flying. My father was a private pilot, and he participated in aerobatics competitions. I often flew with him. I enjoyed learning a host of different things about planes—like how to break into a cockpit, how to keep a plane pressurized on the ground, the safest place to sit in a plane, and other fun facts. I enjoy being entertained and educated when reading so I try to do the same for my readers by working in fascinating real-life details into the plot.

CM: Where do you hope to take the series moving forward? What do you envision Thea Paris doing in five years from now?

KJH: I'd very much like to keep writing Thea Paris adventures, as I have endless ideas for both interesting settings as well as different types of kidnapping that I could explore. I also want to delve deeper into the skeletons in Thea's family closet, as family and trust are pinnacle issues for me. I also plan on pursuing different aspects of diabetes in each novel. As long as readers will join me, I will write more stories.

CM: One thing I feel I have learned about you, and about Thea, is that you both love a good adventure. What's been your favorite adventure so far and what new adventures are you dreaming up, for Thea, and for yourself?

KJH: It's so hard to pick one! Adrenaline sustains me. I have ridden racing camels in Jordan, been scuba diving with Great Whites in South Africa, interacted with elephants in Botwana…and I hope many more adventures are ahead for both me and Thea. I'm a big believer that pushing boundaries cautiously is a healthy way to live. I relish change and stimulation, the opportunity to learn and grow. Researching and writing books is a great excuse to pursue many intriguing pursuits—and Thea is going along for the ride with me. She is the braver side of me!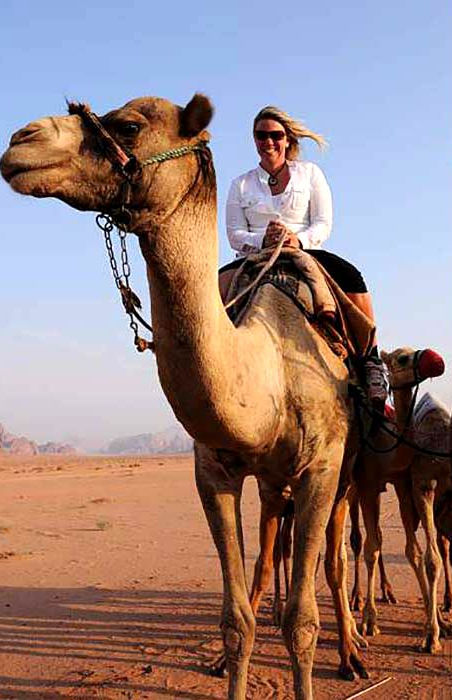 CM: How can people learn more about you and where can they buy your books?

KJH: You can find my novels anywhere books are sold. Amazon, B&N, Independent Bookstores…and I love hearing from readers. My website address is www.kjhowe.com. Readers can also join my newsletter there.

CM: Is there anything else you'd like to share?

KJH: I'd like to thank you for taking the time to read The Freedom Broker and asking such thoughtful questions. I deeply appreciate your kind interest. Know Thea is there for you anytime, anywhere!
__

K.J. Howe is the executive director of ThrillerFest, the annual conference of the International Thriller Writers. Immersed in the world of kidnap and ransom for over six years, K.J.'s series showcases elite kidnapper Thea Paris in her efforts to bring hostages back home. THE FREEDOM BROKER received starred reviews from Kirkus and BookList in addition to winning a Thriller Award for Best First Novel and being nominated for a Barry Award. SKYJACK received a starred review from Library Journal and a boxed and starred review from Publishers Weekly. K.J. completed her Master's in Writing Popular Fiction from Seton Hill University. Travel and adventure are K.J.'s passions. Home is Toronto, Canada, but she is often missing in action. www.kjhowe.com

To learn more about K.J. Howe or to subscribe to her mailing list, please visit her website at www.kjhowe.com.

To learn more about ThrillerFest, the largest conference in the world for thriller enthusiasts, visit www.thrillerfest.com.

If you'd like to receive more author interviews, product updates, and more, delivered right to your inbox, then let's stay connected!