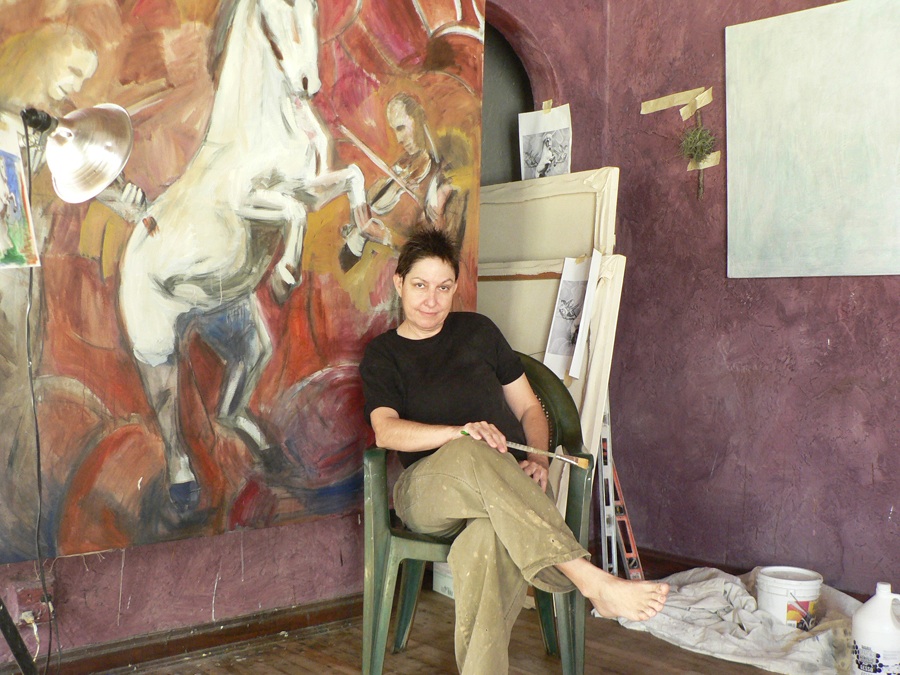 This interview was originally published on May 12, 2010 for Winking at a Girl In the Dark.
At an early age, Kim developed a penchant for painting on the walls of her house, which caused reluctant amusement from her mother, and this soon developed into a precocious obsession with various mediums at hand.  Today, at her studio in Palm Beach, Florida, Kim continues to use painting, drawing, murals, and mixed media to create stunning images meant to reflect the beauty of nature, and the dark and light places of life.  Her work has been commissioned for a variety of spaces in recent years, including Delta Airlines, the Fairfax Women and Children's Hospital, the Grand Hyatt Hotel in Taipei, and the Regency Lounge at the Grand Hyatt in Hong Kong.  Her paintings and murals are presently in private collections and homes across the U.S., Europe, and Asia.  We sat down with Kim to discuss her career, her sources of inspiration, and her upcoming projects.
CM: How did art first inspire you as a child or young adult?
KF: It was the need for an outlet for expression. I wanted to create a language for conveying all of the wonder of light and sound. I don't think I knew anything about the idea of art; I just knew that I needed a release of what was going on inside of me with everything new and profound.
I remember listening to my father's Beethoven records, and being extremely moved, and that catapulted me into this realm of lines and color and syncopation. My mother is very artistic and that initial understanding that you can draw or sing as another form of communication set the foundation for future things. I started doing commissions rather early as a young adult, for cartoon strips, painting on found objects etc., so I learned about the relationship of making art and getting paid to do so.
CM: What inspires you today?
KF: Today I find inspiration in anything that affects me in some way. It could be a feeling like love or despair, or it could be morning coffee, or the light coming through the leaves of a tree. From the seemingly most trivial of things to the deepest emotions. Inspiration always seems to come my way.
CM: Are the themes in your work the same that they were when you first started painting? How are they the same or different? What has changed?
KF: I was thinking a short time ago of the first formal art lesson I had at age eight. The teacher said to do a Picasso-like painting with the things you liked most in it. I put into this painting a guitar, pizza, some blue things (she laughs), and whatever else that escapes me now. But I have been thinking it would be fun to do that again at this point in my life, all of these years later.  I still remember the composition.
The themes have become much more extended as have my aforementioned life experiences. I think of Hokosai and his ruminations—that for many years we are basically drawing the structure of things and then, because of all of our experiences and practice, we can finally draw a line or a dot with meaning.
CM: What mediums do you work in and how did you come to find your comfort and creativity there?
KF: I work mostly in oils, but also with mixed media, found objects, materials, etc. Oils primarily for the color, but many things can be utilized to capture color and texture and so forth. Quite a few mediums make me comfortable and creative.
CM: Tell us about your professional training.
KF: I earned my BFA from Florida Atlantic, though, honestly, I found out quickly that academics and what I wanted to achieve didn't necessarily go hand-in-hand. My painting professor, in fact, made it known to all of us!
The majority of my training has been practical. I started early, as I mentioned, doing illustrations and paintings, murals, all kinds of things to pay the bills. I traveled quite a bit, lived in London, and approached galleries all over Europe. I was able to conduct research for work at places like the Royal Academy, and the library at the Tate, which a friend who worked there would let me use. I did a lot of pleine aire painting. The gallery people gave me a lot of criticisms, as well as a lot of positive feedback. Yes, it was quite an informal education.
When I went back and forth to Hong Kong and Taipei that also was educational, foremost in Taipei, where many people did not even own TVs or have access to the Internet, so they weren't as buffered visually as Americans. It was exciting to see people who still get very moved by a mural, for example, because they have the ability to look, and to absorb, and to be entertained by such imagery for extended periods of time. I think most of the world has become so used to such quick imagery that it becomes harder to find this quality in people.
I think another important aspect that has come from my continued informal training is, and was, that whether it is as an artist making art or marketing art, there is a Darwinian aspect to be aware of: the notion of "to eat or to be eaten." It is continually survival of the fittest.
CM: How does life experience lend itself to art? Does it make for "better" work?
KF: The artist is the mirror reflecting what goes on in every way, so the artist's life experience is an imperative fuel for the creative process. It can be internal – the subconscious thoughts and feelings we think of that spring up inside without anything to do with the way the day looks or the people one meets, etc. It can also be external – the light bouncing off a loved one's eyes, the rhythm and color of the waves of the ocean, etc.
I wouldn't say the results are necessarily better, but perhaps they are more…truthful in some way.
CM: How does your particular process work?
KF: Sometimes it's spontaneous and brief, sometimes it involves hours of preliminary sketches and a type of construction from the ground up with the sketches being the blueprints. It varies. For me, both approaches of execution have generally the same success rate, which, I have also come to believe, is usually determined by the universe.
CM: Can you talk a bit about the unique challenges for you, living life as a full-time artist?
KF: Well, there's the continuous challenge to survive, to have the presence of mind to create new images while foraging for related work to support the studio, and the required freedom to live this life. That's a constant block that you chip away at. I don't know if many realize that the number one challenge as an artist isn't talent or being brilliant, but maintaining the tenacity to keep your art going.  So, when you see a painting or another form of art, you aren't simply viewing that image. You are experiencing all of the artist's challenges and sacrifices to get them to where they were able to create the piece. This is what most likely gives any image its true gravity and meaning.
CM: Describe a bad day at the studio.
KF: A bad day in the studio is the kind of day where the noise and distractions of the outside world override the positivity of creation before me to reap and the day is wasted. That is the worst. When fear comes into creating, it stops. As children, we didn't think such things; we knew creation to be a simple action, free from over-thinking, and if we were scared, we promptly expressed it! It is good to be reminding myself of these things.
CM: Can you talk about the fear that the artist has to combat in staring at the empty canvas? What can it be compared to?
KF: The empty canvas, or as I have called it on occasion, the "White Hole of Fear," encompasses everything you know and do not know as an artist all at once.  It is best to have a strategy, so that it doesn't swallow you up into that vacancy of redundancy and stagnation. At times the miracle of spontaneity gives you a gift and you overtake the the unknown and make it yours.
The first stroke of color is like throwing down the creative gauntlet and it is on!
CM: What keeps you committed to your art, even when times get tough?
KF: Inspiration, and the inherent, primal, need to create. I have no idea why some of us are wired this way, but I definitely was.
CM: How do you think your work differs from that of other artists, musicians, writers, etc.?
KF: The only way it differs is the medium. Otherwise, all involve composition, form, and fire.
CM: If you were not a visual artist, what do you think you'd be doing every day?
KF: I like to build and I like to plant and see what comes up. I would be doing something relative to these things.
CM: What defines an "artist" for you?  Is that someone who paints every day or more the mindset behind the creating?
KF: The mindset is probably the most important part of creation. You can accrue a thought, or an image, or even inspiration for years, days, hours, and spend very little time on the actual execution of the piece. The visual has a tendency to "sprout" after dormancy or spontaneously.  Many do artistic things brilliantly without a disciplined schedule of painting or drawing every day, however, I also think that being a so-called artist does imply and entail continuity of the exercise of drawing, or painting, or whatever your medium is, to keep that inner muscle of knowing your materials, i.e. your visual vocabulary, finely tuned.  So, I think that a true artist will use their medium daily and will also keep the creative mindset as focused as possible. Some days it inevitably seems as if nothing is accomplished, but it is; you just might not see it at that time. Whenever this feeling of vacancy occurs, I have found that it is, ironically, the most important deposit into the artistic bank.
CM: What advice would you give to a new artist, fresh out of school?
KF: Learn how to see in your own way. This is something that cannot be taught. Recognize the truth in your work. If you want to be an artist, that may be the only thing that can truly feed your hunger at times.
CM: Which finished piece from your portfolio is the one that makes you feel most proud or satisfied and why?
KF: "Chairs In Love." I find it to be a simple, expressive, and solid composition.
CM: What are you working on now?
KF: Two paintings for the "Freedom From Bondage" exhibition coming up this summer. I'm working on a series of stage set studies for a dance company in California based on the concepts of birth, growth, and rebirth. I'm also working on studies for the series "The Sound of Color."
CM: What was the inspiration behind "The Sound of Color?"
KF: Elevation of the spirit. The journey it takes to rise. The way you can hear a painting at times, the melody, aria, beat. All these things are going through my head at the moment.
CM: It sounds like music is a real source of inspiration for you as well, going back, as you mentioned, to your childhood.
KF: Music is absolutely inherent to my creative process. Sometimes, when I have no preconceived idea as to what I will paint, I let the music drive me, and it does.  It literally pushes the brush or pencil, and I let it. The results can be quite wonderful. The concept of 'The Sound of Color" is an extension of this, with both premeditated and spontaneous compositions, to extend what I hear as an artist to the sounds I can create visually, so that others can hear the painting through color, composition, and form.
CM: What are some of your long-term goals?
KF: Love and happiness are my primary long-term goals.
As an artist, as I mentioned earlier, I am working on a grant proposal that explores "The Sound of Color." In my work, I have always felt a strong affinity to music, as I think  you can hear a good painting as clearly as you can visualize a good piece of music. I look forward to exploring this concept for a long time.
Other goals include major installations creating environments that contribute to healing in places like hospitals and medical centers.  To use the power of art in this way is a beautiful process and something I long to be a part of more often moving forward.
CM: Let's hear about a favorite time you worked in open air.
KF: There have been many adventures doing pleine aire painting. One that comes to mind readily was an afternoon in Kensington Gardens in London. Everything was in bloom in this magnificent garden and I was soaking it up like a sponge. It was a time when I was living primarily on faith and the need to create; there wasn't much else at the end of each day. So, I would take my papers and paints and feel like a great master to be in such a place doing, to my mind, great things. I started a few watercolors, and over the course of a few hours, the crowd grew from a single person who had stopped to watch me work, to maybe 35 people just looking on quietly.  I swear, I felt like I was conducting the London symphony, not living on a string from day to day.
When I got back to where I was staying I looked at the renderings, and they were full of light, and I remember feeling satiated and happy.
CM: If you could sum up what your art is meant to convey in three words, what would those three words be?
KF: Look and see.
Kim is presently accepting requests for private and corporate commissions. Please visit www.kimfaystudio.com for more information.