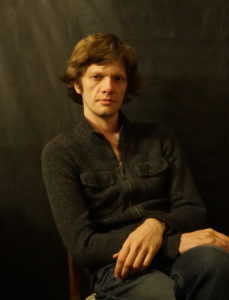 It's difficult to describe how passionate award-winning pianist and composer Arsentiy Kharitonov is about classical music, but I think you will be able to feel his passion, and also his reverence, in this interview. 
Arsentiy started playing piano at an unusually late age of 16, at the Rimsky-Korsakov College of Music of the famed St. Petersburg Conservatory in Russia, where his musical progress was immediate and astounding. Within three years, he was giving solo recitals, which featured his own compositions and improvisations in a variety of musical styles, in addition to the standard piano repertoire. Arsentiy's first orchestral appearances included solo performances with the St. Petersburg Philharmonic and the Mariinsky Theatre Youth Philharmonic Orchestra and he has since recorded a multi-CD series of piano music by Leo Ornstein, as well as chamber music by Robert Kahn, all of which have been released internationally by Toccata Classics (London, UK).
It was a pleasure speaking with Arsentiy and learning more about his life and art. I hope you enjoy his musings and music as much as I do. I'd love to hear your reactions to his compositions. Please feel free to share them in the comments section below.
Happy listening!
Chloé
—
CM: Please tell us a little bit about your childhood, growing up in Russia. I understand that your nickname was "Singing Radio."
AK: My childhood was very adventurous. I was born in Stary Oskol, Russia. It is a small provincial town located in a southern region of Russia next to Ukraine. To put it nicely, it is not the best tourist destination. When I lived there, it was a difficult time for the country. The Soviet Union had just collapsed, and along with it, so did the economy and cultural influence. People didn't have jobs, and everyone was surviving the best they could. It was the poverty that I remember the most. My parents are not professional musicians but were considered artistic people. My mother was a conductor of an amateur choir and my father was an artist. I as a child, liked to sing. My "repertoire" was enormous: all types of Soviet songs, war songs, etc. So, I was entertaining my friends and neighbors. That's where the "Singing Radio" nickname came from.
CM: What about dancing? I know your father was a ballet dancer. Is dance something that interested you at all?
AK: My father had been a professional dancer in his 20s, but his career ended before I was born. He became a painter and artist later. He once noticed my flexibility, but nothing developed any further in that field. I love watching and listening to ballet. I especially love famous Russian/Soviet ballet. It still thrills me enormously to watch those old recorded performances of Spartacus, Swan Lake, Romeo and Juliet, among others, with legendary dancers such as Ulanova, Maximova, Vasiliev, Liepa dancing the lead roles.
CM: What interest did you imagine you might pursue before becoming passionate about the piano?
AK: My mother's dream was that I would become a diplomat…I am glad it turned out differently looking at today's situation. As a kid I wanted to be a stuntman or any sort of driver. But to be serious, I don't remember thinking of any profession in particular.
CM: With "classical music," was it love at first listen or did it take a bit longer to figure out that this was something that truly spoke to your heart?
AK: My parents had many LP's with classical music. They played those records once in a while: Mozart's Requiem, Rachmaninoff's selected works, Tchaikovsky's symphonies. For me it was just white noise until I "woke up." How it happened, I cannot tell. It is still a mystery. Most likely I reached an age when I could relate emotionally to some of that music.
CM: Rachmaninoff's second piano concerto was a major discovery for you. What can you tell us about that?
AK: Yes. My first conscious listening happened with the music of Rachmaninoff, and particularly his Piano Concerto No.2. I did not listen to the entire piece. I could not digest all of it. But I was very moved by the beginning of the first movement. I replayed it many times and every time I would go a little bit further. It was a very interesting process. Very intimate too. I could sense that I was discovering a completely different world. A world that was huge, wonderful, and powerful.
CM: What was your family's reaction to learning that you wanted to study the piano? You started at an unconventional age, didn't you? 
AK: I was fifteen-and-a-half when I made a decision to become a musician. For that, I wanted to enter the College of Music at Saint Petersburg. My parents supported my decision. I found a piano teacher who literally practiced with me several hours every day. She did it completely out of curiosity. How can someone prepare for entrance exams within several months? Looking back, I must say that I was delusional. My piano skills did not exist whatsoever.
CM: Looking back, would you say that there were any advantages to starting as late as you did? If so, what were they?
AK: I might say that my late start influenced me to become a different specimen among musicians and performers. I went the hard way to become a musician. The way that is referred to as " the never-ending catch-up game." However, I learned many interesting things that many other musicians aren't aware of. When a teacher supervises a pupil, the pupil's self-analytical process is much delayed. He or she only does exactly what the teacher requires of the pupil. It is important to learn how to practice on one's own and think for yourself. Once you become professional, it is very important to know how to do that. If you don't learn that from your teachers, you have to learn it on your own.
CM: At some point, your sister introduced you to a music professor at the Rimsky Korsakov College of Music. How did that introduction change the course of your life?
AK: I am very grateful to that music professor who took me into his class. He grabbed my big hand and told me that he would make a pianist out of me as if I were playdough. It didn't work. I knew nothing about how to practice the right way, and he did not know how to approach my case. Eventually he told me that I am not able to play anything and that it was a waste of time. It sounded close to, "You don't have any natural skills or even talent for piano. Do something else before it's too late." I am still very happy he did not throw me out of his class officially; otherwise I would have ended up in the army instantaneously. Nonetheless, I was on my own. My friends also tried to tell me that I had no chances to become a professional pianist, but I persevered. I still practiced, observed others, read lots of literature, and listened to many recordings. This "self-practice" caused me to have many bad habits (which I got rid of later). Regardless, I learned how to practice on my own: how to approach any music, any style, how to learn something very fast, among other things. Anyway, I am glad I didn't quit. I cannot imagine my life without music now.
CM: It seems clear that you were deeply determined to succeed. What fueled your desire and determination? 
AK: I am not sure. I am a very stubborn and obsessive type, maybe that's the case.
CM: How were you able to maintain, despite the obstacles you faced, such a strong sense of self-belief and confidence, and how important do you believe it was for you to do so?
AK: I don't consider myself the confident type. However, I want to say something about my ancestors: my great grandfather was burned alive at the biggest tank battle called "Kurskaya Duga" in 1943 during World War II, when Nazi Germany invaded the Soviet Union. My other grandfather was honored three times as a hero of the same war. He fought all the way to Berlin in 1945. So, I may have some helpful genes.
CM: Please tell us about Galina Osipova and the impact she had on your life and career?
AK: Mrs. Osipova was my only "angel" during my studies in Saint Petersburg. I was 17, and she was nearly 70 years old. She was my chamber music and accompaniment class professor. She personally knew people such as Anna Akhmatova, Olga Bergholz, and Joseph Brodsky. Before working at the college of music, she had played as a staff accompanist at the great Kirov theatre for all those famous Soviet dancers and singers. Mrs. Osipova helped me professionally, but also she made me believe in myself. I remember our long walks along the various canals in Petersburg. She would tell me all those amazing stories about her life and about those great people she knew. We became very close friends. I cherish our time together dearly.
CM: I am trying to imagine the hours upon hours of practice and discipline that were required to attain your level of technical mastery of the piano. And on top of it all, you were learning English! Can you paint a picture for us of a typical day back then? What did those days look and feel like for you?
AK: It is important to learn to practice the right way. You can waste a lot of time otherwise. Practice requires a certain repetition of skills. That leads to acquiring certain habits. Practicing badly can result in bad habits, which later have to be corrected.
But back to your question. During my studies in St. Petersburg, I lived far from the center and the college of music, so it took me about two hours one way to get to my destination. I had a book with me the entire time, and studied while on the subway or bus. I had to get up daily at 6:30 am to make it and I would be back home around 8 pm. When I had to learn English to pass my TOEFL test before moving to the States, my goal was to learn 60 – 100 words a day. That was a calculation I had made in order to reach a decent vocabulary within a year. I didn't have any time for anything else except studying and practicing. Since then I have forgotten how a TV looks.
CM: In 2004, you were accepted to Northwestern State University of Louisiana in Natchitoches, Louisiana. What was it like for you, receiving that news, and realizing that your new adventure would take you far from home?
AK: Honestly, I was lucky to be accepted there quite easily. I played for Nikita Fitenko – a Russian pianist who taught there at that time. During his visit to St. Petersburg, I played for him and he liked my playing. All I had to do was learn enough English to pass TOEFL. That conversation happened in May 2003. In May 2004, I was notified that Northwestern State University had accepted my TOEFL score and that they were issuing me an I-20 for my student visa to the USA.
CM: I've been to Natchitoches. It's a place that's very dear to my heart. What are some things you enjoyed about the city? How was it, adjusting to your life and studies there?
AK: I liked it a lot. When I moved in there, I realized that the English I had learned right before moving had nothing to do with the English that people spoke in the town. So, I started to adjust. In general, I remember that place as a very calm, cozy little town.
CM: When did you start composing? How did you decide that you should write music as well as perform it?
AK: I started to compose as soon as I could play anything on the piano. Somehow that process interested me much more than just practicing standard repertoire. It's truly a creative process. Thinking about it now, I strongly believe that it was very beneficial to my musical growth. I highly recommend composing as a practice for all musicians whether or not they become good composers. It opens another door to understand a phenomenon of music.
CM: Can you talk a bit about how musical ideas come to you?
AK: They come unexpectedly. I let a recording device run while I improvise. Then I listen back and pick out any good ideas if there happen to be some. This process is somewhat similar to what people were doing during the Gold Rush. There is always a lot of sand, but sometimes there are little fractions of gold in there, which I take, and later develop into a piece of music. Very often I don't write anything on the paper until the whole concept of the musical piece is formed in my mind.
CM: Please tell us about your compositions. 
AK: It is very difficult for me to describe any music, especially my own. Because the core of it is a result of my subconsciousness. Any classical music work contains many layers of thoughts, emotions, feelings, and a great sense of unknown. Every listener might find something different, perhaps similar, or more so – nothing. It depends on the listener. It is a phenomenon. Hans Christian Andersen said: "Where words fail, music speaks." This is so true!
CM: Yes, I would think that everyone interprets or understands a piece of music differently. When you listen to your compositions, what do they help you understand about yourself?
AK: I say it is important for a performer to possess an analytical mind when practicing and achieving any musical result. But it can be very dangerous and deconstructive for a composer to try to connect analysis with his unconscious room of emotions/feelings (you name it).
All I can say is that among many things my music often represents my "shadow." (If you are familiar with Jungian psychology.) Unfortunately, I have to say that my music does not help me to understand myself. It is a product of my mind which is hard to study from inside. Perhaps, music critics and other listeners will have more to say listening to it from outside.
CM: Some of your compositions seem highly complex and difficult to play. Your Etude No. 4, for instance – what inspired you to compose such a demanding piece, and how does it feel to play it?
AK: I don't remember to be honest. But it had something to do with my explosive nature. And yes, it is demanding in some ways, so there is no time to feel anything while playing it. When I listen back to it, I think it is an effective piece. It represents some sort of conflict. There are many rebel-like characters that are both sarcastic and reactive.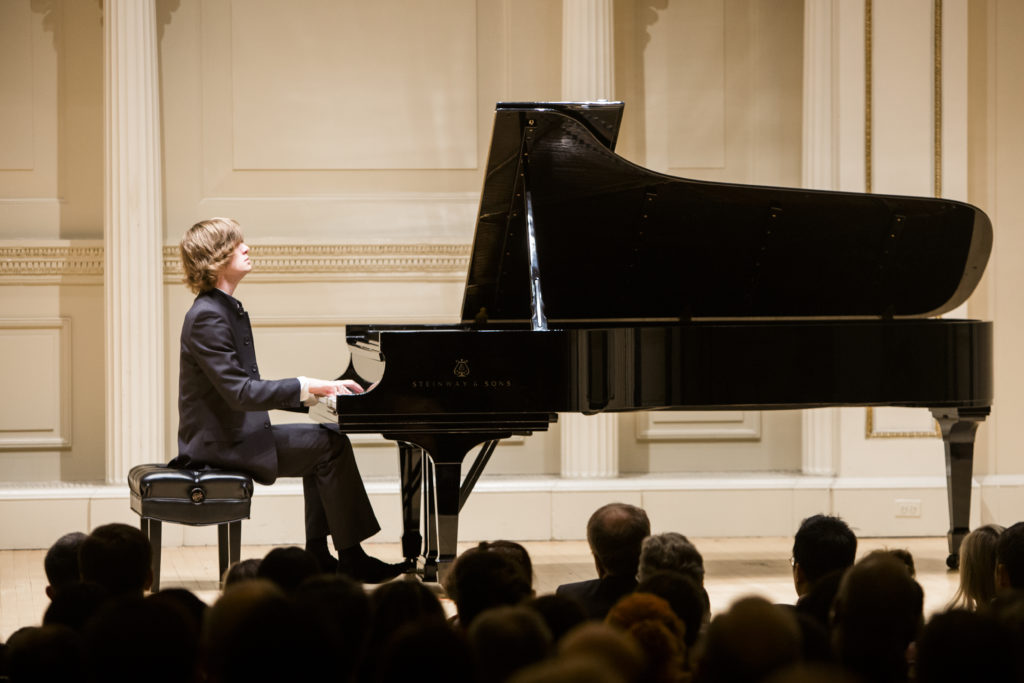 CM: In 2016, you performed in front of a full house at Carnegie Hall's Weill Recital Hall. How did that opportunity come about? What did that experience mean for you?
AK: I felt that I was ready to bring my art to people in NYC. Fortuitously a sponsor from Texas offered me to book the Carnegie Hall venue. The rest was purely organizational.
That experience means a lot to me. I got to know Erica Shupp who is my music agent now. And of course I've made many connections to a great cultural hub in the U.S. There are more chances in NYC to find a classical music audience that is acute and sophisticated. In a way, a performer goes through a test of intense critiquing. I like it! I am not afraid to be criticized, as I am myself very self-critical. My teacher in Texas, Joseph Banowetz, once told me: "Stop being so self-critical! Your friends will do that for you." 🙂
So, I enjoyed playing for people that have big music listening experience.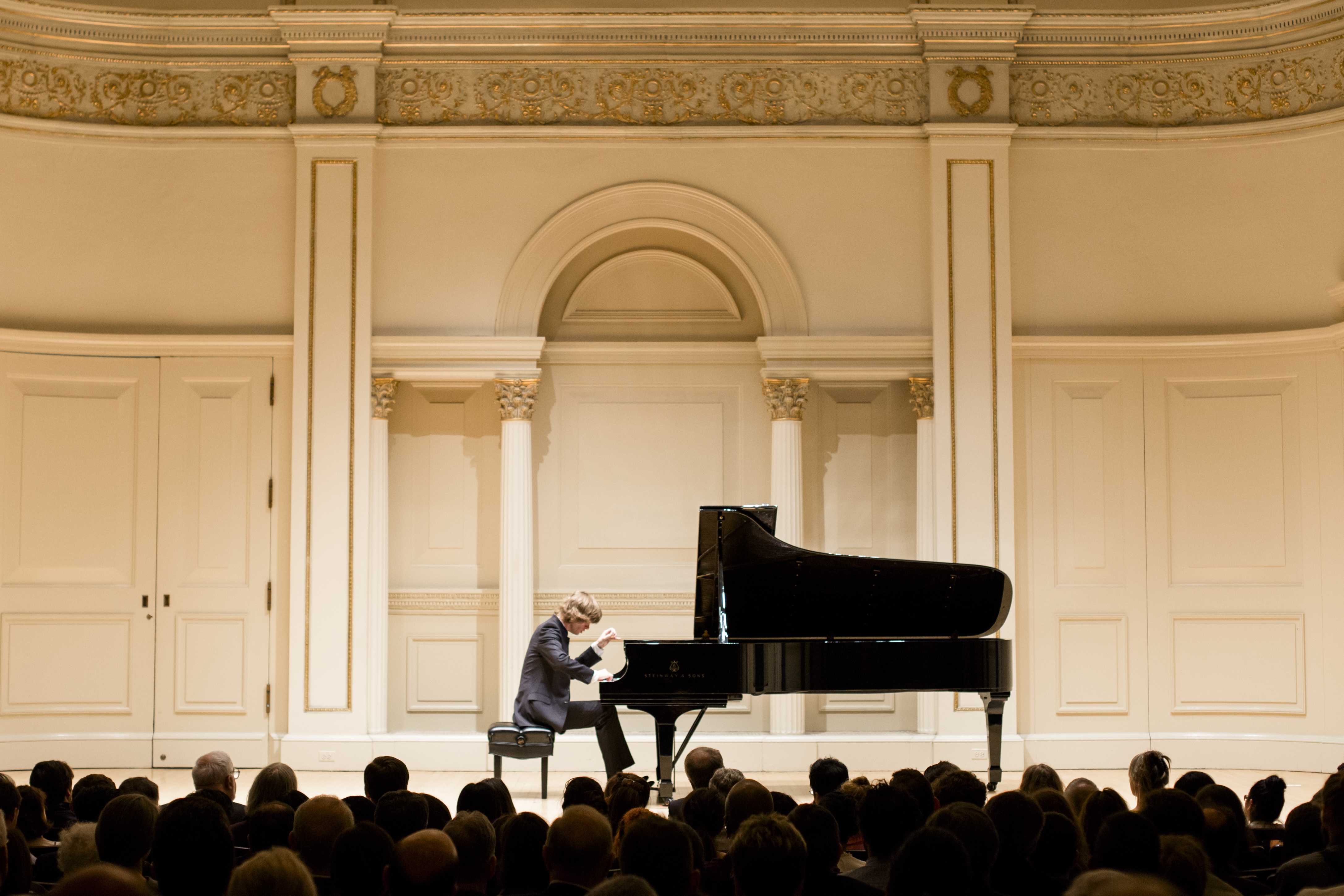 CM: Are you ever anxious before performing? What runs through your mind as silence falls over the concert hall, just before you begin?
AK: I am anxious when I am not performing. When I perform or right before a performance, I am very calm and concentrated.
As far as silence is concerned, for me it is like a canvas on which I am about to paint. Silence is an essential element of any great music that is created. It is somewhat a tool for poetry, understanding, concentration, tension, appreciation, and many more components of music.
CM: What role does the audience play in a classical music performance?
AK: The most important role. These people are the ones who absorb any particular music. Think of a great novel. For example, Tolstoy's "War and Peace" or De Coster's "Thyl Ulenspiegel". Imagine that these books would not have been opened or read by anyone. Then it is as if they don't exist. Of course not everyone who reads them appreciates them. But still, there are more chances for masterpieces to be appreciated if people read or listen to them.
CM: What do you believe are some of the challenges facing "classical music" today? Are you concerned about the attendance numbers?
AK: Very much so. Today's classical music audience is mostly represented by people of ages 65 and older. My question is: to whom are we going to play for in 20 years? There are so many music schools that produce numerous performers. What for? These schools should start producing an audience as well; otherwise there may be no point. I know so many musicians who are good performers but they don't have a decent job. In Russia, they play in restaurants. Here in the U.S. they go and take out more loans to get yet another degree.
On the other end, there are wonderful cases when music schools make projects involving the community, therefore future generations will be attracted to classical music. Just the other day, I read that the Cleveland Orchestra did something like that. It would benefit everyone for that to happen more often.
CM: You are also a teacher. What role do you feel that music educators play in helping to ignite the spark of curiosity in the younger generation? What are some strategies you have learned or discovered to teach about "classical music" that can make it relevant, personal, and fun for students?
AK: This is a complex question that I should address in several parts. First of all, a good musician is not necessarily a good teacher or music educator. Many musicians can't speak well to translate their musical senses into words. And then we have music educators. Who are these people? These people represent a combination of two worlds. They should be wonderful musicians whose fluent language is music, and they should also be fantastic teachers who know how to prepare a person to process any complex musical masterpiece.
I truly believe that all of our conservatories, music departments, high, middle, and elementary schools should rethink their approach. (I do not mean the actual program of music education; I use the words "music education" in the broadest sense.) Music education or appreciation should not be just about an opportunity to blow into the horn or hit a timpani or memorize all of the composer's names and dates. In my opinion, it should start with essential and captivating questions about classical music as a phenomenon in our lives. Inspiration is a critical element in music education! Another important component is listening to multiple recordings. There should be a well-shuffled and thoughtful playlist of classical masterpieces. There shouldn't be any testing or long lectures. At least 50 percent should be just listening, 25 percent – brief captivating commentaries that would help students to develop their imagination, and the rest is moving to music and feedback from the students (their opinions, emotions, etc. after they hear a piece). Students should be actively involved.
Now I would like to say something about musicians and performers. What do we do to make things better and attract more people into our world of music? We perform. How we perform also affects our audience. Just like in pop music, some classical musicians (or their management) try to create an "exciting" show in order to attract a larger audience. That is understandable. People want to be distracted from their problems.  They use visual effects of many sorts. We see this much in movies, and big pop music concerts. The music becomes a background. In my opinion, music is more than entertainment. There is more to music than distraction, more than a background for spectacle. Music can have a very great effect. It can change a person's life. It can have an effect on society. I do think of classical music as a high art. It takes a different kind of attention. Think about those amazing movie directors such as Fellini, Bergman, Tarkovsky. High art is for everyone, really. This is something performers need to think about. Yes, have fun – that's fine. Remember also to open doors, make the world bigger. Give people deep experiences of music. That is a question we need continually to ask ourselves, how to do that.
CM: What do you think the value of classical music is for the world today?
AK: In my opinion the value of classical music is enormous. I want to give just another example of what music can do to people. In Leningrad during the WWII siege, people were dying out of starvation, cold, and endless bombardment. Yet, there was this event happening there – A Leningrad première of Shostakovich's 7th symphony. People who could make it (including the musicians who suffered from dystrophy) went to the philharmonic hall to take a part in this incredible event of great human triumph that was represented by music. Many survivors were describing their emotions as if they felt like humans again. The very famous quote comes to my mind: "Man does not live by bread alone."
CM: I know that you are also working on a project that, in part, is aimed at introducing people to lesser-known classical composers, compositions, and musicians. Please tell us about Masterpiece Finder.
AK: This idea was one of many regarding how to educate musicians and audiences. If you take a look at the repertoire roster of any big symphony orchestra or concert series in the United States, Europe, and Russia, you might find that there are no more than 15 composers whose works are performed. And I am not even talking about other countries like China, Korea, etc. This "golden standard repertoire" somehow became the only repertoire. One would think that since there are so many performers today, more composers would be performed. In reality that is not what is happening. Everyone is performing the same standards. In the meantime, there is an "ocean" of forgotten masterpieces of lesser-known composers. If they aren't being performed, it doesn't mean it's bad music. After all, I came to a conclusion that it is a phenomenon how certain music is popular and the other is less so, or how some composers are not popular during their life, but become world famous after they die (examples of Bach, Schubert, Beethoven). And since market rules over art these days, presenters and agents first and foremost think how to make money. They don't want to risk presenting unfamiliar works of music.
So, I created the website Masterpiece Finder. I found several enthusiasts who share my view and passion for music. Maegan Sparks, violinist, and Stephen T. Vessels, writer, share my enthusiasm in making this world better by connecting to people and telling them: "Listen to this! It is a masterpiece and it is forgotten!" Maegan has written many articles and conducted interviews with various musicians and Stephen contributes and consults on behalf of our team about how to make our website reach the ultimate goal of connecting with various composers, musicians, and artists. We strive to make the music scene better. We are also in a process of reformatting the site so that it would serve as a platform for contemporary composers to be heard. We want them to have an opportunity to share information about their works, world premiers, various performances, etc.
CM: Tell us about a few lesser-known composers whose work you admire, like Leo Ornstein, whose Piano Sonata No. 4 you recorded so beautifully, or Vsevolod Zaderatsky, who led such a brave and tragic life.
AK: All the composers whose names are on masterpiecefinder.com are dear to me. Our team will try to dedicate time and upload new entries on such amazing composers as Busoni, Shchedrin, Schnittke, Gubaidulina, and many more. And I actually haven't done an entry about Leo Ornstein yet – a composer whose music I admire. I will correct that mistake soon.
CM: Many of my readers are women. To my knowledge, few, if any, female composer's works are part of the standard repertoire. Yet there have been many female composers, and some of the most prominent composers living today are women. Who are some female composers you admire? Could you recommend a few pieces by female composers for our readers?
AK: Here is an optimistic view on today's time. After so many centuries of male chauvinism, finally today, the situation with women rights is doing a little better. And today we find out that there were many female composers whose music was "put under the table." I strongly recommend our readers to research composers such as Fanny Mendelssohn, Clara Schumann, Nannerl Mozart, Elfrida Andree, Rebecca Clarke, Sofia Gubaidulina, Amy Beach, and many more. It is yet another wonderful side of the music world. 
CM: You will be going on tour soon. What can you tell us about your upcoming schedule and repertoire?
AK: My agent and I try to balance the repertoire so it will be realistic to have contracts with presenters. Presenters want me to play popular works of music and I want to play lesser-known works of music. And that's where the consensus is achieved: I play a combination of both. This season I perform: Siloti's transcriptions of various J.S Bach's works, Busoni, Schubert's selected compositions, Rachmaninoff's Variations on La Folia theme, Respighi's selected works, Mussorgsky's "Pictures at an Exhibition", and many of my own works. That is only for solo recitals. At the end of February I am going to Belarus to perform Poulenc's concerto for two pianos and orchestra. This masterpiece is performed so rarely. I am very glad that the presenter agreed with my idea to have it. There will be a lot of chamber music concerts this year: a tour to China and Thailand, concerts in Canada, Mexico, and the U.S. I will make sure there is a calendar with exact performance dates available on my website.
CM: I understand that you prefer to play Rachmaninoff's first piano concerto rather than his second, even though that was the piece that first seemed to draw you deeply into the world of classical music. Why is that?
AK: It goes back to the question of overly performed works of classical music. Rachmaninoff's 2nd piano concerto is probably the most played piano concerto along with Rachmaninoff's 3rd, and Tchaikovsky's 1st . Probably today, I would rather perform piano concerto by Barber, Shchedrin, Busoni, Medtner, or Rautavaara.
CM: What keeps you passionate about what you are doing after all of these years? What about classical music still "lights you up"?
AK: I am a musician. Everything that I do is music. A discovery of the unknown is what lights me up. See, all of these music masterpieces out there are mainly various attempts of humankind to understand its existence and this world. One can say that music is my religion.
CM: Do you have any suggestions for people who are unfamiliar with classical music, who might be intimidated by it or even feel they can't understand it, but might want to learn more about it, that might help them gain an appreciation for it? I realize that is a very large question. Are there any specific pieces you might recommend they listen to?
AK: It is a difficult question to answer. What I can suggest is to find one piece of classical music that one would want to listen to over and over. Fall in love with it. Find another, do the same. Remember its composer. Research about that composer on the Internet.
The list of composers can vary. Most audiences like composers of the Romantic and Classical eras. So, maybe that is the way to start.
CM: And for the young musician or artist just starting out, perhaps like yourself, against great odds, what advice would you offer?
AK: Ah… This question is even harder to answer. I should not advise anything really. I hope that these people have read the previous questions and answers and know what they might face by being a musician. It all depends on their love for music. Maybe the only advice I can give is to go over your dreams, goals, likes and loves. Being a musician is to understand first of all that you don't matter, only music does.
CM: Among all of your accomplishments, what are you most proud of or pleased by?
AK: I don't think of my accomplishments. They are nothing but a result of my life.
CM: I believe, Arsentiy, that your music is a gift to all who hear it. It seems to me that your music is an act of pure and sincere generosity. What has music given to you and what do you hope your music gives to others?
AK: Thank you for your kind words. When I started to compose, I felt better. I had something to say and I found a way to say it. All I hope is that there is someone who can receive and understand my message on the other end.
CM: Where can people learn more about you? Where can they purchase your recordings?
AK: There are websites through which people can get ahold of me: www.arsentiykharitonov.com and www.masterpiecefinder.com.
My CDs are available on Amazon.com and Toccataclassics.com. My music is all over Youtube.
I am not posing myself as a celebrity and I am very easy to be reached.
CM: Is there anything else you'd like to share?
AK: I guess that is all. Thank you for your questions.
P.S. Take a listen to Schnittke's First Violin Concerto. It is a true masterpiece.
——
To learn more about Arsentiy and his music, please visit his website.
To purchase CDs or to stream music performed by Arsentiy, please explore your options on Amazon.com and Toccataclassics.com.
To learn more about Masterpiece Finder, please visit the website and connect with the Masterpiece Finder Facebook page.
——
Did you listen to any of the pieces above? We'd love to hear your thoughts and reactions! Is there a particular composer or composition that you love? Please tell us about it in the comments below.
---
PLEASE NOTE: The opinions, representations, and statements made in response to questions asked as part of this interview are strictly those of the interviewee and not of Chloé McFeters or Tortoise and Finch Productions, LLC as a whole.