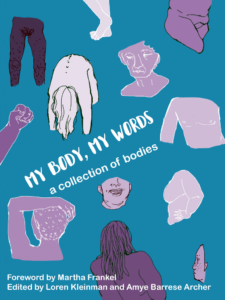 I recently had the opportunity to do a brief interview with Amye Archer and Loren Kleinman, the co-editors of My Body, My Words: a collection of bodies, a powerful new anthology from Big Table Publishing that includes a diverse selection of stories about body image and identity. The book contains personal essays on topics ranging from age and weight, to sexual identity and living with chronic illness, and features contributions from a wide array of talented voices including Martha Frankel (Hats and Eyeglasses), Ashley Tipton (Project Runway), and New York Times' Bestselling Authors Beverly Donofrio (Riding in Cars with Boys) and Abigail Thomas (What Comes Next and How to Like It). It is my pleasure to share that interview with you here.
—
CM: I think that your new book, My Body, My Words, is an incredible accomplishment, and a thoughtful and important contribution to ongoing conversations about bodies, body image, and "body positivity." Congratulations to you both and to the other wonderful writers who contributed to the anthology.
How did you first meet one another and when and how did you first decide to work together on this project?
A: Thank you for your nice sentiments about the book, Chloé. Loren and I first met at an art show. My sister, Jennie Barrese, is an artist working in NYC. She was having an opening at which she wanted some poets and readers. Loren and I ended up there together and discovered that we had a lot in common.
Throughout the years, we have read together and have grown closer as friends. We both write about similar things, and one night over some wine (and probably some whiskey for Loren), we decided to start an anthology.
CM: Growing up, who and what shaped your early ideas about ideal body image? Looking back, what decisions did you come to about your own bodies based on your perception of that ideal body image?
A&L: We both grew up struggling with our weight. Like most young women, we were influenced by those images of beauty around us. We both have battled our idea of perfection for a long time, but we've hit a point where we've started to come to terms with who we are and the beauty we carry with us.
CM: What are some of the ongoing struggles you have faced around positive body image and body identity?
A: I sometimes struggle with the idea that we should all love our bodies. I love me. I don't necessarily love my body. I've accepted it, and I think that's a very different thing.
CM: My Body, My Words features powerful personal essays on the topic of weight, and also explores a wide range of other themes, including sexual and gender identity, aging, invisible illness, mental health, disability, and more. Was that always the vision for the project?
A&L: We expected weight to be the most prominent (topic), so we were very surprised when it wasn't. We received many weight submissions, but we received an overwhelming amount of essays on aging, illness, mental health, and more. I think we were surprised by the spectrum of pain and pride people feel for their bodies. We've said this before, but when you struggle most of your life with weight, your perception of body image is focused solely on fat vs. not fat. This book opened our eyes to the shared burden of being human.
CM: My Body, My Words contains contributions from some well-known writers, including Beverly Donofrio, Martha Frankel, and Abigail Thomas. What does it feel like to have their powerful words featured in your own anthology, and what can you tell us about some of the other writers in the collection?
A&L: We were so honored to work with some of our mentors and those we admire in this process. But we are also very proud of the pieces from first-time voices. From the start we knew we wanted to represent all perspectives and include as many voices as possible. Through open submissions we were able to do just that.
CM: What are your thoughts on social media and its impact on positive body image and identity?
A: Until I had pre-teen daughters, I didn't give social media's impact that much weight. I have completely rethought that stance. I see it in my 11-year-old twin girls and their friends all of the time. They're very focused on the images they see and those they portray. It's a daily battle in our house, unfortunately. Of course I'm not happy about it-but it's hard to criticize a younger generation's form of expression. I think it just needs to be monitored and constantly put into the larger context.
CM: What do you hope readers take away from the collection?
A&L: So far we've received so many beautiful emails and feedback via social media about how the book really showcased a variety of body image conversations, such as eating disorders, amputation, illness, pregnancy, etc. Readers have been enjoying the breadth of offerings this book shares.
CM: If there is someone reading this who might be struggling with body image or body identity, what would you want them to know?
A&L: We would want them to feel included in this discussion, to have agency over their own bodies. So often when we're struggling with body issues, we feel marginalized and alone. We worked on this project with the idea of inclusion always closeby.
——
To purchase a copy of My Body, My Words, please click here.
What shaped your early ideas about ideal body image? What comes to mind when you think of body image or body identity? Please share with us in the comments below. We'd love to hear from you!
Amye Archer (Editor) holds an MFA in Creative Nonfiction from Wilkes University. Her memoir, Fat Girl, Skinny, was named runner-up for the Red Hen Press Nonfiction Manuscript Award and was released in April, 2016, by Big Table Publishing Company. She has two poetry collections: BANGS and A Shotgun Life, both published by Big Table Publishing. Amye's work has appeared in Brevity, Hippocampus, Mothers Always Write, Nailed Magazine, PMS: Poem Memoir Story, PANK, and Provincetown Arts. Her Essay, "Slow Motion," received a notable in Best American Essays 2016. Amye is a regular contributor to Feminine Collective and is the creator of The Fat Girl Blog.
Loren Kleinman (Editor) is a faculty member at New York Writer's Workshop and a full-time freelance writer and social media strategist. Her poetry has appeared in The New York Times, ADANNA, Drunken Boat, The Moth, Domestic Cherry, Blue Lake Review, Columbia Journal, LEVURE LITTÉRAIRE, Nimrod, Wilderness House Literary Review, Narrative Northeast, Writer's Bloc, Journal of New Jersey Poets, Paterson Literary Review (PLR), Resurgence (UK), HerCircleEzine and Aesthetica Annual. Her interviews appeared in IndieReader, USA Today, and The Huffington Post. She's also published essays in Cosmopolitan, Good Housekeeping, and Seventeen Magazine. She is the author of Flamenco Sketches and Indie Authors Naked, which was an Amazon Top 100 bestseller in Journalism in the UK and USA. Kleinman's The Dark Cave Between My Ribs was named one the best poetry books of 2014 by Entropy Magazine. Her third collection of poetry Breakable Things released via Winter Goose Publishing in March 2015. Her novel This Way to Forever released August 2016, and her memoir, The Woman with a Million Hearts released April 2016 via BlazeVOX. Stay with Me Awhile is her fourth collection of poetry.
---
PLEASE NOTE: The opinions, representations, and statements made in response to questions asked as part of this interview are strictly those of the interviewee and not of Chloé McFeters or Tortoise and Finch Productions, LLC as a whole.