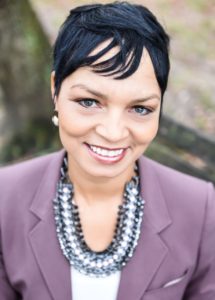 I was first introduced to Navy Veteran and Marine Wife Mea Williams when I reached out to Grace After Fire, the Veterans service organization based in Houston, Texas where she serves as President and CEO. Having heard wonderful things about the organization, I wanted to see whether or not Mea would be willing to review and provide feedback regarding a pre-release draft of Beyond the Call, my coloring book journal for women who have served in the military, and whether or not she might like to have Grace After Fire added to a list of resources in the back of the book.
On that initial call, Mea was warm and kind, showing great interest in the project, and even sharing with me that, at Grace After Fire, she directs and oversees all efforts and activities related to the development and implementation of an innovative Veterans' peer-to-peer support program called Table Talk™ Color Me Camo. As it turns out, the women who Mea and her team love to serve, love to color!
Since that time, I have had the pleasure of connecting with Mea on more than several occasions, and she even generously agreed to write the foreword for Beyond the Call. That was quite an honor for me, and will be a true gift to anyone who reads her words. I believe so strongly in Mea and in the important work that she and her team are doing with Grace After Fire, and I look forward to staying connected to her and the organization in the coming months and years.
As we approach this Veterans Day, I wanted to shine a spotlight on this incredibly determined and inspiring Veteran who continues to serve our country each and every day by supporting her fellow Veterans.
—
CM: Please tell us a little bit about yourself, Mea.
MW: Who am I? Years ago if someone had asked me that question, I would have struggled to explain exactly who I thought I was, searching for the right words to say, wondering if the one asking me the question or listening would understand, or accept or "approve" of me, the me who I always believed was, and is, destined to do amazing, wonderful things. Who am I, you ask? I am a mother, a wife, a friend, a daughter, a sister, an evangelist, a leader, a follower. I love the Lord and am active in my church as a prayer partner. I have accomplished great things, like serving my country when the odds were against me, and earning my Master's degree.
Sometimes I worry about things I cannot change and often stay up in the middle of the night figuring out ways to change the things I can. Then I pray, releasing the rest to God. I love all things fashion and design, and health and fitness. I have a dog named Sasha, a pit-lab mix whom I love so much. Sometimes I think Sasha believes she is human because I speak to her as such. What I love about Sasha is that she is totally unable to back talk like my kids sometimes do, or tell me that my thoughts and opinions are wrong. In fact, she does the total opposite; Sasha simply listens to me and looks at me in a way that seems to say, "You are accepted and approved of and I totally love you just the way you are, 'Human Mom.'"
I have two young boys who challenge me every single day to be a better mother, a better contributor to my community, and a better person overall. My children remind me to live each day on purpose, that it's okay to eat the dessert before the meal, and to remember to dance and sing as if no one is watching. Oh, yeah, they also remind me to loosen up a little, as I can be a little rigid and "stiff" at times.
I have been married for 17 years to Derrick Williams, who also served in the military, and is currently serving in the Air Force reserves. I met Derrick on July 2, 1999 while working at Foot Action in the mall in Zanesville, Ohio while attending the Ohio University Zanesville branch. Derrick came into the store with a Marine buddy by the name of Shawn who was in the mall to buy swim gear and sandals for a scheduled trip to Cedar Point, an amusement park located in Sandusky, Ohio, for the fourth of July weekend. The rest is history. Derrick and I just celebrated our 17th wedding anniversary. I currently reside with my family in Katy, TX and am loving every moment together.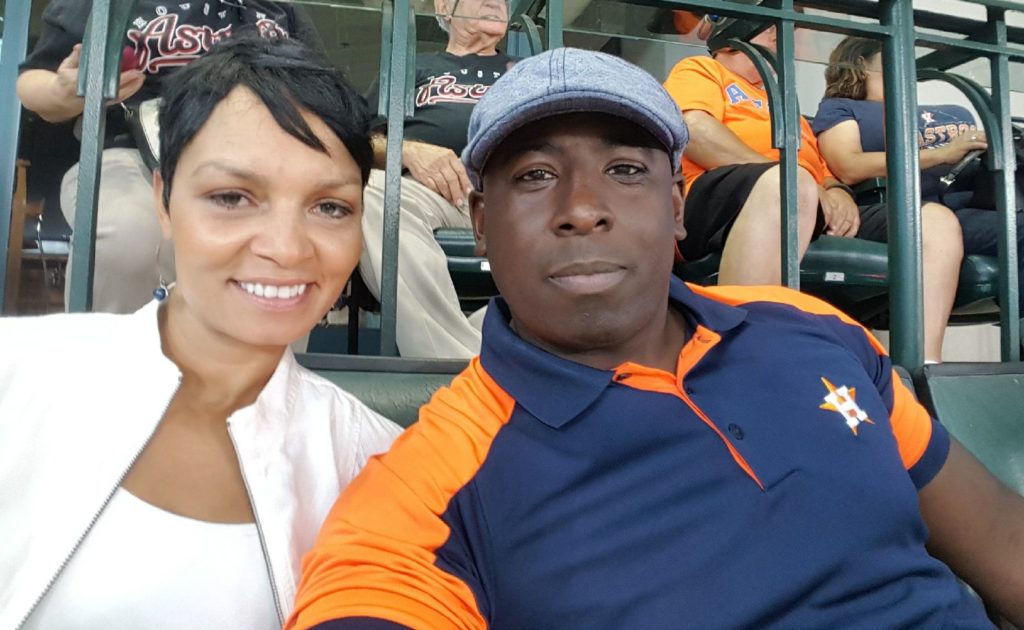 CM: You served in the United States Navy for nearly seven years. What are some memories that stand out to you from your time in service?
MW: That is correct, nearly seven years, I served for 6 and half years to be exact. There are so many memories that stand out to me from my time spent in the Navy. Like the time in boot camp, where it seemed like I stayed hungry, cold, and tired the entire 13 weeks of training. One day, me and three other shipmates decided that we had had enough of being hungry between early and late meal times, so we decided to grab the 2 oz containers of peanut butter and put them inside our overcoat pockets to indulge in at a later time that evening. The excitement of knowing that we had a little snack waiting for us after evening "Chow" quickly faded away when one of our RDCs (Recruit Development Chiefs) conducted a surprise uniform inspection and found, in pocket after pocket, several containers of the stowaway peanut butter stash.
Another memory that stands out front-and-center is the time I was working on the flight deck of an Amphibious Assault Ship as part of the Crash and Salvage team. Our main responsibility consisted of our team sitting on a P-15 (a military fire truck) on top of the flight deck during flight operations (ops). Our job was to stand by to respond to any mishaps or accidents caused by an aircraft or "helos" during flight ops. I always enjoyed being on the flight deck while at sea in the middle of the ocean—it was simply breathtaking to me. Ah, the smell of salt water early in the morning! Ok, getting back to my memory: During flight ops, AV-8 Harriers would land and take off again and again. CH-56s would land on an open spot and sit, sometimes for an hour at a time. So, this one day during flight ops, the helos were doing what they do best—spinning their overhead blades around and around, giving off that humming sound, waiting for their turn to fly off for their next tasks. Well, while all of this was happening, I was sitting in the passenger seat as the Lead Airman on the P-16, waiting alertly for anything to happen, or so I thought! It wasn't until the ship's alarm siren sounded, indicating that there was an emergency on the flight, that I realized I had fallen straight to sleep on that P-16 that day in the right-side passenger seat of that fire truck. It's a good thing that alarm was only a drill. That thing startled me so much that I never fell asleep on duty again, and I will never forget that day either.
Other memories include: the sounds of bells and whistles being announced at 0500, awakening the entire ship crew of 1200 Navy shipmates for another day's work, and the great selection of fish and breakfast pizza in the galley. Oh, how I loved that breakfast pizza!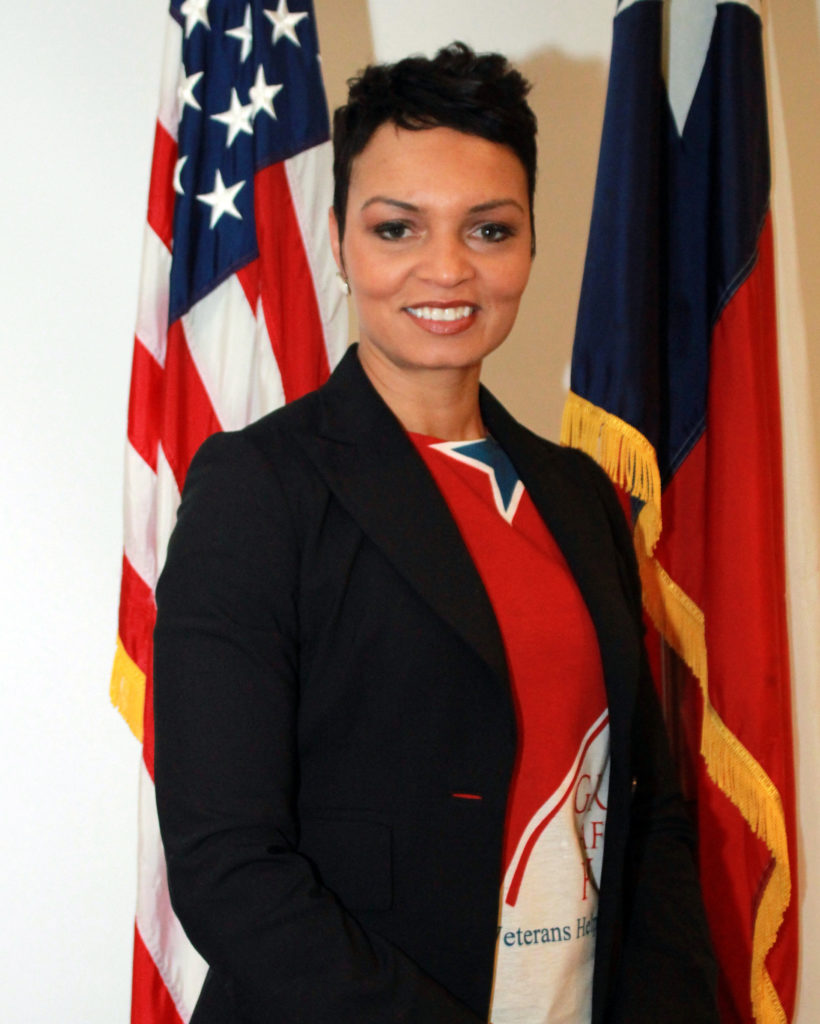 CM: How did your time in the military shape the values you continue to live today?
MW: My time spent in the military not only helped shape the values I continue to live today, but also helped to bring out what was already within me. The Navy's core values are Honor, Courage, and Commitment. Today, when I make decisions as a leader, a mother and a wife, I do so with Honor, respecting myself and others with my actions. As for Courage, what I learned is that sometimes you are going to come up against things in life that are totally going to scare the socks off you. During those times, scared or not, I do it anyway. A perfect example of having courage, even through the unknown, is when I accepted the position of President and CEO with Grace After Fire. At the time of my acceptance, I had no idea how to be a CEO or if I could even do it. Courage allowed me, with uncertainty in my bones, to jump in with both feet forward and stand up to the challenge. I'm so glad I did.
The military also taught me that if you put forth the appropriate amount of time and effort towards a goal, while moving strategically through challenges, accomplishment is very possible.
CM: Who founded Grace After Fire?
MW: Col (Retired) Kimberly Olson is the founding President and CEO of Grace After Fire. It all started with her passion for seeing women doing their best in their best environment. The mission of Grace After Fire equips women Veterans to do just that. It falls right in line with Col Olson's passion.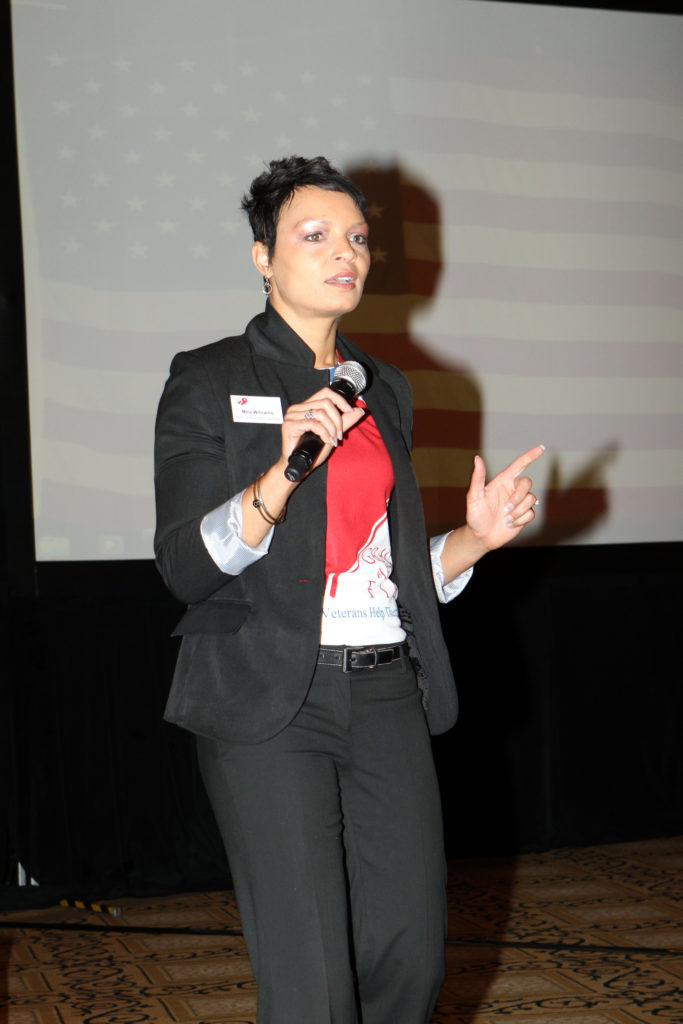 CM: How did you first serve at Grace After Fire and how has that service continued as the President and CEO?
MW: I joined the Grace After Fire team almost six years ago as an Outreach Coordinator. Now serving as the President and CEO, I feel that my work speaks to my overall calling and life's mission of being a Godly example by speaking to and inspiring girls and women, and showing them ways to simply be their best selves. I walk that path every day when I don the "uniform of Grace" and do the work that aligns with the mission and vision of the organization.
CM: What can you tell us about Grace After Fire?
MW: Our work changes lives every day. Women and families are impacted by the work that we do. Each year my team and I connect with our 1,000 women veterans and their family members, providing each of those women with appropriate resources, leading them in the right direction, and giving them a place to call "home"—a place of camaraderie. We believe this is essential, as one very important thing that is instilled in every person who enters the military is the sense of "brotherhood," closeness, and togetherness.
CM: Through your work, what have you come to believe are the biggest challenges that some of your fellow women Veterans face after separating from the military?
MW: What I have come to learn about some of the greatest challenges that my fellow women Veterans face is that after leaving the military and reentering their communities as veteran citizens, many women veterans face the challenge of finding a sense of belonging. It's hard sometimes to go back into a community where the people have not served and don't quite understand the mindset of those who have served. Sometimes it is just hard to fit in or to feel that sense of "belonging" in a place that is unfamiliar.
When a women Veteran leaves the military, she is fighting quiet "wars" inside, and she doesn't always know how to express or explain that to someone who has not experienced the same thing. When it comes to the foundation of the military, I like to refer to the three "S Pillars": Structure, Systems, and Support. Service members soon come to know, appreciate, and rely on that structure, system, and support. For example, in thinking about structure, a woman serving in the military knows exactly what each day is going to look like, from what she wears, to when she eats, to the flow of work for the day ahead. There's always a plan for the day, and you know the plan. Then there are systems, the military's way of sorting and maintaining things, rules, policies, and procedures, a structure that each day is built upon. And then there is support. In the military you have your command, your brothers and sisters in arms. We may not always agree while in uniform, but when you are in service, you certainly are going to have folks there who are accountable for you, and you for them, and you and they will be there for each other in time of need. At least that is what is taught and is expected to happen. Without those pillars in place, some Veterans tend to lose their sense of direction and belonging.
Other challenges include: finding a sense of purpose, identifying a career that fits the skills learned and practiced in the military, and finding a support system of people who "get it."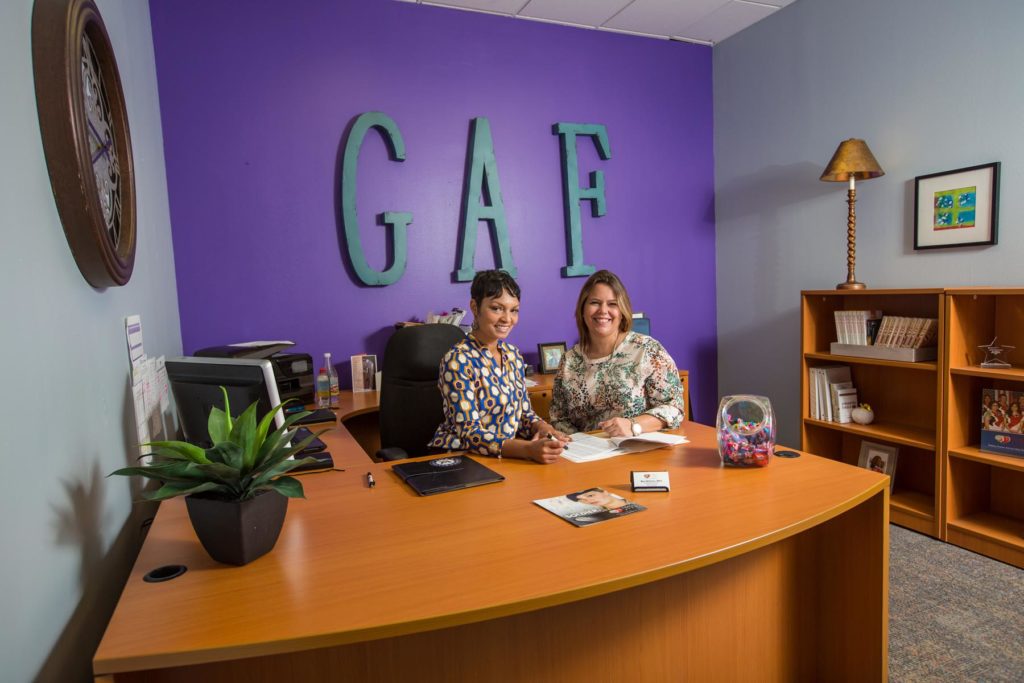 CM: How does Grace After Fire address those challenges in its mission, programs, and outreach?
MW: Grace After Fire's overall services, mission, and programs are geared towards all women Veterans and are designed to assist and equip each one of them with the tools needed at the time of connection to be a successful and productive citizen in their communities, at their jobs, and in their homes.
CM: What are you most proud of, both personally and professionally?
MW: As a mother and wife there are many things that I could highlight from those two roles alone that I am very proud of; however, the one thing that stands out the most for me personally is my determination to see my destiny come to pass, and my refusal to give up when it seems like all "hell" has broken loose and challenges are knocking at my door. Believe you me, I am not immune to trials and tribulations! I have seen many in my days. The simple fact is that I keep moving forward when the road of life is not easy and when every fiber of my being wants to quit. That driving determination within to be an example of excellence and move forward working towards my destiny, one step at a time, is something that I am very proud of.
Professionally, I would have to say climbing the ladder to President and CEO of Grace After Fire and empowering a group of women to be their best selves every single day. Being in this leadership position, God has allowed many things to happen "on my Watch" that have not happened before, like writing the foreword for your superb coloring book journal, which will be read and bought all across the states by many, with Grace After Fire as a mentioned resource, and being part of the birthing process of Grace After Fire's three brick-and-mortar office spaces, all opening within the last two years.
CM: What is something you would say to a young woman who is considering a career in the military?
MW: The thing I would say to young women who are considering a career in the military is "Absolutely go for it!" I love the military and what it stands for. I recommend joining the military for anyone who is eligible and has a desire to go in. I believe the military is a great way to discover hidden skills and talents within you. The military is a door to experience life outside your normal four walls.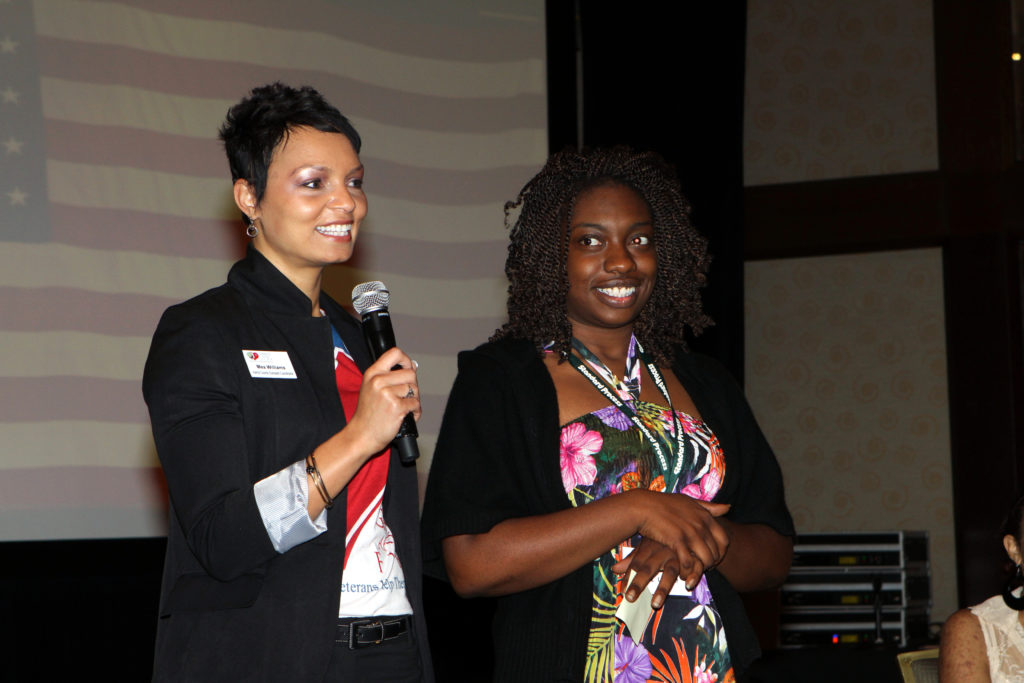 CM: What words of advice or encouragement might you offer?
MW: I would offer this: You are equipped to do the very thing you desire to do. With a willing spirit and the determination to never give up, a mountain of accomplishments are at your fingertips—both in and out of the military.
CM: What is something you would like for all of your fellow women Veterans to know?
MW: What I want my fellow Veterans to know is that I am proud of each of them for their unwavering service and that there is more to be accomplished on their "watch," in and out of the uniform. The one thing we were used to in the military is the sisterhood and camaraderie. I encourage women Veterans to connect with great organizations like Grace After Fire in and around their communities and get involved in Veterans service groups and events. You are not alone. Connect with those around you.
CM: What about civilians like myself?
MW: What I would say to civilians is to continue thanking and showing support to those who've served. It never gets old hearing the words "Thank you for your service." It means lot, more than you'll ever know.
CM: I am grateful to have come to know you and several members of your staff through working on Beyond the Call. Is there anything you'd like to share about the experience or the book?
MW: Having the opportunity to write a piece for the Beyond the Call coloring book journal was life changing for me, for sure. Writing the piece awakened a sleeping dragon within me – a huge gift that I was given, but that I had allowed to get buried away by the demands of life and the responsibilities that come along with it. While writing the foreword, the one thing I realized is that writing is part of speaking, and speaking is part of my calling, my life's purpose. That experience allowed my gift to be shared with others and to reach an audience that I may not otherwise meet or see.
The book lit a blazing fire under an otherwise dying flame, giving my day-to-day work meaning and my week-to-week tasks excitement. Words, when put together the right way, somehow create an amazing melody to the song of life that lies within each one of us. That is certainly what happened to me.
The words within Beyond the Call have given my "song" sound—a sound that could very well resonate with other people who will experience it for themselves. Perhaps, as with me, the book will give a gentle shaking to parts of their souls and inner beings, the parts of themselves that have been struggling to "sing," and help them to realize that the only thing they were in need of to keep pushing forward is a little "sound" of their own.
CM: It is an honor to include your beautiful and uplifting foreword in Beyond the Call. I learned through this process that writing has been a lifelong passion for you. What significance has writing played in your life, both personally and as a leader in your community and beyond?
MW: Yes that is true, writing has been a lifelong passion and gift of mine for as long as I can remember. Over the years, however, until writing the foreword for Beyond the Call, I allowed my gift and passion of writing to go dormant for a long time due to the happenings of everyday life and other tasks and things taking the place of what I love to do—write. Writing the foreword awakened that sleeping gift that was lying inside of me. As I was putting pen to paper and created what seemed to be a beautiful melody of thoughts and words, new breath began to fill my lungs, and I began to have a new beat to my feet, almost like something dead had become alive, giving me a refreshed meaning to life.
As a leader in my community, writing allows me to tell stories as a way to encourage those who may be facing a tough time and inspire those who may feel like giving up to stay in the fight and keep moving forward. Writing allows me to let the reader see a little bit of my heart and hear a little of my story without being in the same room. I get to meet people—or people get to meet me rather—that I may not otherwise meet, simply by writing.
CM: Where do you see Grace After Fire in five years from now?
MW: In five years I see GAF 's program of Table Talk Color Me Camo being facilitated by Veteran volunteers in at least 25 states. I see GAF being talked about in a positive light across the states, on TV, radio stations, and on the covers of magazines.
CM: What are you hoping to accomplish in those years?
MW: I'd love to reach as many women Veterans as possible and impact their lives in a positive way. What does that number look like? It is very hard to say.
CM: What types of support would be most helpful to Grace After Fire at this time?
MW: Monetary support of all amounts and sizes is the most helpful to GAF for the continuation of impacting change and lives through our mission, vision, and services. Monetary support allows us the avenue to do that.
There are additional ways to support GAF as well. For example, we are currently collecting toiletry items and gift cards for those women Veterans impacted by Hurricane Harvey and who are on the road to recovery. With the influx of Veterans coming through our doors since the storm, we are also in need of volunteers to lend support at our Houston office in the area of data entry and filing, etc.
CM: Where can people learn more about Grace After Fire?
MW: They can learn more by visiting our website at www.graceafterfire.org.
CM: What are the best ways to connect?
MW: You can connect with Grace After Fire via email at info@graceafterfire.org, by phone at 1-888-737-3112, or by mail at P.O. Box 218604, Houston, TX, 77218.
CM: Is there anything else you'd like to share?
MW: I am completely honored to be a part of this moment— and this interview.
CM: The honor is truly mine, Mea. Thank you so much for your service and sacrifices, for all that you shared here, and for the important work you and your team do every day. Wishing you all the best, always.
—
To learn more about Grace After Fire, to make a donation, or to inquire about GAF's Table Talk Color Me Camo program, please visit their website at www.graceafterfire.org or contact 1-888-737-3112.
To learn more about Beyond the Call, my coloring book journal for women who have served in the military, please click here.
To learn more about Still, But Not Silent: A Coloring Book Journal for Survivors of Domestic Violence, please click here.
To learn more about Led By Love: A Coloring Book Journal for Family Caregivers of Adults, please click here.
To learn more about my domestic violence documentary, You Look a Lot Like Me, please visit the official website for the film.