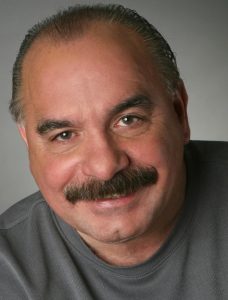 Meeting chef and actor Frank ("Frankie") Imbergamo is a bit like reuniting with an old and dear friend. There's something immediately familiar about him. Maybe it's because we're both Italian-Americans who were born and raised in the same city with many of the same traditions, or maybe it's because he's instantly encouraging you to eat and enjoy a favorite dish he's just prepared. I can't quite put my finger on it, but whatever the reason, interviewing Frankie was a lot of fun. He's a truly inspiring and generous guy. 
—
CM: You and I are both from the same city and we both love food and films. I feel like I'm sitting down with one of my cousins. Why don't we start by learning a little bit about your childhood growing up in Boston?
FI: Sure. I grew up in Boston's "Little Italy," which is known as the North End. It was a great neighborhood to grow up in. At that time, the majority of the families living there were Italian, and many of the families knew one another and watched out for one another. Back then, we had roughly 25 Italian restaurants and countless grandmothers' kitchens to choose from when we wanted something to eat.
I have so many memories from those days. On the corner of Hanover and Commercial Streets was Giro's Restaurant, which was a classic restaurant. It was dark and cozy, and when I was a kid, all of the servers there wore tuxedos. It was a popular place and the food was excellent. They served great veal dishes, pasta, steak and chops. Then there was the Blue Front, which was owned and operated by my friends and neighbors, the Passacantilli family. It was a bar and grill type with homemade Italian dishes. They had great pork chops with vinegar peppers and potatoes. They made their homemade tripe in a red sauce every Saturday and everyone raved about it. Local people would take in an empty pan and they would fill the entire thing for about three dollars. People from the neighborhood would go hang out in a booth and play a friendly game of cards. It was a great place to go and get some true home cooking.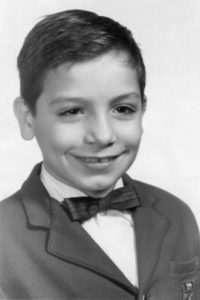 Our family lived on Hanover Street and was made up of my mother, my two sisters, my brother, and me. My mother, Mary Imbergamo, was a widow at age 25, and she brought us four kids up all alone with no husband. My dad passed away at age 33 from an aneurysm. My oldest sister is Josephine, then I came along, then Gerald, my younger brother, who everyone knew as "Skip," and then our youngest sister, Rosemarie. We were all very close in age and it was hard for my mother raising us kids all alone. Looking back, I don't really know how she did it. She was a great mother. She passed away back in 2010 and we all love and miss her very much.
CM: When and how did you first learn how to cook? 
FI: I first learned to cook in my family's home. My grandmother Rose used to come to our house on the weekends and would cook with my mother. We loved her very much. One of my favorite memories to this day is of the aroma of my mother's meatballs frying in the pan on Sunday mornings. There was just nothing like it. And my grandmother made the best homemade raviolis I have ever had.
They were both great cooks and I first learned how to cook at their knees. They used to make so many dishes right in front of me and I would always watch them and try to remember how they were doing everything. They used to say, "Now watch how I make this." And I would help a little.
Growing up, my mother had to get creative about how to feed all of us kids. One thing I remember very well is that she'd always cook for us on a schedule. Every week, we knew what we would be eating based on which night of the week it was. Every Sunday, we'd have what we call our Sunday "gravy," which had either meatballs, sausage, beef braciola, or pork in the gravy. The gravy, which some people also call "sauce," would be served with some kind of pasta, ravioli, or lasagna. It was a great homemade meal and definitely our favorite. We loved it.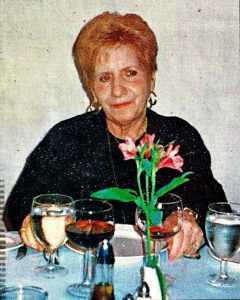 On Monday nights, my mother would make a homemade soup, either a beef, chicken, or an escarole soup with small meatballs. She'd top that off with some Pecorino Romano cheese and some crusty Italian bread. Tuesday nights usually meant chicken cutlets, salad, and some veggies. On Wednesdays, we had another pasta night, something like ziti and meatballs or spaghetti. Thursdays were meat nights. Usually we would have pork chops with vinegar peppers and potatoes, salad, and some broccoli rabe. Another favorite was steak, mashed potatoes, and broccoli. Friday nights were our fish nights and we would have Haddock Pizzaiola, which is haddock in a tomato sauce, baked with fresh oregano. On Saturdays, we'd have cold cut sandwiches and some cheeses or pizza. We made all different types of pizzas—cheese, anchovy, mushroom, pepperoni. That was always fun.
My mother loved her children very much and she always put us first. Her kids were definitely her whole life.
One of my other favorite memories is cooking the Feast of the Seven Fishes on Christmas Eve, along with other Italian food. My family and I still celebrate the seven fishes feast every Christmas with seafood like lobster, crab, and shellfish cooked in a red sauce and served over pasta.
CM: How do you believe growing up in the North End of Boston in the years that you did shaped your ideas about food and family?
FI: Well, it was definitely a culinary atmosphere. As I mentioned, a lot of my friends' families owned Italian restaurants in our neighborhood and I got to see all of that and to learn from it. And I was always having a little something to eat in someone's grandmother's kitchen. We lived in an apartment building, and on my way up to our own apartment on the 4th floor, I might make two or three stops in my neighbors' kitchens, trying a little bit of this or a little bit of that. It's just what we did back in those days.
The thing with Italian cuisine is that it differs depending on which region of Italy your family is from or what your family's traditions were. My mother's family were from Avellino, in the Campania region of Italy, and my father's family were from Sicily. As I got older, I started to notice the differences, and began experimenting with different flavors and styles of cooking, but the food I ate growing up in the North End will always feel like home for me. That's where my love of food got started and that love continues until this day.
CM: I know you enjoyed a gratifying 30+ year career with the United States Postal Service. Did your colleagues get to sample a lot of your cooking over the years? 
FI: Yes, I was with the Postal Service for more than 30 years before I retired in 2006. One of the best things about working for them is that's where I met my beautiful wife of more than 27 years, Maureen. She still works for the Postal Service. The first time I cooked for Maureen was when we got married. We were living in the North End then. 27 years later, I'm still doing most of the cooking, and she still seems to love it!
Over the years, my colleagues got to try many of my recipes and they seemed to enjoy them as well. My gravy and meatballs were always a big hit. They also enjoyed my eggplant parmigiana and chicken parmigiana.
CM: Not too long before you retired, you decided to enter a recipe contest that would change your life. Tell us about that.
FI: My favorite chef is Emeril Lagasse. I've always loved his recipes and I used to watch his shows a lot. One day, I saw that the Food Network was hosting an Italian recipe contest for the "Emeril Live" tv show and I decided to enter. Maureen and I wrote up a little bio, and I submitted my gravy and meatball recipe, like the one my own mother used to make on Sunday mornings when I was a kid in the North End.
One day, I received a phone call at work from the Food Network telling me that, of the 1500 submissions they had received, I was in the top 100 finalists. I couldn't believe it. That would have been exciting enough, but then, a couple of weeks later, I received another call from the network, telling me that they had selected four final winners from across the country and that I was one of the four.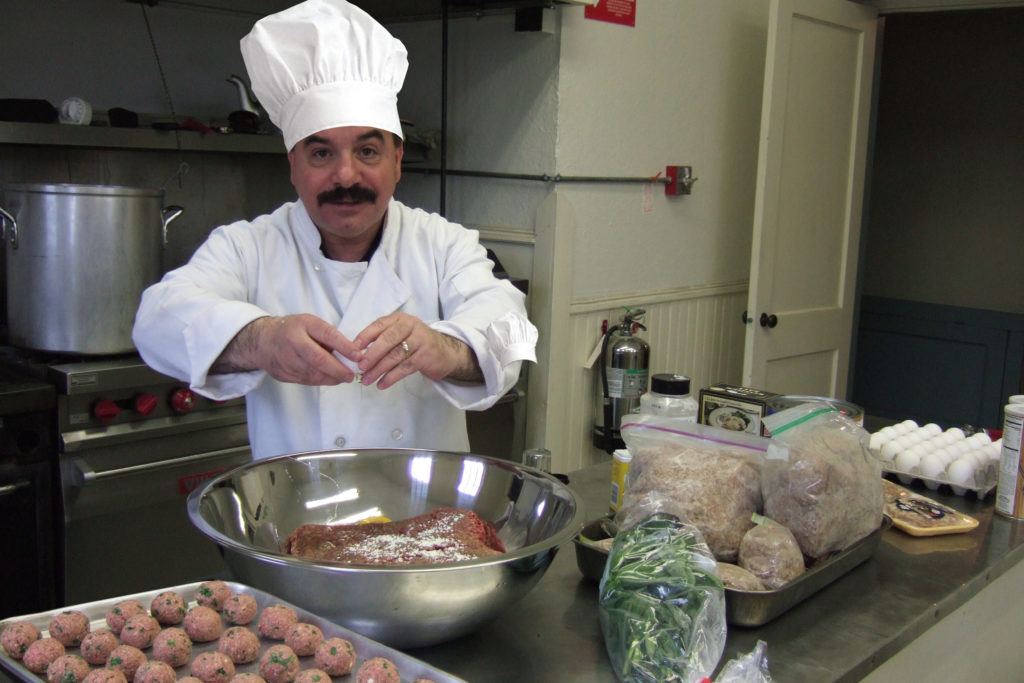 CM: Wow, that's such an accomplishment! What did it feel like to be named one of the winners and what happened after that?
FI: To be honest, I was shocked, because, as I said, Emeril is my favorite chef. It was really exciting. All of my family and friends were so excited and couldn't wait to see the show on TV.
Shortly after I got the call, the Food Network sent a crew to Boston and they filmed me in the North End in a butcher shop called the Abrusseze Meat Market where I was purchasing the meat to make my gravy. We spent some time there that morning and then they came over to our home and filmed me making the winning recipe. It was a great afternoon. They must have been there for about 10 hours.
Two weeks later, the Food Network flew Maureen and me down to New York City, and we got to meet the other three winners and appear on an episode of Emeril's show. It was an honor to meet and talk with Emeril and I also got to meet Rachael Ray. The Food Network made Maureen and I feel like celebrities for a weekend and we both had a nice time. Being on TV with Emeril was so exciting! I loved it.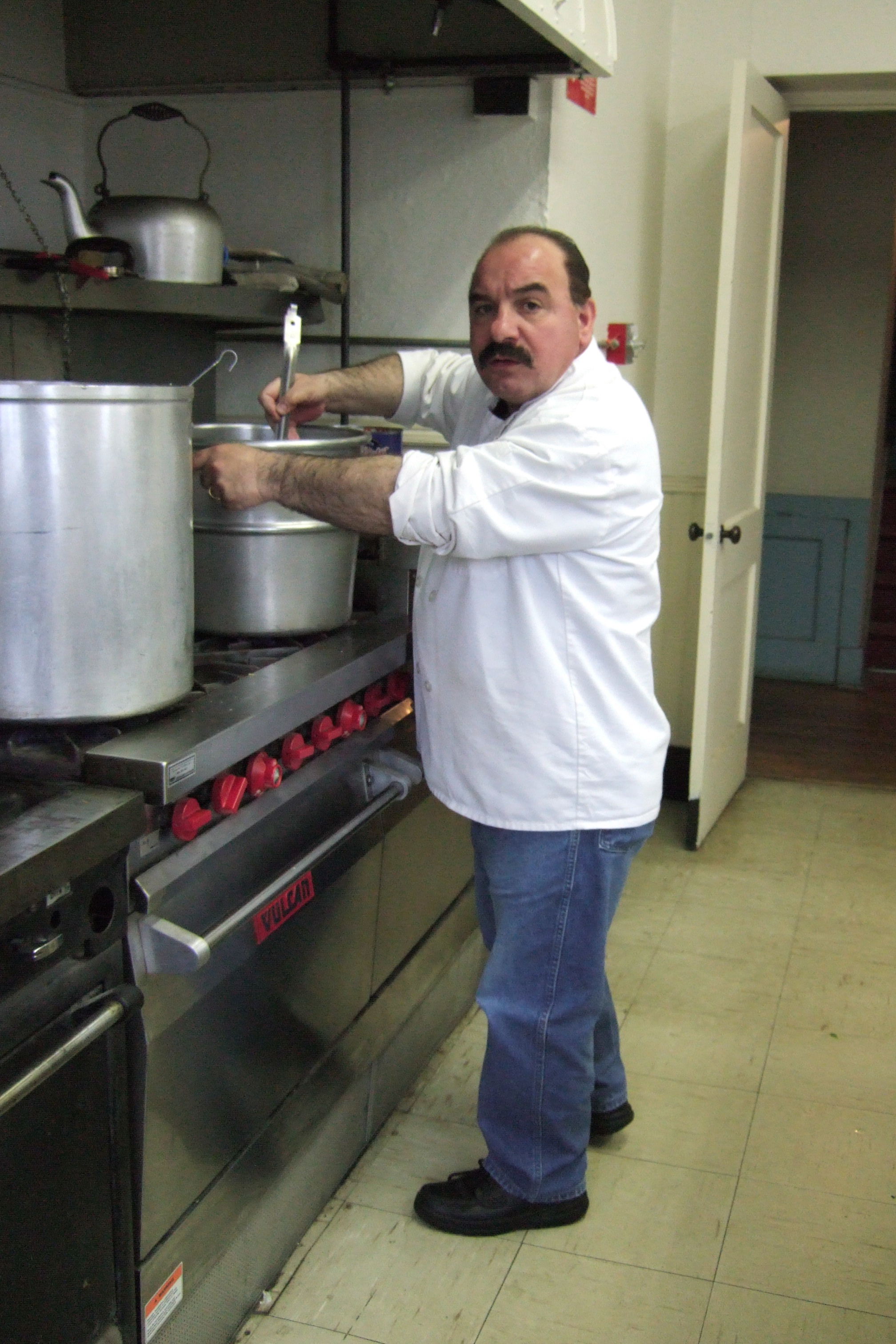 CM: Shortly after winning the contest, you received an interesting phone call. What would you like to share about that?
FI: Yes, I received a call from Boston Casting, Inc. They told me that they had seen me on Emeril Live and they wanted me to come to their offices for an audition. I was shocked. They were doing a movie with Danny Aiello and they told me they thought I'd be a good fit. So I went in, and I was cast in my first movie, which was really exciting. It was called Stiffs. I played a mourner in the film and I'm actually in a scene with Danny Aiello where I pass him while I'm walking into a funeral parlor. It was quite an experience.
CM: Were you a fan of movies growing up? Had you ever considered acting before that call?
FI: No, I had never considered acting, but I've always loved movies. We used to have a movie theater called The Lancaster, which was right across from the Boston Garden. That was a great place. I like all kinds of movies, but my favorites would have to be 29th Street with Danny Aiello, The Godfather, and Raging Bull.
CM: I know you've been in a number of major studio productions since then. How did things unfold after your first movie? What are some of the films you've been a part of over the years?
FI: After Stiffs, I worked as an extra on a few other projects, and then I decided to take some acting classes. I joined New England Models Group in Manchester, New Hampshire, and I was trained by director and acting coach Tom Logan. My work with Tom really enhanced my acting career. I also did a few commercials and some print work, which ultimately led to my meeting other people in the business and networking with people in the industry.
I have worked in The Proposal, The Fighter, and Grownups. I've been in a number of films with Adam Sandler now. He's a great guy. I was also in Ted, R.I.P.D., Patriots Day, American Hustle, and Daddy's Home 2, just to name a few. As of today, I've worked in over 48 movies.
With acting, I first started out as an extra, then I started getting cast as a featured extra, and now I am getting more speaking and principal acting roles, which has been a lot of fun.
One of my favorite projects that I've been involved with is a comedy web series by writer, director, and actor Chris Palermo, called Pizzer Makers. The series is about the things that go on every day in this pizza place. It ran for 13 episodes and I played one of the lead roles as Frankie, one of the pizza makers. Pizzer Makers was written up in the Boston Herald, Imagine Magazine, and some other publications as well. The series even came in second place in a comedy movie festival back in 2013 at the Charles Playhouse in Boston. It's a really funny series and it was a lot of fun to work with that group of people.
I was recently cast in one of the lead roles in an indie film called DJ Stan Da Man, which was written and directed by Mathew Fisher. Mathew did a great job writing and directing the story. It's a movie about a washed-up DJ who, at one time 30 years ago, was like a rock star DJ. Things have changed, and now he's only getting small gigs for little money, but in his mind he still thinks he is the best. He's pretty bitter and fights with his staff, as well as the grooms' and brides' families. I play Calvin Michaels, the photographer who is part of DJ Stan's staff, and not to give away too much, but I have a black eye in this movie.
I'm very proud of all of the actors, the crew, Mathew, and our producers. We had a sold-out crowd for our premiere at the Arlington Regent Theatre and a great after-party at Bocelli's Italian Restaurant in Medford, MA. I'm proud to be a part of the film.
The last film I worked on is called Vault with Chazz Palminteri, who many people know from his role in A Bronx Tale, as well as so many others. He's a fantastic actor. The movie is about a fur heist that occurred in Providence, Rhode Island back in 1975. It's based on a true story. I play one of the prisoners with Chazz.
CM: What, if anything, has surprised you about acting? What do you most enjoy about the experience?
FI: It's so interesting being on set with big actors. I find it so much fun working in the movies. I really do. Sometimes it still feels like a dream.
CM: Do you ever cook for the cast and crew? 
FI: Yes I do and I really enjoy it. I've cooked eggplant parmigiana for David O. Russell, the director of American Hustle. I also cooked many times for Mat Fisher and his crew while I was working on DJ Stan Da Man.
CM: I know you also released a cookbook called The Good Life. Please tell us about how that project came about and a little bit about the book.
FI: While working at the post office, I was constantly giving out recipes to those who asked me how to cook different dishes. In many cases, they had tried my food and loved it, so they would ask for the recipe. Eventually Maureen and I decided to bring those recipes together in one collection, and that's how my cookbook, The Good Life, was created.
Maureen is great with writing skills, computer skills, and photography. She is very talented and she has done so much for me. I'm so grateful to have her as my wife.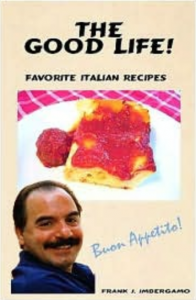 CM: What are your thoughts on the importance and power of sharing meals with other people?
FI: Over the years, I've cooked at different social clubs, including the Italian American Club, the Sons of Italy, and the Madonna Della Cava Club in the North End where I grew up. It's always a great feeling to serve dinner to 25, 50, or even 100 people and to see the smiles on their faces as they eat something I've prepared. I used to watch other people cooking at these clubs when I was a kid and now I've had the chance to do it myself. I feel grateful that I've had those opportunities. Food brings people together. Thanks to my mother, I experienced that in my own family growing up. I love cooking for my family and friends. Their enjoyment of my food is the best reward.
CM: Where can people purchase copies of the book?
FI: You can purchase a copy of The Good Life at "IAmBooksBoston.com." If you're in the Boston area, you can also find it at I AM Books, located at 189 North St, Boston MA 02113.
CM: What have your experiences with the "Emeril Live" contest and acting taught you about discovery, re-creation, and taking risks in life?
FI: I think what it's taught me is to always move forward and to never give up. Work hard and take chances. Your dreams will come true. Winning the Emeril Live contest wasn't only an exciting experience— it was a life-changing one. That only happened because I decided to try something new.
And if you're just getting started with cooking, try not to be afraid of the food not coming out right. I believe you have to continue trying and that you'll get better with time and practice. You'll learn a lot from what you did wrong with a certain recipe. We all learn from our mistakes.
CM: What's next for you?
FI: I'm doing more movies, commercials, TV, radio and print.
CM: Where can people learn more about you and your work?
FI: You can find me on Facebook and Twitter @FrankieImbergamo.
CM: Is there anything else you'd like to add?
FI:  Thank you, Chloé, for taking an interest in my story.
CM: One last question: When can I come over for dinner?
FI: Anytime! You're always welcome!
—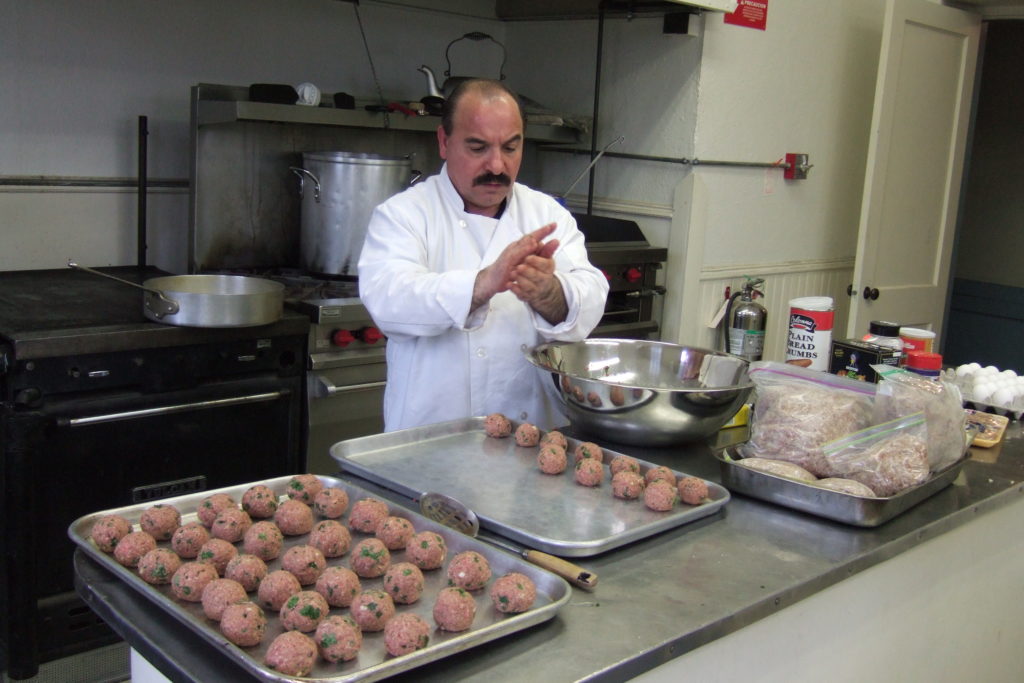 Frankie kindly offered to share his award-winning recipe for "Frankie's Gravy" with all of you. This recipe was a top winner in Emeril's Italian Contest on Emeril Live and The Food Network. We hope you enjoy it and we'd love for you to come back and let us know how it turned out! 
Frankie's Gravy (Spaghetti Sauce)
Meatballs:
2 lbs ground beef
4 eggs
1 1/2 cups plain bread crumbs
3/4 cup grated Pecorino Romano cheese
2 garlic cloves, chopped
1/2 teaspoon salt
1 teaspoon ground black pepper
1 tablespoon fresh parsley, chopped
Gravy (Sauce):
1/4 cup olive oil
1 garlic clove, chopped
1 medium onion, chopped
1 6-oz. can tomato paste (Flotta or Pastene)
1 6-oz. can water (use empty tomato paste can)
2 28-oz. cans Pastene Kitchen Ready Tomatoes
3/4 can water (use empty Kitchen Ready Tomatoes can)
1/4 teaspoon salt
1/4 teaspoon ground black pepper
1 teaspoon fresh parsley, chopped
In a bowl, mix all ingredients for meatballs by hand for about five minutes, until well mixed. Form about 16 meatballs and place on a platter. In a frying pan, add olive oil and when hot, add meatballs and cook on medium heat until browned. Place meatballs on new platter. Do not discard the oil.
Sauté chipped onion and chopped garlic in the oil for approximately two minutes. Add tomato paste and cook on medium heat for three minutes, stirring all the while. Add can of water (tomato paste) and cook and stir for one minute. Take off heat and set aside.
In an eight-quart pan, add tomatoes and cook on medium heat for five minutes. Add 3/4 can of water (Kitchen Ready Tomatoes can), tomato paste mixture from frying pan, and browned meatballs. Mix thoroughly, stirring carefully with a wooden spoon as not to break the meatballs. Add salt, ground pepper, and parsley and cook on medium heat for the first fifteen minutes, then cover and cook on low heat for two and a half hours, stirring every fifteen minutes to prevent sticking and burning on the bottom of the pan, until done. Serve over al dente pasta and sprinkle with grated Pecorino Romano cheese, along with crusty Italian bread and a good bottle of red wine.
—
For more recipes like this, you can purchase a copy of Frankie's cookbook, The Good Life, at I Am Books. To learn more about Frankie and his adventures in cooking and acting, connect with him on Facebook and Twitter @FrankieImbergamo. 
—
Do you have a favorite recipe from childhood? Love to cook now? We'd love to hear about it. Please share in the comments below.
---
PLEASE NOTE: The opinions, representations, and statements made in response to questions asked as part of this interview are strictly those of the interviewee and not of Chloé McFeters or Tortoise and Finch Productions, LLC as a whole.