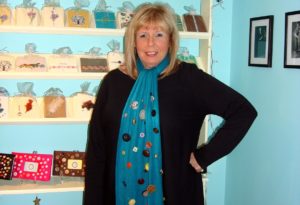 I first met Marion in 2016, as part of Tortoise and Finch's "On Courage Writing Contest," when her personal essay, "Into the Box," received an honorable mention. Marion immediately struck me as a warm, kind, and incredibly interesting person. Since then, she has become a dear friend in my life and I'm happy to share a little bit about her and her work with all of you.
—
CM: You and I first met when your essay "Into the Box" was awarded an honorable mention in the Tortoise and Finch "On Courage Writing Contest." Can you tell us a little bit about your essay and what that experience was like for you?
MC: I had been keeping personal journals for the past 35 years. I always enjoyed writing, so shortly after I was diagnosed with breast cancer in 2014 and began treatment, it seemed quite natural that I should record the feelings I was experiencing during that journey. When I noticed the announcement for the "Tortoise and Finch On Courage Writing Contest," it stirred me to think about all I had experienced, as I recalled some of the writings I had done during that time. I realized that the cancer journey I had taken was indeed an act of courage and decided to enter the contest and describe some of the thoughts and feelings that were born from fighting that disease. It was a very personal account. I tried to reveal not only how I felt during the treatment, but also at the prospect of perhaps not surviving the treatment. And as the progression of the treatment improved my situation, so too did my narrative of how I then felt.
After I received an Honorable Mention for my essay, you and I seemed to strike up a budding friendship during our phone conversations. That is when you first put me in touch with Richard H. Fox, who wanted to read the essay. As a prize for the contest, I had received a copy of his book of poems, wandering in puzzle boxes. After reading his poetry, I wrote to Richard of my reaction to his quite wonderful work. Richard is also a cancer survivor and we became email friends. Now we have both collaborated with you for the C is for Courage journal. From difficult times, beautiful friendships grow.
CM: You are the author of What The Heart Murmurs, which was published in 2015. The cover design for the book is gorgeous! Who designed it and how did you come up with the inspiration for the design?
MC: The cover of my novel What The Heart Murmurs was conceived by my design team at Create Space. I had expressed to them my fondness of Gustav Klimt's paintings, and also sent the designers some photos of decorative pieces I had in my home, such as a rug and throw pillows, so that they could become familiar with my preference of style. I was delighted with the cover they produced.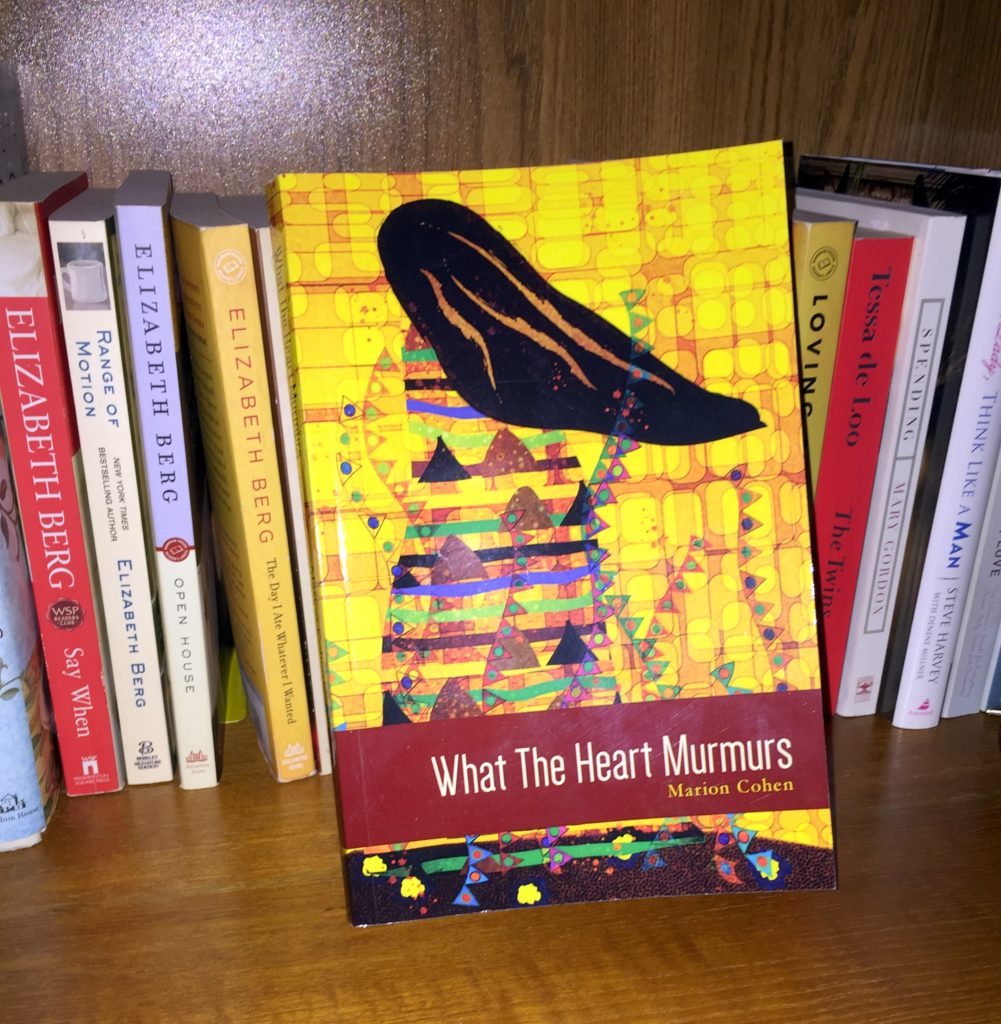 CM: Your main characters, Mara and Jack, have a long and complicated history. What can you tell us about them? 
MC: The characters of Mara and Jack are two people who found themselves very much attracted to one another, but at the wrong time of their lives, as Jack was already happily married. By this I mean his marriage fit his expectation of simply having a congenial wife that would look after his house and raise his (their) children. Mara and Jack inspired great passion for each other. Both characters were the kind of individuals who did not want to inflict any harm on the people they cared about, and certainly not on each other. But sometimes one's feelings cannot be denied. Jack's story is about trying to do right by his family while not denying his passion for Mara. Mara was a kind and sensitive woman who was also concerned about the effect her feelings would have on Jack's world. I don't believe either of them fell into the stereotype of a man or woman seeking an affair. Since Mara was so independent, she never thought she needed "marriage." Rather, she needed only Jack's love, and for a long time she was content in knowing that was given to her freely. Their relationship and feelings for each other endured through the many challenges of the passing of time that both of their family obligations generated.
CM: What do you love most about Mara? 
MC: I loved that Mara was an independent woman who did not look to men or marriage for financial security, as some women still do in this day and age. She always put feelings before practicality. She certainly was a true romantic. The character of Mara also displayed unwavering loyalty to the people in her life who meant the most to her.
CM: How did you feel after completing the book? Was it difficult to "let the characters go?"
MC: After I completed the book I actually missed writing about Mara. I felt like she had become a dear friend to me, one who I understood completely. Of course, she represented a part of me, and I wanted to continue to know how she would handle her life after the story ended.
CM: Your book is dedicated to your parents, Edna and Noah. What are some of the most important lessons they taught you?
MC: My parents taught me so many things. Even years after their passing I can still hear their voices in my head. Both were extremely kind individuals and shared a determination that I and my dear sister Rochelle, a neuroscientist, would become highly educated. They sacrificed much to that end. My mother instilled in me a lady-like manner and sophisticated style and I do believe I was fortunate to inherit her witty sense of humor. My father, also a kindhearted man, showed constant devotion to his family and continually displayed a highly-organized work ethic.
CM: What is something that has surprised you about the process of publishing and promoting your novel?
MC: What surprised me the most after I published my novel was the number of women who contacted me after they read the story and proceeded to reveal that they had similar experiences to Mara at some point in their lives. One woman in particular, an 85-year-old, told me of a relationship she had with a married man before she eventually married her late husband. She also mentioned that, to this day, she still thinks about the man whom she was involved with in the affair! Of course, there has been other criticism, mostly from married women who thought the character of Jack was a terrible person for being unfaithful in his marriage. I suppose that was no surprise to me. But another surprise came from a dear friend, who shared with me that she had immediately divorced her first husband after she found out he had been with another woman. At the time, she had two very young children, and she told me the story gave her much to think about, considering the choices she had made back then. Any time writing stimulates thought, I think that's a good thing.
CM: I am honored to include two of your essays in C is for Courage, my new coloring book journal for those living with cancer or who have recently completed treatment for cancer. What inspired you to write about the two topics you chose?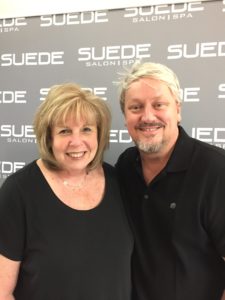 MC: The two topics I chose to write about were the hair issue and survivor's guilt. I suppose those two concerns were what moved me the most. When one is told they have cancer, it is hard to imagine the disease inside you. You go for tests all the time, sit in the infusion room, watching the drip of the chemotherapy drugs being immersed into your body. All this is very detached from you until, after a few weeks on the chemo, you start to notice your hair coming out—slowly at first, and then more deliberately as the days go by, until your head is almost completely exposed. And that's when the terror hits you. As a woman, an important part of you has been taken away and you now know you have cancer for the first time. I thought I should write about that, as I think it is a concern of so many women.
Fortunately I've had a very talented and compassionate hair stylist, Andy Enders, and his kind direction led me through the hair loss experience as is described in my essay "The Hair Issue."
The other topic, "survivor's guilt," was a more unique situation for me. My brother-in-law, Rex Sexton, was diagnosed with an aggressive cancer a few months after my diagnosis. His outcome was not as promising as my own and it was so difficult to observe the challenges his treatment demanded. He was not so fortunate to survive his dance with cancer. We had had the same oncologist, received chemo in the same infusion room, and had our radiation at the same center with the same technicians. What was not the same was our outcomes. And for at least a year, the guilt that I was healed, at least for the time being, and that he was not, was agonizing to me. I could not celebrate the successful end of my treatment when he was dying. After a while, I forced myself to accept the good outcome I was given, and am still learning not to squander any of the days I have been given.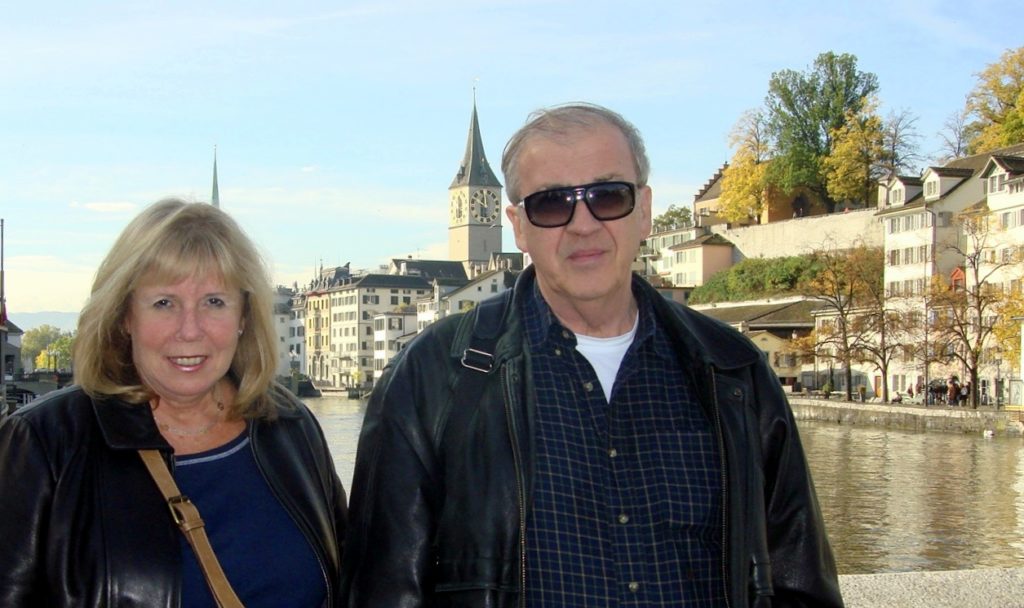 Rex was a renowned painter and author in Philadelphia and Chicago. He had an extraordinary capacity for kindness toward all people. He encouraged me to write my novel and certainly inspired me to complete the project. Rex's encounter with cancer was particularly difficult. His exceptional courage provided me with confidence as we both confronted our own dreadful disease. A sampling of his works can be viewed at: Rex Sexton: Renaissance Man (polymath).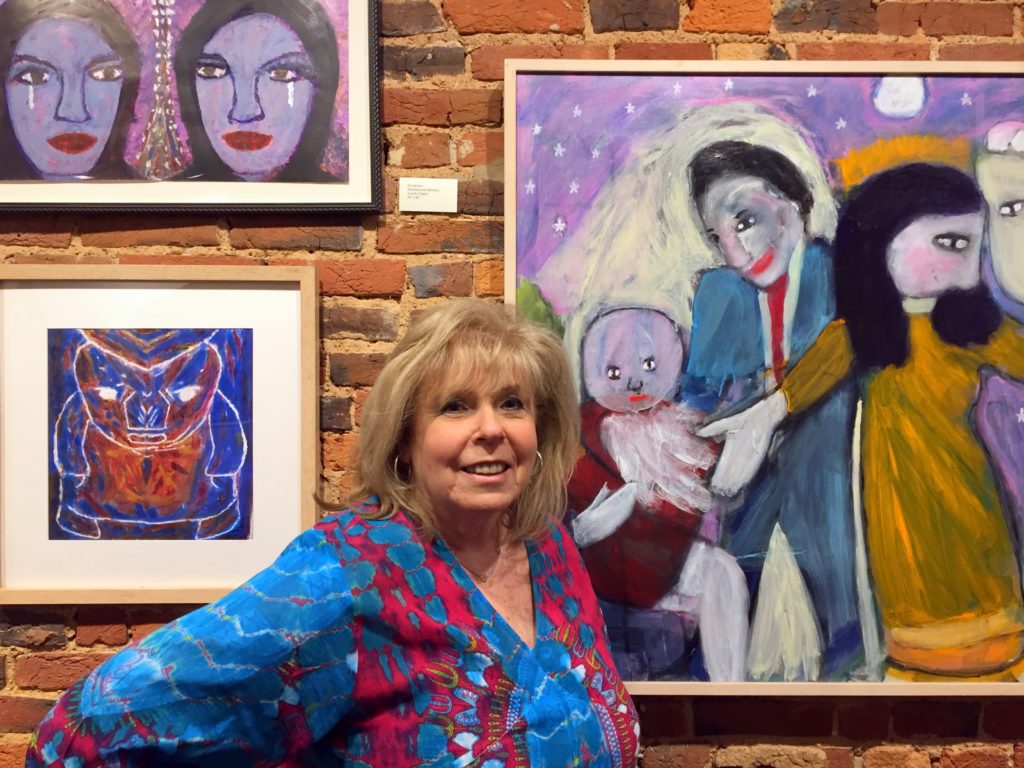 I was honored to be asked to review and contribute to C is for Courage. I hope my essays offer others some optimism and promise while mustering the audacity not only to struggle with the horrors of cancer, but to persist in regaining an even more jubilant life after recovery. Reviewing the journal forced me to intimately recall my own personal journey and it served as a reminder to me of how precious everyday since has been.
CM: You were a mathematics teacher before becoming an author. What did you love about mathematics? What first got you interested in the subject? 
MC: What I have always loved about mathematics is that there is always a solution to every problem…unlike real life sometimes. I love geometric shapes and symmetry. My dad suggested I major in mathematics and so I did and loved teaching algebra and geometry. There is such a strong connection between art and mathematics.
CM: I know you have an artist's studio in New Jersey. Please tell us about your art.
MC: I started collecting buttons many years ago and made some pins and frames from them. I was surprised when colleagues wanted to purchase them and so I kept designing jewelry and frames. Eventually I started designing greeting cards, always having buttons in the designs, as well as mirrors, scarves, Christmas ornaments, and some small handbags, all with their unique buttons, some antique. I converted my basement into a beautiful studio where I do my work. Once a year I would open my studio to friends and friends of friends to come and I sold my wares and served refreshments, and it was an annual event that everyone seemed to enjoy. I have this mirror at the entrance to my studio.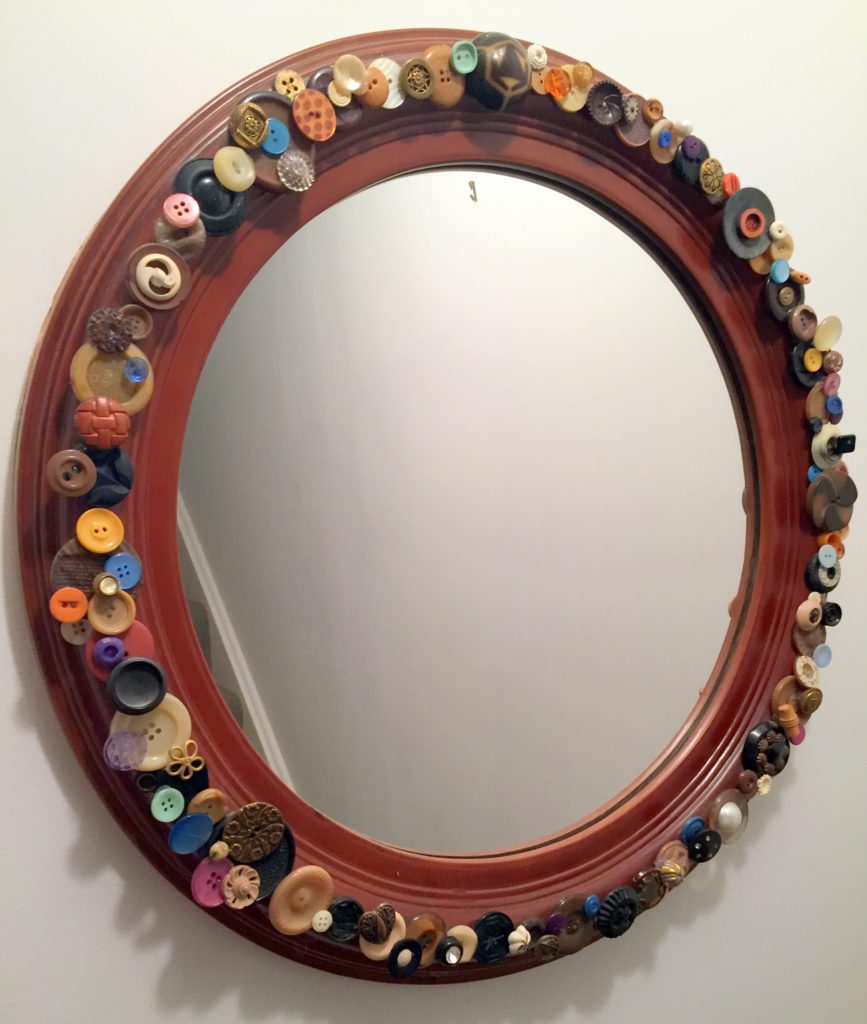 Chemo infusions take many hours, so I decided I would add another Klimt-inspired needlepoint pillow to my collection. The fourth one I refer to as my "Chemo Pillow." It was a bright spot for other patients and staff to view me working with such vivid colored yarns. It helped pass the long hours of the infusions, and for me, made an "ugly" experience more appealing.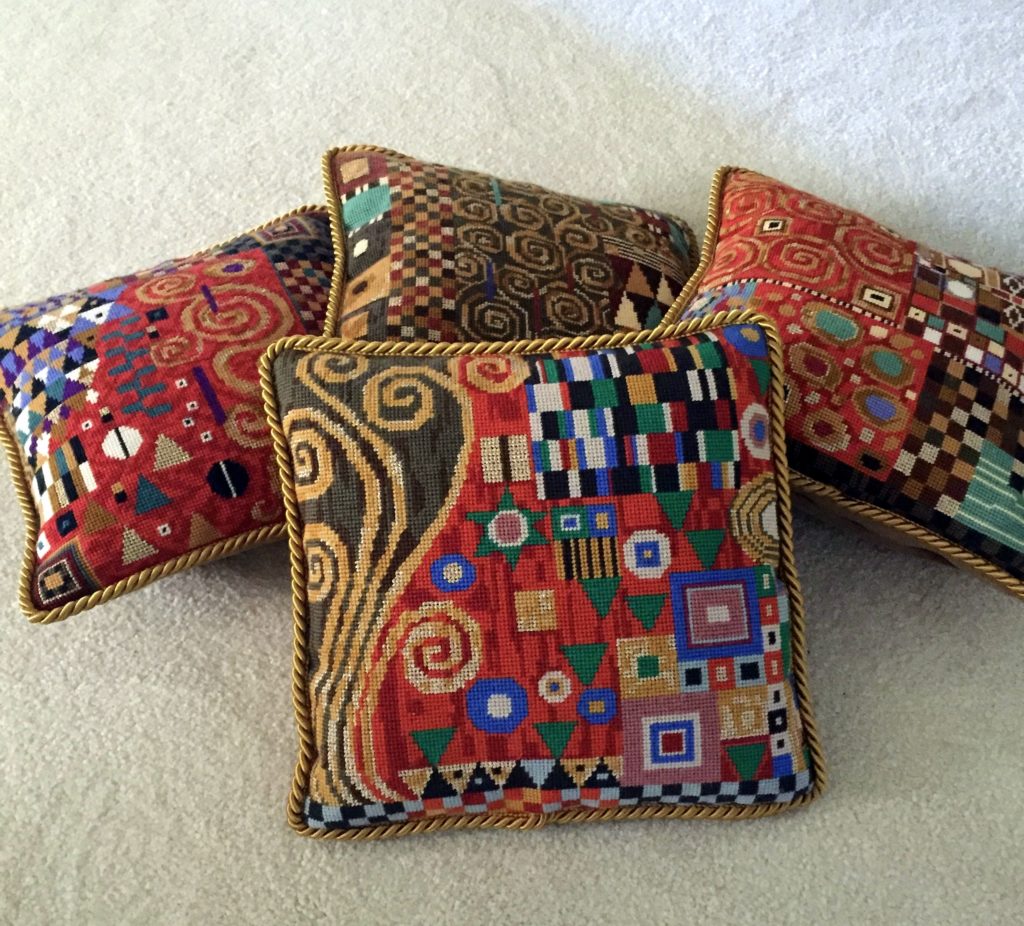 CM: What are you working on now?
MC: Now I continue to work on greeting cards for special people in my life. I have also started my second novel and it is a work in progress. It is about five people born on the same day in the same hospital and how their lives gradually intersect. I hope to reveal how different individuals seek happiness in their lives and the different choices that each person chooses for themselves.
CM: Where can people learn more about your art or purchase a copy of What The Heart Murmurs? How can they connect with you?
MC: What The Heart Murmurs can be purchased on Amazon or online at Barnes & Noble. It is currently in paperback and there is a Kindle edition as well. I can be contacted at mcohen.author@yahoo.com and welcome all comments about my novel.
CM: Is there anything else you would like to share?
MC: I enjoyed a very gratifying career as a high school mathematics teacher and instructor at a community college, but we can all choose other experiences as our life changes. I believe life demands that we do change in order to experience life in all its beauty and forms. As a teacher, I learned that I should never give up on learning and the process of writing a novel certainly demanded I learn many new skills. The learning process keeps us young in our hearts and minds. Living a fulfilling life, I believe, is the key to contentment.
—
To follow Marion's work, you can connect with her Facebook author page here.
To purchase a copy of What the Heart Murmurs, click here.
Marion Cohen and poet Richard H. Fox are both contributors to C is for Courage, my new coloring book journal for living with cancer. You can learn more about the journal here.
---
PLEASE NOTE: The opinions, representations, and statements made in response to questions asked as part of this interview are strictly those of the interviewee and not of Chloé McFeters or Tortoise and Finch Productions, LLC as a whole.