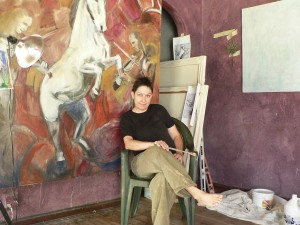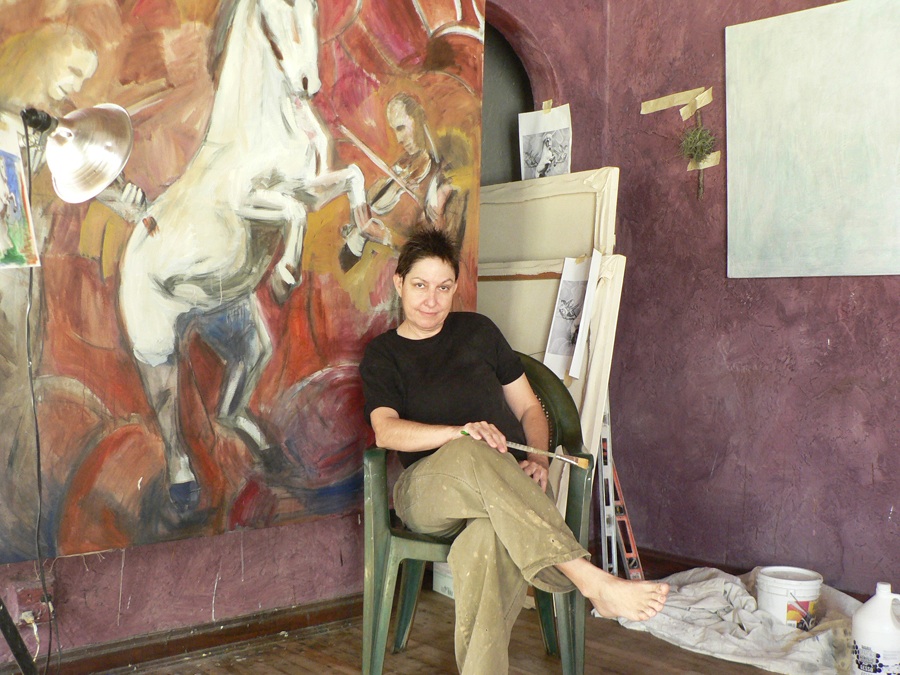 This interview was originally published in the summer of 2012 for Tortoise and Finch Productions.
At an early age, Kim developed a penchant for painting on the walls of her house, which caused reluctant amusement from her mother, and this soon developed into a precocious obsession with various mediums at hand. Kim considers her education in art more practical than practical than academic, although she possesses a degree in Fine Art; she began her artistic journey doing ceiling and wall murals in mansions in Palm Beach. This opportunity allowed her to finance travels to Europe, where she pursued a true education in art. In London, Kim lived a Bohemian lifestyle, sketching in the halls of the Tate gallery, working en plein air in Kensington Gardens, and studying in the library at the Royal Academy. Florence, Cologne, and Paris all soon followed, and it was in these years that Kim feels she truly blossomed as an artist.
Since returning to her studio in Florida, paintings and murals have been created for a variety of spaces, including Delta Airlines, Fairfax Women and Children's Hospital, and the America Society of Telecommunications Industry Solutions in Washington, DC. Kim continues to contribute to the beauty of the private sector, by doing Fine Art and murals in private homes.
Kim's work has been commissioned for the Grand Hyatt in Taipei and the Regency Lounge at the Grand Hyatt in Hong Kong. Her work is in private collections and commercial spaces throughout the U.S. and Asia.
We recently sat down with Kim to discuss her involvement with our Kickstarter campaign.
CM: Do you remember what your first exposure was to domestic violence growing up?
KF: As a young child, I didn't really have a lot of personal exposure to domestic violence. I think my first real exposure was when I was in London as a young artist in a restaurant: A woman spoke, evidently "out of line," to her boyfriend and he punched her, right there, in that public venue. I remember very clearly the blood, and the passivity of the woman after he did so.
I remember taking note that this woman was incarcerated, though without prison bars. I thought I heard silent moans, but she said nothing…just hung her head.
While I knew that what I had witnessed in that restaurant was clearly horrible and an act of violence, I was not cognizant of domestic abuse as a pervasive issue until I became involved with women on an intimate level who had been victims of violence. That was my learning experience.
CM: Was the media (news, television, movies, magazines) a part of your exposure to domestic violence, and if so, how?
KF: There certainly have been films, especially, The Burning Bed, Enough, Sleeping with the Enemy…that famous line from The Color Purple also, "Everything you done to me already been done to you."
I'm sure I read in the news about domestic abuse, and saw it on the news as well, but like many I didn't pay a lot of attention…probably just considered it one of the many blights of the human condition until it hit home with some of my partners.
CM: As a member of the LGBT community, do you feel that this issue receives enough attention in the media?
KF: I think that domestic violence in the LGBT community is not considered a viable issue, though it takes place, as in all facets of society, and can be just as rampant, whether in gay, lesbian or transgender relationships.
When society is just beginning to accept and recognize the LGBT community as a viable group deserving of legal representation, medical visitation, property rights, etc., the domestic abuse piece probably has not been focused on as a matter of significance, though it exists.
CM: What are some myths that you would like to see dispelled about intimate partner violence?
KF: The myth that anyone deserves to be abused because of their behavior…no one does. The myth that emotional abuse is not as damaging as physical abuse; it is just as destructive. Violence is physical at its most obvious, but emotional abuse can be just as violent.
I read that Martin Scorcese has said that The Age of Innocence was his most violent film…after such films as Goodfellas, and Raging Bull etc. Why? Because of the destruction we can cause another human being through emotional manipulation, denigration, and control. That particular film is not about domestic abuse, but it is a good example of violence without physical trauma…but psychic and emotional trauma.
CM: Tell us about the new painting you created for the Kickstarter campaign for the film You Look a Lot Like Me.
KF: The title of the painting I have done for the campaign is "It Takes a lot to Laugh, It Takes a Train to Cry," which is a line from a Bob Dylan song. I thought those words capture what I wanted to convey with the painting. When laughing is non-existent and there are no more tears…the only moans that remain come from a train, etc.
The figure in the painting is incarcerated within the prison of abuse, the body bent in surrender and supplication. No more fight is left. The figure has a hand on his or her eye, which sees all like a sensor that is still aware, still watching…though the body has been defeated. This body can be of a child, adult, male, female or transgender.
CM: Why was it important for you to become a part of the fundraising efforts for this project?
KF: It has been important for me to reach into myself and define as an artist the pain, the psychic and spiritual destruction, I have seen in the people I have loved. To have the opportunity to reflect this hard part of their truth, and to have it be used as part of the fundraising efforts for this project, has been a gift and the best legacy (albeit on such a small level as compared to what they went through) that I can give back.
CM: Where can people learn more about your work and your art?
Kim Fay: They can learn through you, or they can learn through my website, www.kimfaystudio.com.
This very moving, original oil on canvas painting (20" x 20") is being so generously offered as a reward to the first donor to contribute a $1,000.00 donation to our fundraising campaign. Please visit our Kickstarter Project Page to contribute.